How To Plan A Beach Vacation During Hurricane Season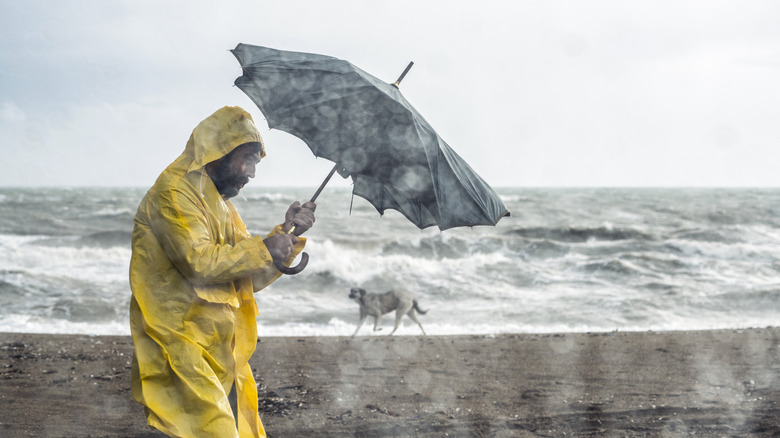 Ozgurdonmaz/Getty Images
Beach vacations are almost synonymous with depictions of summer. Hot sunshine on your skin, a cold drink in your hand, sand in between your toes, and the sound of gentle waves lapping the shore — this is a quintessential image of vacation. Yet, no matter how much you save, no matter how much you plan, there's no guarantee that this idyllic dream will be a reality if you're staying in a hurricane-prone state or region. Just under 40% of summer vacations are beach vacations for Americans, meaning they're traveling in peak Atlantic hurricane season — which runs from June 1 to November 30 — and risk having their plans interrupted or even uprooted. 
Still, hurricane season shouldn't deter you from traveling to beaches, instead, it should inform your packing and travel plans. Don't rule out entire cities and regions in fear of losing money, instead, do some research and plan smartly. You can start by looking into travel insurance and finding the best plan for you.
Preparation is key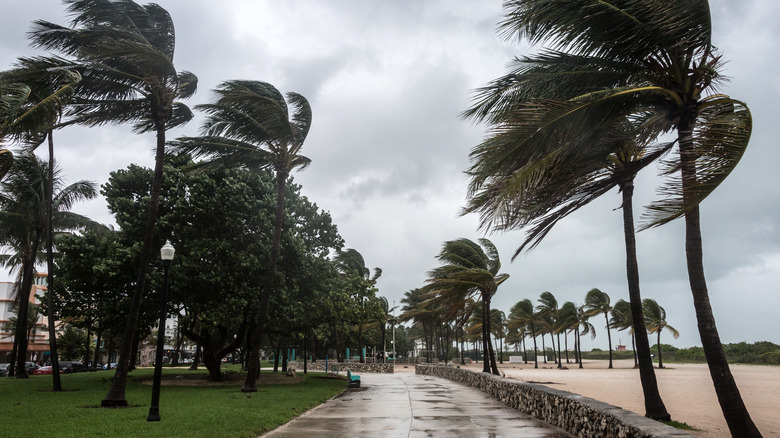 Juanmonino/Getty Images
Travel insurance is highly recommended for those traveling during hurricane season. Getting it can save you from losing the hundreds or thousands of dollars you've invested into your trip. With that being said, not all insurance policies are the same. Making sure you have a thorough understanding of what your policy entails is essential. For example, if your trip is interrupted for a couple of days, do they expect you to return after evacuating before you can get reimbursed? Can you cancel your trip before you ever step foot in the airport if there's a hurricane warning? Deciphering the wording with an agent so you understand exactly what you're getting yourself into can help you choose the best one for you. Ask what their coverage is in the case of a hurricane watch, which means there's potential for a hurricane, versus a hurricane warning, which means it's extremely likely a hurricane will come.
If potentially dangerous tropical weather is coming your way once you are already on vacation, you can plan strategically. Steps to take include filling your gas tank and stocking up on non-perishable food items and water in case you end up stuck in your accommodations while you wait out the storm and possible messy aftermath. Also, grab a physical copy of a map in the event you lose signal on your smart devices and need to navigate the area. It's also a good idea to pack a portable battery for your devices and a flashlight in case you lose power.
What to do if an evacuation is ordered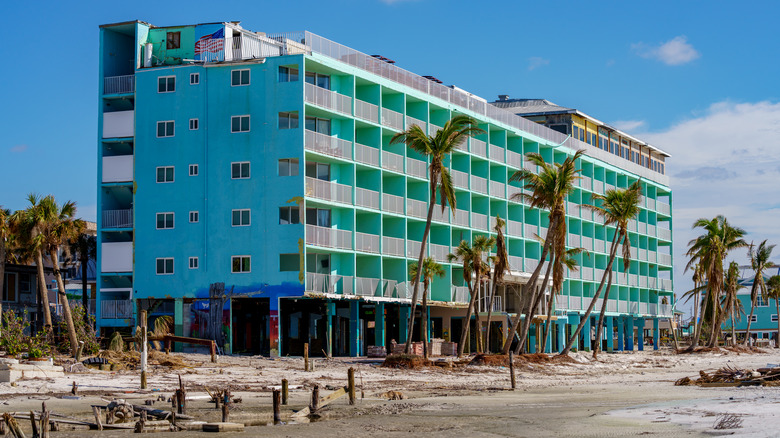 Felixmizioznikov/Getty Images
The states that are most often affected by hurricanes are along the Atlantic and Gulf coasts, with the top five being Florida, Texas, North Carolina, Louisiana, and South Carolina, according to Universal Property. These states are no strangers to the ravages of hurricanes, so if there's an evacuation advisory while you're on vacation, your priority should be to honor it and get out. "If people don't leave, they're going to be stranded here," Dare County, North Carolina emergency management director Pearson told WYTV News. "They're going to be stuck, they may not have the services they need to take care of themselves, they're gonna lose power, they're gonna lose water and our first responders may not be able to get to them." The earlier you evacuate the better, especially if you drove since traffic can quickly build as everyone attempts to leave.
So as you plan your beach getaway, keep in mind that Mother Nature does not take your plans into consideration, no matter how badly you want, or even need the trip. One of the most important ways to plan for a beach vacation during hurricane season includes being prepared for the unexpected and being willing to pivot or have a backup plan should your vacation spot be in the path of a named storm.