Amtrak's Free VIP Service You Need To Take Advantage Of On Your Next Trip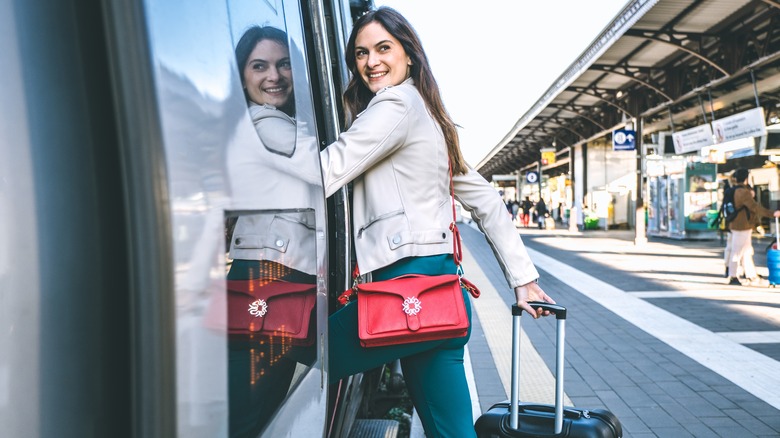 Damiano Buffo/Shutterstock
Train travel is a relaxing way to see cities and countryside in a way you simply can't from a plane — not to mention there's usually more legroom. Amtrak offers many amenities to help you unwind and enjoy your trip, like onboard dining, WiFi, and quiet cars on select routes. But if you don't know about the Red Cap service, you're seriously missing out.
Put simply, Red Cap is a baggage-handling service to help you board with ease. All you have to do is find a uniformed Amtrak employee and show them your ticket. They'll gather your belongings and escort you to your seat. You can use the service when you disembark, too, by letting a train attendant know you need help before arriving at your destination.
Best of all, it's not just for business class passengers or frequent travelers with Amtrak's guest rewards program. The perk is free for everyone, regardless of your group size or the amount of luggage you have with you. Sure, you can use a self-service handcart to carry your bags, but why bother? A free VIP service like this one is rare unless you're on a lux line.
How to use Amtrak's Red Cap service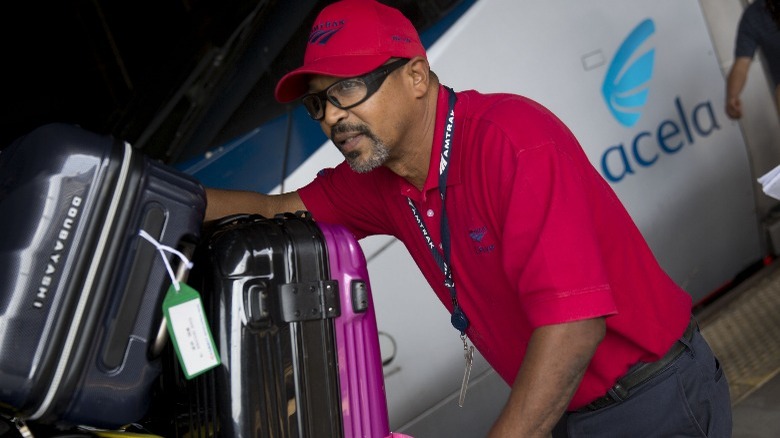 Bloomberg/Getty Images
Red Cap service is currently available at 12 stations; Baltimore, Boston, Chicago, Los Angeles, New Haven, New York, Newark, Philadelphia, Portland, Seattle, Washington DC, and Wilmington. Once you arrive, look for the uniformed Amtrak employees wearing a red shirt and matching hat. Simply walk over to them and show them your ticket or wave them down. You're most likely to find an agent in the front of the station or in a designated Red Cap area.
While the service is free, tips are always appreciated, especially at busier stations and during peak travel times, like the holidays. There are no hard and fast rules for Red Cap etiquette, but Redditors and travel bloggers alike argue that a good rule of thumb is tipping between $3 to $10 per bag or $10 to $20 per passenger. To keep your luggage safe, only accept help from those in a red uniform.
One of the many benefits of train travel, of course, is the more relaxed luggage policy. Travelers can check two bags for free, weighing up to 50 pounds with a maximum luggage size of 75 linear inches (the sum of the length, width, and height). For each additional or oversized bag, it'll set you back an additional $20.
Amtrak's baggage liability policy, just in case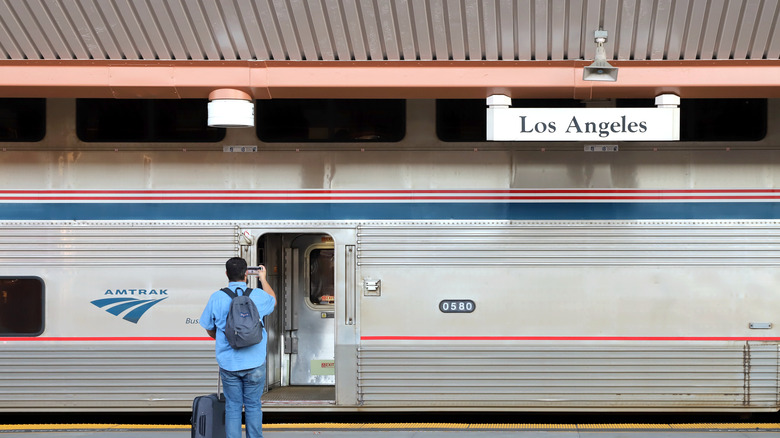 Laser1987/Getty Images
The train station is a busy place. If something happens to your luggage when you handle it yourself, Amtrak's liability policy doesn't cover it. With the Red Cap service, though, Amtrak will cover up to $50 per bag for any lost or damaged items — just another reason to use the service, especially if you're traveling solo. For checked baggage, Amtrak will cover up to $500 per customer. If your belongings are worth more than that, you can declare an additional value of up to $2,500.
If your luggage gets damaged during transport, report the issue at the train station before you leave. You must file a claim within 30 days of the incident. If your luggage gets lost or stolen, report it at the station and file a claim online. To help recover your items, Amtrak will need your travel dates, departure station, arrival station, train number, some detailed information about your luggage (size, color, etc.), and the best email address to contact you. After you file a report, you'll receive an email with a tracking number for your case.