Flight Attendant Morale Is At An All-Time Low. Here's What Airline Passengers Should Know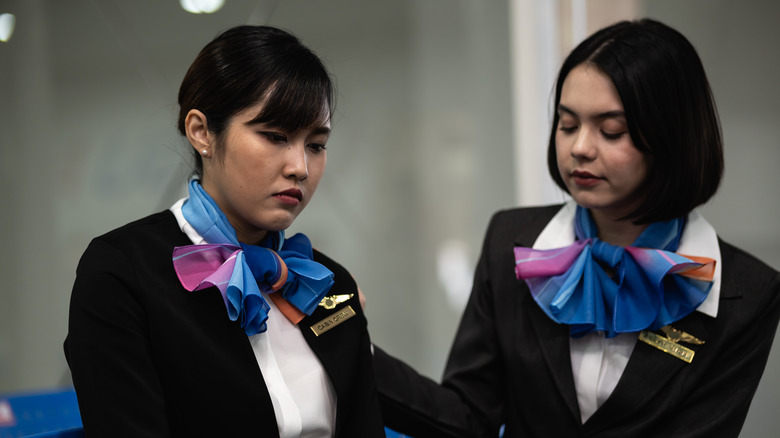 Cat Box/Shutterstock
If you've taken a flight in the last few years, you've likely experienced some snags. From long delays to lost luggage, the industry has not fully recovered from the pandemic. Travel across the board nosedived during the pandemic, and many aviation workers were furloughed. When air travel started back up, the increase in flights outpaced airlines' abilities to sufficiently staff. Under the Federal Aviation Administration (FAA), flight attendants are not allowed to work over 14 hours in a shift. However, if they pass 14 hours during their shift, there's little they can do about it. Dutch flight attendant Juliana Oliveira told CNN, "We do not get extra pay for extra hours."
Pay is a major point of dissatisfaction among flight attendants. The union representing Alaska Airlines is currently negotiating a new contract. They're pushing for a 40% wage increase and threatening to strike during the upcoming holiday season, according to Simple Flying.
Staffing shortage translates to long shifts and a lack of work-life balance for flight attendants. It also makes for disgruntled travelers. There are obscenely long waits at the airport. Passengers are also finding themselves on dreaded hunts for lost luggage. Additionally, there are frequent flight cancellations that often leave passengers stranded. These situations are what turn disgruntled travelers into irate passengers. With all these factors considered, it's not surprising that flight attendant morale is evidently at an all-time low.
Reports of unruly passengers persist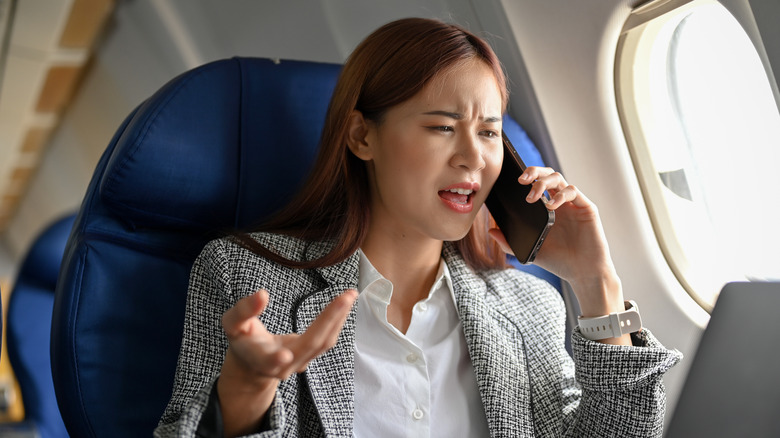 Bongkarnthanyakij/Getty Images
Since the pandemic, the number of unruly passenger reports has risen rapidly, reaching its peak in 2021, per the FAA. The frequent provocations were attributed to the face mask mandate at the time. While current reports are not as high as they were during the pandemic, the working conditions of flight attendants are far from ideal. In the case of a passenger punching a Southwest flight attendant (per USA Today), the abuse can be physical. But it can also be psychological. Flight attendant Rich Henderson told CNN, "I had a passenger throw a cup at me, tell me I was worthless and tell me that I was horrible at my job. I felt so dehumanized."
Passenger disruptions are not problems exclusive to North America. This is a global issue that flight attendants all over the world are grappling with. This breeding ground of toxic work environments has contributed to many flight crew exiting the industry.
What's on the horizon?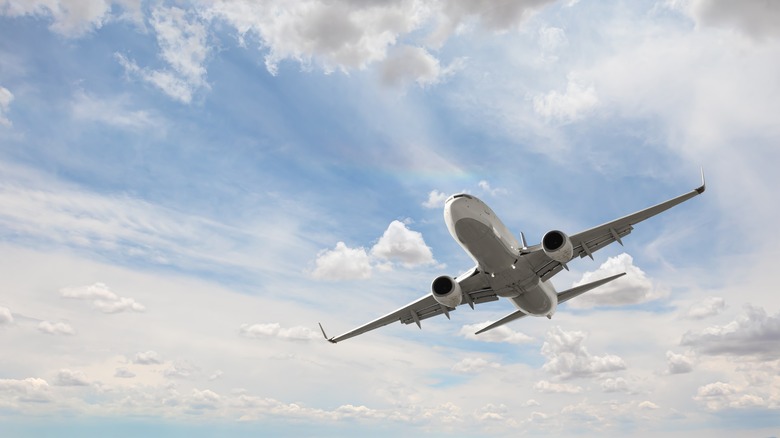 muratart/Shutterstock
There's an annual conference dedicated to tackling the issue of unruly passengers. Dispax World takes place in Prague in October. The sessions and panels span over two days and feature professionals in the aviation industry. Last year, the Protection from Abusive Passengers Act was passed (via the Association of Flight Attendants). The FAA also issued a zero-tolerance policy against unruly passengers. Under this policy, they can dole out more severe penalties such as fines, as well as refer cases to the FBI for criminal review. And at the end of last month, the American Airlines flight attendants' union voted to authorize a strike if needed, according to the Association of Professional Flight Attendants. This means a strike could happen if contract negotiations don't yield improvements.
Policy reform and long-term change will take time. In terms of day-to-day support, one of the most immediate resources for flight attendants is a supportive community. Founded by a flight attendant in 2019, th|AIR|py is a mental health non-profit. The site provides resources, financial support, and a 24/7 text support line for flight attendants around the world. Traveling can be stressful for all those involved. This is a good reminder to practice a little extra empathy during your next flight.