Head To This Island Off The East Coast For Your Next Romantic Couples Destination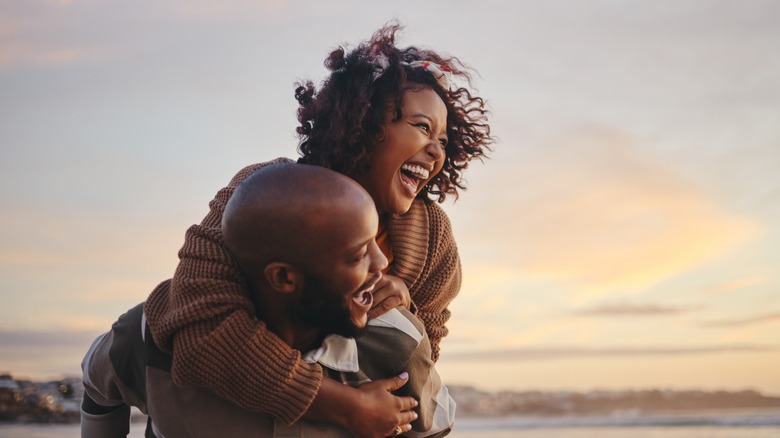 PeopleImages.com - Yuri A/Shutterstock
Massachusetts might not be the first place that comes to mind when you think of a romantic getaway. The state is best known for its abundance of fall foliage and Boston's busy streets lined with brownstones. However, the state is home to the island of Nantucket, located about 30 miles off the coast of Cape Cod. It's a relatively small island — only 14 miles long and 3.5 miles wide. With that being said, it's full of natural beauty, making it a picturesque destination for romance.  
For those looking to connect with their partner on a vacation, the small island that makes for one of the best coastal towns is definitely worth considering. You can see the ocean stretch on for miles, as well as explore the town and all of its offerings, among many other activities. Its location away from the mainland serves as a reminder to disconnect from the stresses and responsibilities waiting for you there and to instead focus on the here and now on the adventure with your partner.
Things to do in Nantucket during your romantic getaway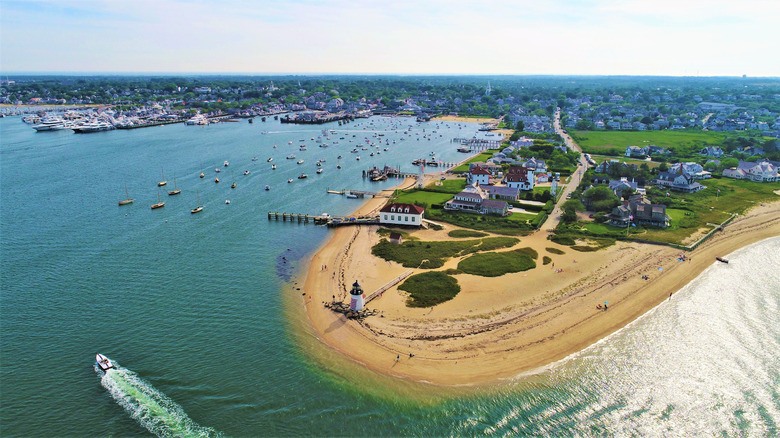 TeBe Inspires/Shutterstock
One of the first things to consider is where you'll stay. In Nantucket, you'll have options. If you want to be directly on the beach, there's the Cliffside Beach Club; if you want something cozy, Life House could be your answer; if you want a cottage, White Elephant is for you. Wherever you decide to stay, you'll be relatively near the beach, meaning you can easily slip out to watch the sunset over the ocean or go for a swim.
Next, we'll focus on the itinerary. Despite being small, Nantucket has plenty to do. You can leisurely stroll through the Historic District and window shop — the perfect opportunity to buy something meaningful for your special someone. There's the Sconset Bluff Walk, which is a small path that takes you past cute cottages and scenic views. If you're visiting in the summer, you can make it to the local Sconset Market for ice cream, baked goods, gifts, wine, books, and so much more.
If you're interested in Nantucket's history, you can stop by and explore the Whaling Museum for a time of education and conversation. For those who enjoy the water, you can go on a sailing excursion — don't worry if you've never done it before, Nantucket Community Sailing offers lessons. One particularly unique experience is landscape painting for those who stay at the above-mentioned Life House. The activity is a workshop led by a local artist who'll teach you painting techniques as you work on your own masterpiece.
Downsides of Nantucket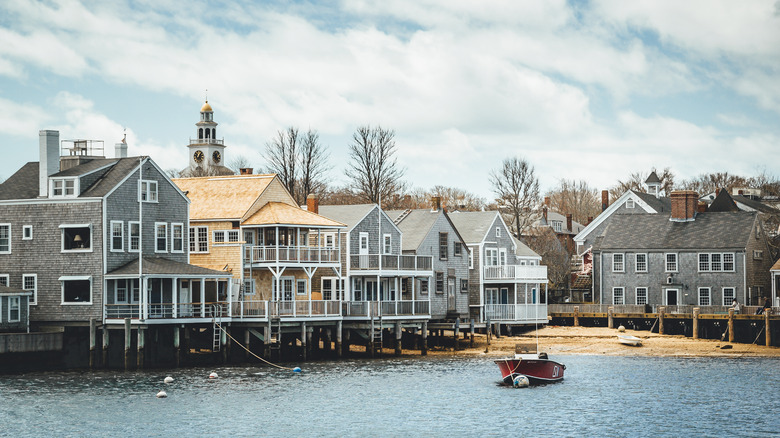 Isaac Cedercrantz/Shutterstock
While all these ideas make Nantucket sound like an ideal vacation packed with romantic activities, it does have its downsides. For example, it can easily get crowded — some say overcrowded. It can also be expensive, depending on your budget. "The island is perpetually overcrowded," one reviewer wrote on Yelp in 2022. "Bumper to bumper traffic everywhere you go and it's not safe to ride bikes." Another complained about the prices. "These days, prices on anything and everything have gone through the roof. Most things are simply ridiculously priced."
Nantucket can be the ideal romantic getaway if you come prepared. If you decide to go, consider the best time of year to visit for you (it's busiest in the summer) and what you want to do. Having these factors in mind and planning accordingly can make your trip much smoother and enable you to spend more energy creating fond memories with your partner.