Figure Out The Best Time To Plan Your Fall Trip To New York With This Foliage Report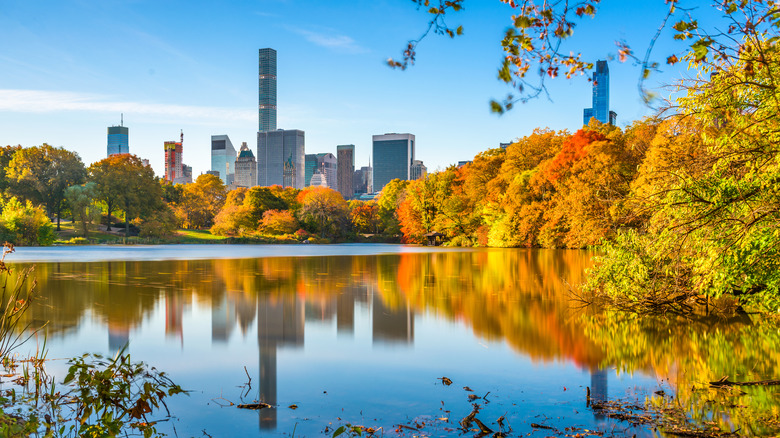 Sean Pavone/Shutterstock
As far as seasonal draws of New York City go, its Christmas decorations might make winter come to mind. However, do not count out fall when thinking of the best times of year to visit the Big Apple. Despite being a city made up of towering skyscrapers, New York City still manages to reflect the changing seasons. Places like Central Park, Four Freedoms Park on Roosevelt Island, Flushing Meadows, and Prospect Park include plenty of trees to make green spaces that benefit the whole city. Naturally, these green spaces turn into red, orange, yellow, and brown spaces in the fall.
Fall is a large window of time, but there is a way to narrow down when you should visit New York during this season. The I Love NY Fall Foliage Report helps prospective visitors pinpoint the state's peak foliage times. The report updates weekly and covers the entire state of New York based on reports from the Empire State Development Division of Tourism's I LOVE NY program. 
The I Love NY Fall Foliage Report shows foliage changes on a map
Engel Ching/Shutterstock
The I Love NY Fall Foliage Report includes a map of New York with color markings to indicate changes in the state's foliage. The color scheme goes in depth to show whether the regions with changes are near peak, at peak, or past peak and are all explained by the map key. Popular parks and even golf courses are marked on the map as well. Scroll under the map to see a written explanation of the report, reports specific to regions of New York state such as the Adirondacks (pictured above), and even check out some articles for ideas on what to do in New York during the fall.
New York City itself keeps track of its trees year round with the New York City Tree Map. The map has marked over 800,000 trees from those found in the city's parks or simply lining the streets. Pairing this map with the I Love NY Fall Foliage Report can help you get the best fall foliage scenery.