Stop At This NYC Spot And Snack On The World's Most Expensive French Fries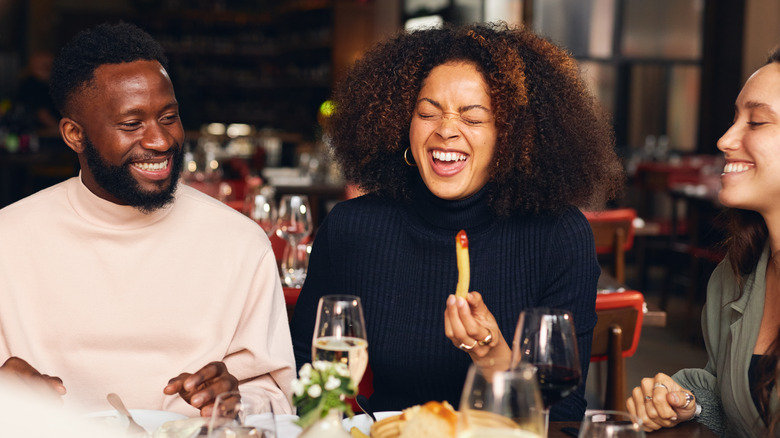 Southworks/Getty Images
If you're in New York City and money is no object, there's a place where you can eat French fries topped with 23-karat gold dust and Dom Perignon Champagne. The fries will only cost you a whopping $200 per plate. At the famed Manhattan restaurant Serendipity3, the menu actually has a whole "Guinness World Records" section where they're listed as "World's Most Expensive Fries."
That's a distinction the restaurant earned in 2021 when it sold its first plate of said fries to a member of the dining public. Before they officially became the World's Most Expensive Fries, they went by the appropriately French name of the "Creme de la Creme Pomme Frites." That means you're promised the cream of the crop, in addition to the requisite bragging rights that come with dining on a Guinness-certified dish.
Located on New York's Upper East Side, right on the border to Midtown Manhattan on 60th Street, Serendipity3 has been around since 1954. In that time, it's entertained famous customers like Jackie Kennedy, Marilyn Munroe, Andy Warhol, Grace Kelly, Cary Grant, Cher, Beyonce, and Jay-Z. They could probably afford to snack regularly on gold-dusted fries; for everyone else, this dish might be a once-in-a-lifetime experience. Yet apart from their obvious novelty appeal, the full list of ingredients for these wallet-busting fries might truly make your mouth water.
Would you like gold with that?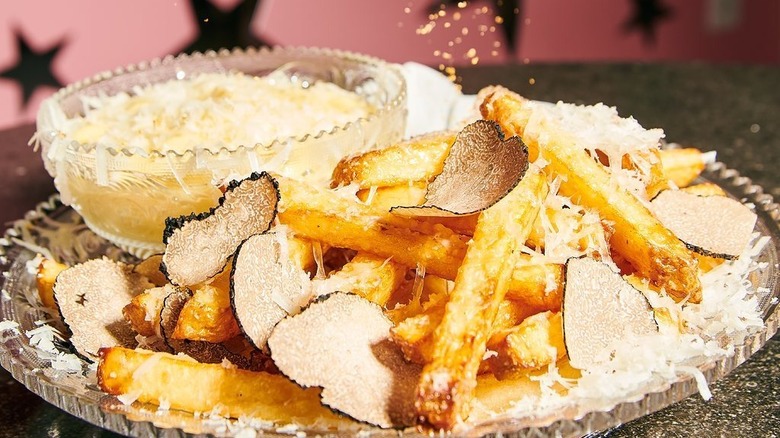 Facebook
It's become a joke to hear, "Would you like fries with that?" delivered at a burger joint, but at Serendipity3, the fries are one of the main attractions — right alongside the restaurant's signature Frrrozen Hot Chocolate.
If you want to know exactly what you're paying $200 for, the fries, per Guinness, are made with Chipperbec potatoes from Upstate New York, both Dom Perignon Champagne and some fancy French vinegar, truffle butter and truffled Swiss raclette (for the Mornay sauce, which includes organic, grass-fed cream from Jersey cows), along with a garnish of shaved black summer truffles and Pecorino Tartufello cheese. Furthermore, the fries are cooked three times over in pure cage-free goose fat from France. As for the gold dust: don't worry, it's edible.
When you leave Serendity3, you'll be walking around with a belly full of the finest ingredients, from the same restaurant that appeared in the George Clooney and Michelle Pfeiffer rom-com, "One Fine Day." Stay nearby at the equally extravagant Plaza Hotel on Fifth Avenue, and you can enjoy their "Home Alone 2" package, which will put you in another favorite movie setting (with 16 scoops of ice cream for dessert).
For more budget-conscious travelers, it might be a red flag that Serendipity3's online menu doesn't display prices. But not everything there costs $200. There are also less expensive fries and other standard dishes available, such as mac n' cheese, hamburgers, foot-long hot dogs, drugstore sundaes, and soda fountain selections.
Other Guinness World Record dishes at Serendipity3
Singer and actress Selena Gomez, who holds quite a few Guinness World Records of her own (having become Instagram's most-followed woman in 2023, for one), now owns a stake in Serendipity3, and the restaurant has already expanded to Atlantic City, with a new Miami location on the way as well. If you win big gambling at the Ocean Casino Resort (where the Atlantic City branch is located), maybe you'll have enough cash to burn that you can order some of the other items in the Guinness World Records section on Serendipity3's menu.
There's the Quintessential Grilled Cheese (world's most expensive sandwich, $214), the Luxe Milkshake (world's most expensive shake, $100), and the Golden Opulence Sundae (which is reportedly $1,000, but still cheaper than the real record holder, the Frrrozen Haute Chocolate Sundae, priced at $25,000). The restaurant also serves two previous world record holders: the Foot Long Haute Dog and Le Burger Extravagant.
Basically, you can eat your way through this side of the menu or put your kids through college. You decide, but either way, Serendipity3's Guinness World Record offerings must be ordered in advance of your visit to the restaurant. You can make reservations through a link on the restaurant's home page to the Resy service.