Take A Look Into Ancient History At This Fascinating Middle Eastern National Park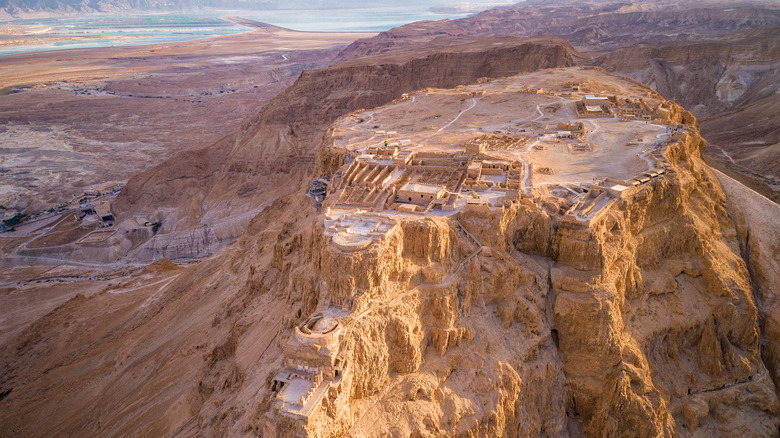 photosounds/Shutterstock
In the vast expanse of the Judaean Desert, on the very top of an isolated mesa overlooking the Dead Sea, lies an ancient 2000-year-old fortification called Masada — meaning "fortress" or "strong foundation" in Hebrew. The 18-acre complex is visited by nearly 800,000 travelers every year, making Masada one of Israel's most popular tourist destinations. Declared a UNESCO World Heritage Site in 2001, this national park promises explorers a fascinating desert journey through the sands of time.
Much of what is known about Masada is derived from the writings of the Jewish Roman historian Flavius Josephus and the archeological evidence that remains on site today. Masada was built between 37 and 31 BCE by Herod the Great, King of Judaea, as a royal retreat and a remote defensive garrison. In a fight for freedom, Masada served as the final stronghold for Jewish rebels against Roman invaders in the first Jewish-Roman War. It took the Romans nearly two years and 15,000 soldiers to overcome Masada's defenses, manned by less than 1,000 defenders. Following a few brief occupations in subsequent centuries, Masada lay abandoned until its rediscovery in the 20th century.
When visiting Masada, ensure you are adequately prepared. The desert climate can be relentless, with scorching daytime temperatures. Masada can be seen during any season, so long as the weather isn't extreme. The months of March to June and September to November are considered optimal. It's advisable to carry ample water, sun hats, sunscreen, and wear comfortable shoes.
Trails, tales, and timeless ruins of Masada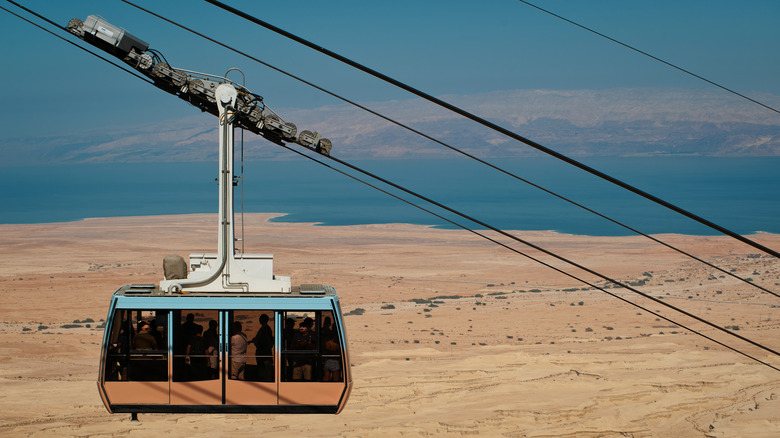 Marina Litvinova/Shutterstock
Climbing Masada 2,000 years ago was no easy feat, but today, thankfully, it's a little easier. A cable car is available for those who wish to easily reach the summit, offering panoramic views along the four-minute ascent. For those who embrace a challenge, the Snake Path awaits. This winding path, named for its serpentine twists, offers an exhilarating trek to the peak 1,300 feet above the Dead Sea. Guided tours often embark at dawn, allowing visitors to witness the mesmerizing sunrise, a sight that makes the arduous 60 to 90-minute climb worthwhile. An easier route of 20 to 30 minutes is the Roman ramp (yes, the same one built to besiege the fortress). 
Once you reach the top, there is much to do and see — you could spend a few hours meandering the national park. The Masada complex contains two palaces, three terraces, Roman bathhouses with frescoes, a Jewish ritual bath called "mikveh," barracks, storerooms, watchtowers, and an old Byzantine monastery. There's also a synagogue, a sophisticated system of cisterns able to sustain the lives of a thousand people for up to three years with only a day's worth of rainwater, and the list goes on. Indeed, Herod the Great spared no details. Although only ruins remain, albeit remarkably well-preserved, exploring the site of Masada inspires curiosity about what this haven must've looked like in its ancient splendor. As you admire the classical Roman Imperial architecture, you may even notice Tristram's starlings flying by or ibexes scaling the stone walls.
A guide to deeper experiences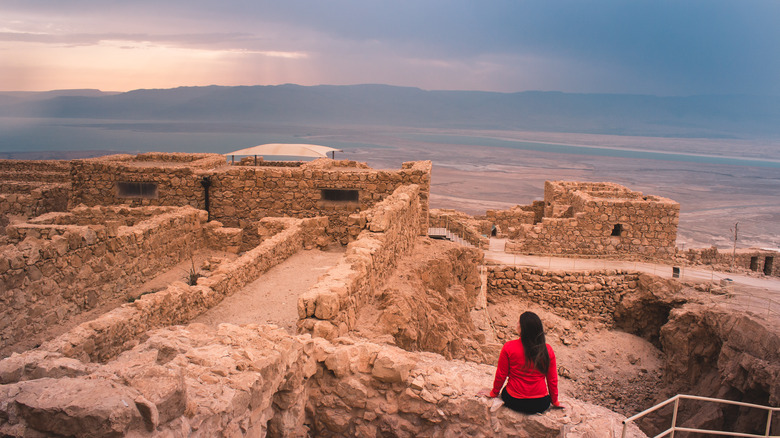 Aline Fortuna/Shutterstock
Masada isn't all bricks and ruins; countless stories are attached to this site. The Masada from Dusk to Dawn show, held at the foot of the mountain, is a theatrical masterpiece breathing new life into this legend. With impressive audio-visual effects and stunning projection mapping, it illuminates the tragic tale of the Jewish rebels and everything that happened throughout Masada's history. This night show happens every Tuesday and Thursday after sunset and lasts 45 minutes.
For those wishing to delve deeper into Masada's history during their visit, guided tours, such as those offered by Tourist Israel, are invaluable. Some tour itineraries include nearby attractions such as Ein Gedi and the Dead Sea. The visitors' center, located at the base of Masada, offers information for travelers and facilitates guided tour bookings as well. Make sure to keep the map provided as it includes information about each interest point. Entrance to Masada National Park costs $8 per adult and $5 per child. A museum is also available at the bottom for an extra $5 per person. 
If you are planning on visiting Israel, Masada is a must. A trip there is a rite of passage for Israeli locals and many Jewish people worldwide because of its powerful history and the meaning it holds in modern Israel. The 1927 poem "Masada" by Yitzhak Lamdan states, "Never again shall Masada fall." To experience the weight of these words, look to the ancient history of this fascinating Middle Eastern national park.