Visit This Budget-Friendly Destination For Your Next Island Vacation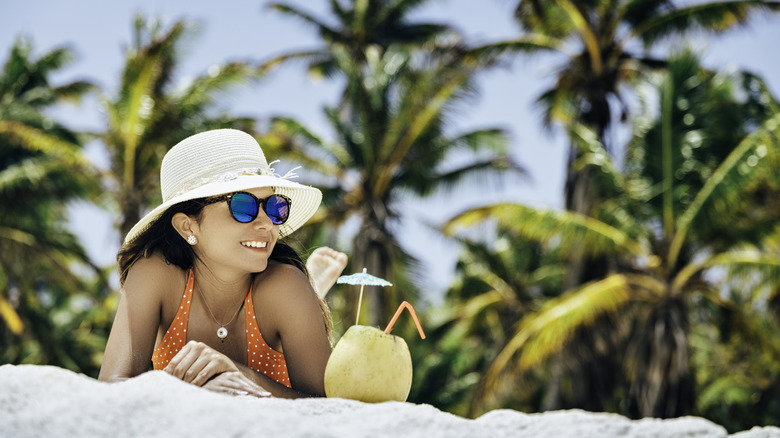 Apomares/Getty Images
Only a short hop from the tip of Florida and with affordable flights from many cities in the United States, the Bahamas is an idyllic summer getaway for thousands of vacationers each year. The 16 major islands of the 700-island archipelago offer everything a sunseeker could wish for, with pristine white beaches, crystal-clear water, top-quality accommodations, plenty of ocean-based activities, and unforgettable excursions.
While the Bahamas undoubtedly satisfies its reputation as a dream destination for many, there are several factors that mean tropical paradise comes at a cost. Accommodations, particularly luxury resorts in the most sought-after locations, can be very expensive and price out all but the most wealthy travelers. At the top end, a stay on magician David Copperfield's remote Musha Cay costs an eye-watering $50,000 a day!
The cost of living in the Bahamas is generally higher than in the United States. One factor that drives up prices is the islands' dependence on imports for food and other commodities. That means dining out can come with a hefty bill. Beyond finding a place to stay and culinary options, unique Bahamian experiences, such as swimming with friendly pigs, come with a prohibitively high price tag. The cost of island-hopping, whether by seaplane or water taxi, can also prove draining on the holiday fund. 
The good news is that the archipelago also offers some more modestly-priced destinations for your tourist buck, including Grand Bahama Island.
What to expect on Grand Bahama Island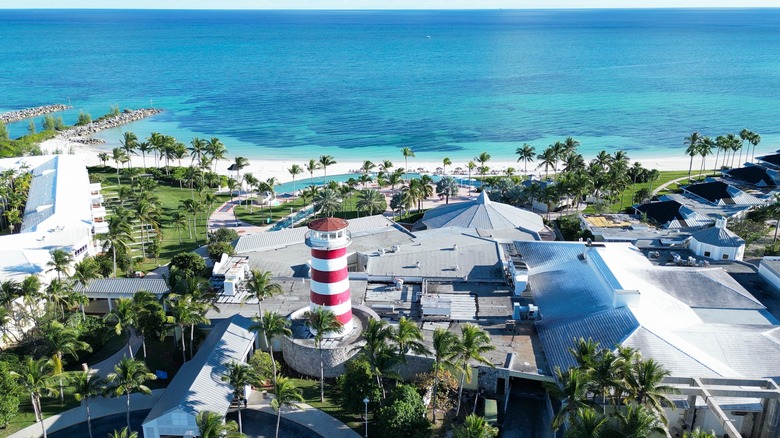 Izodron/Shutterstock
Grand Bahama Island, the fifth largest in the archipelago, is less than 100 miles across the water from southern Florida. While the nation's capital, Nassau, has a rich history dating back to the 17th century, Grand Bahama's second-most populous city, Freeport, didn't even exist until 1955. That was when an enterprising American financier named Wallace Groves sealed a deal with the Bahamian government to develop a tourist resort to rival the vacation hotspots in nearby Cuba.
Freeport is now an important trade and tourist hub in the region, providing a pitstop for cruise ships and duty-free shopping for international visitors. Groves' vision of a custom-built vacation paradise is thriving, boasting a range of luxurious hotels and amenities, entertainment, restaurants, and bars — all within a stone's throw from the trademark white sands and turquoise waters of the Bahamas island chain.
The warm ocean is perfect for snorkeling, scuba diving, fishing, and sailing, and the island's many beachfront restaurants serve up plenty of fresh seafood and other delicacies. Freeport's relatively central location on the 96-mile-long island also means that Grand Bahama's natural wonders are within easy reach. One must-see excursion is Lucayan National Park just 17 miles east of Freeport, famous for its diverse wildlife and vast underwater cave system, one of the largest in the world. Other natural attractions include Peterson Cay National Park, an island surrounded by a coral reef that provides a home to an exotic array of marine life.
Why Grand Bahama Island is a great budget destination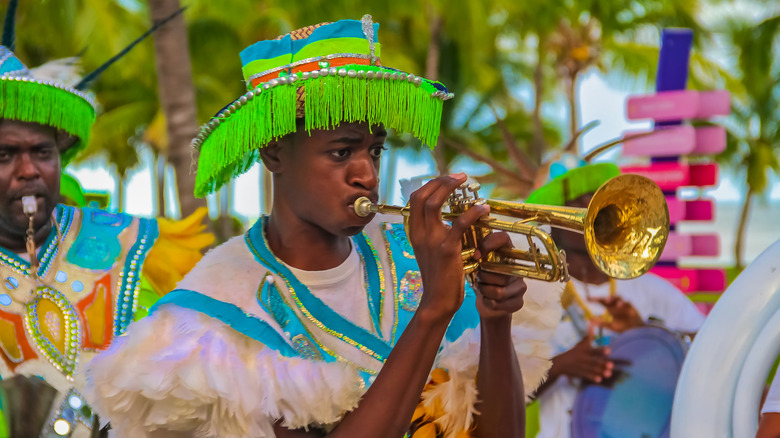 SvetlanaSF/Shutterstock
Dollar for dollar, Grand Bahama Island is ranked as one of the cheapest islands in the world to visit from the United States. Its proximity means that price-conscious holidaymakers can often pick up cheap flights or all-inclusive deals, and, if you stay away from the more luxurious options, a modest hotel for around $100 a night is possible. Budget travelers who enjoy a personal welcome might even prefer the charms of a brightly-colored beachfront B&B over the mega-resorts. 
Eating and drinking doesn't have to cost a fortune on Grand Bahama. While dining in one of Freeport's fancier restaurants can set you back $100 per person, cheap eats, often centered around Bahamian staples like freshly caught conch and cracked lobster, can be found at friendly street food shacks like Big Daddy Brown's Conch Stand, or inexpensive sea view eateries like Cleveland's Beach Club. Those savings will leave you with something to spare for a few souvenirs from Port Lucaya Marketplace, with its small stalls selling traditional arts and crafts.
While many activities and excursions come with a charge, leisure time around Freeport has many cheap options. There are gorgeous beaches with free entry, and exploring Lucayan National Park only costs a nominal fee. Cultural events such as the vibrant Junkanoo celebrations, taking place between Boxing Day and New Year's Day and at the Summer Festival, don't cost a penny either. A taste of paradise doesn't need to break the bank on Grand Bahama Island.