Visit This Infamous New York City Eatery For A $1,000 Ice Cream Sundae
For most people, to spend $1,000 on anything, there has to be a pretty darn good reason. So, when we heard that there's an ice cream sundae in New York that's supposedly worth the cost of a brand-new computer or a flight to Paris we were, to put it mildly, more than a bit skeptical. After all, an ice cream sundae can't browse the internet or put us face-to-face with the Eiffel Tower. 
For that price, this bowl of goodness better (mentally, at least) take us to the moon and ruin all other future bowls ice cream sundaes. But maybe we're being too cynical. What if, after eating it, we were left thinking about it for weeks? What if it haunted both our waking moments and our dreams? What if this truly is the pinnacle of ice cream sundaes? 
Unfortunately, we could not personally go to Serendipity3 to confirm or deny the effects of eating such a luxurious dessert first-hand. However, we can tell you where to find it, what's in this thing, and help you decide if the Golden Opulence Sundae would truly be worth the expense.
Head to Serendipity3 for an American food experience like no other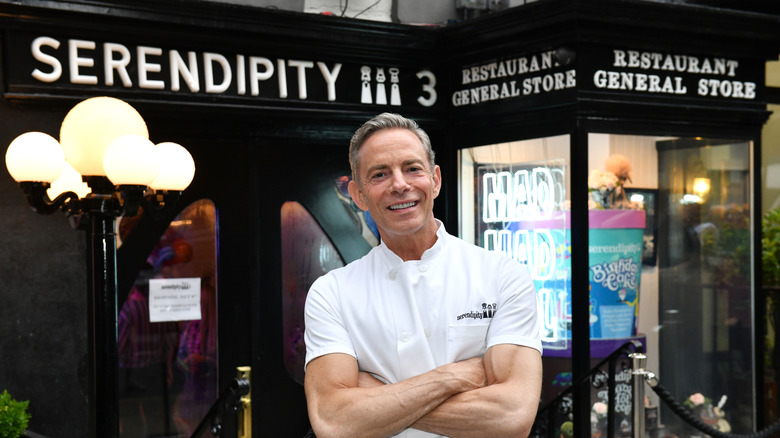 Craig Barritt/Getty Images
If you head to New York and you have a hankering for some American-style diner food turned up to 11, Serendipity 3 might just fit the bill. As the home of the world's most expensive dessert (the Frrrozen Haute Chocolate, which will set you back $25,000), it's no surprise that this restaurant is well-known for its decadent desserts and extravagant food options. Their menu is packed with a variety of plates similar to your typical carnival, diner, and dessert shop fare, such as loaded French fries, waffles, hot dogs, mac 'n' cheese, cheeseburgers, and of course their signature "Frrrozen Drinks."
Hidden in the middle is a list of what they call the "Guinness World Records" specials. Under this very specific category, you'll find the Golden Opulence Sundae accompanied by Le Burger Extravagant, the Quintessential Grilled Cheese Sandwich, Foot Long Haute Dog, Luxe Milkshake, and the World's Most Expensive Fries. Naturally, all of these items must be ordered in advance and, if you did so all at once, you would likely rack up the biggest restaurant bill anybody has ever seen. The medical bill you'd get after eating all of this would probably be eye-watering, too, so tread carefully. 
This is what makes the Golden Opulence Sundae so special
Joe Calderone, Creative Chef of Serendipity3, confirmed to Insider that the Golden Opulence Sundae was created to commemorate the establishment's 50th year, aka their "golden anniversary." Naturally, they had to go all out for it. Starting from the bottom up, here's what's in the sundae. Served in a Baccarat crystal goblet (which you get to keep!), the bottom is lined with leaves of 23-carat gold, followed by three scoops of vanilla ice cream from Tahiti blended with Madagascar vanilla beans, caramelized fruits, chocolate truffles, and dessert caviar containing Grand Marnier and passionfruit. 
To top it all off, the decadent sundae is completed with rare chocolates from Venezuela along with a golden sugar flower, and you're provided an 18-carat gold spoon to eat it all with. The cost of each of these ingredients alone is more than most are willing to spend on a single scoop of ice cream. When combined, you get a Guinness World Record holder for the most expensive ice cream sundae in the world. 
Due to its price tag and the advanced ordering requirement (they need 48 hours to fly in all the ingredients), there aren't exactly a ton of people who have tried this, with most of the public reviews coming from influencers and media outlets. The general consensus is positive, though most people continue to balk at the price tag. It does sound insanely delicious.