Plan A Trip To This Must-Visit Australian Surfing Town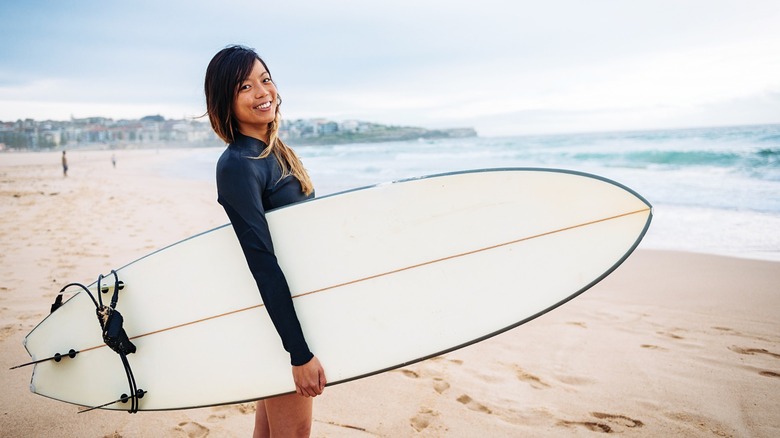 Drazen_/Getty Images
As one of the most famous surf destinations in the world, Australia is renowned for its world-class waves, expansive sands, and laid-back beach culture. While Sydney's Northern Beaches are among the most iconic, there are many lesser-known (but equally cool) surf spots to explore along the coast. One of those places that's well worth a visit is the small surfing town of Lorne, two hours southwest of Melbourne, in the state of Victoria.
Before we get to the charms of the town itself, there is its idyllic location on the Great Ocean Road. This impossibly beautiful stretch of coastline, which is on the country's National Heritage List, is widely regarded as Australia's most scenic drive. Spanning some 150 miles between the towns of Torquay and Allansford, the route takes in sweeping coastal views, native flora and fauna, and the legendary limestone pillars of the 12 Apostles. As one of the first towns on the road trip, Lorne makes a perfect early stop — whether that's for a surf, a snack, or a stay. 
While not as well-known as its more renowned neighbor (the country's surfing capital of Torquay), there is much to recommend in Lorne. In addition to the hip café culture centered along the seafront, the town has a thriving arts scene and is also home to the Great Ocean Road Heritage Centre. All of this is set against a beautiful backdrop of lush rainforest, sparkling waterfalls, and gleaming glow-worms.
A surfing destination for all abilities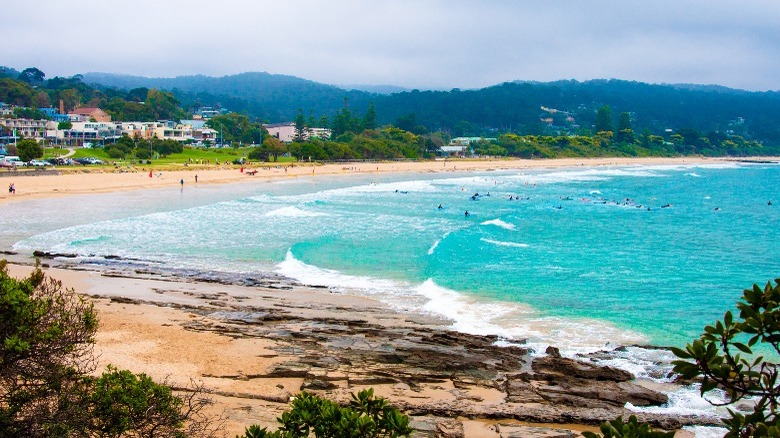 Constantin Stanciu/Shutterstock
First things first: For those coming here for the surf, the great thing about Lorne is that it is suitable for both novice and experienced surfers alike — as well as for swimmers. One of the more sheltered spots on this stretch of coastline, the smaller waves at the main beach make it ideal for beginners, and there are surfing lessons available if needed. For more advanced surfers, there are the larger waves rolling into Lorne Point.
Steeped in surf culture, the town itself is home to a wide range of cafés, restaurants, and cool little hangouts, mainly along Mountjoy Parade. For gorgeous views, a friendly vibe, and a healthy menu, HAH Lornebeach is just steps from the ocean and hard to beat. The town can also lay claim to a mix of surf shops, clothing boutiques, and gift stores, as well as an occasional market, making it a good stop-off for souvenirs.
Then there's that buzzing cultural scene. As the former home of the Falls Music and Arts Festival, which became a favorite among young Australians, the town has played host to many big-name music acts over the years. Although the festival is no longer held here, there's plenty more to keep you entertained. For instance, another important tradition is the Lorne Sculpture Biennale, held every other March, when a host of sculptures are displayed along the shore.
From whale watching to waterfall hunting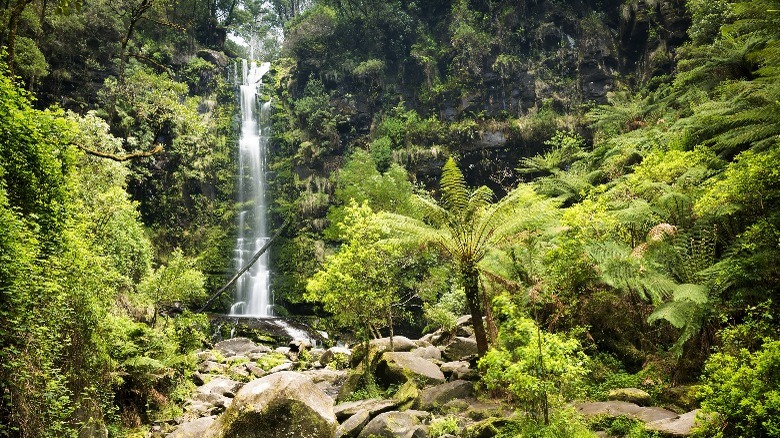 THP Creative/Shutterstock
For anyone interested in the history of the area, the Great Ocean Road Heritage Centre, found inside the Lorne Visitor Information Centre, offers a fascinating insight into the creation of this iconic route. Originally built as a tribute to all those who lost their lives in World War I, the Great Ocean Road is the longest war memorial in the world. 
Elsewhere, other highlights include a spot for whale watching at Lorne Pier, a stroll to Teddy's Lookout for panoramic ocean views, and a visit to the historic Lorne Sea Baths for all manner of beachside entertainment.
On top of all that, there is that stunning backdrop that we mentioned. Located on the edge of the Great Otway National Park, Lorne is close to dense rainforests featuring no less than 10 waterfalls within a few miles. Other attractions here include a treetop walkway, zip-lining thrills, and even the chance to see glittering glow-worms in Melba Gully as dusk falls. Not surprisingly, the wider area is home to a plethora of other wildlife, too, so look out for everything from kangaroos to koalas to kookaburras.
So, while this small surfing town may not have the reputation of Sydney's Northern Beaches, or even its sister surf town Torquay, it's safe to say that it has an awful lot going for it. When you also factor in the spectacular surrounding scenery, whether coastal, rainforest, or waterfalls, it's a must-visit in our book.