The Most Dangerous Beaches To Avoid Visiting When Traveling In Australia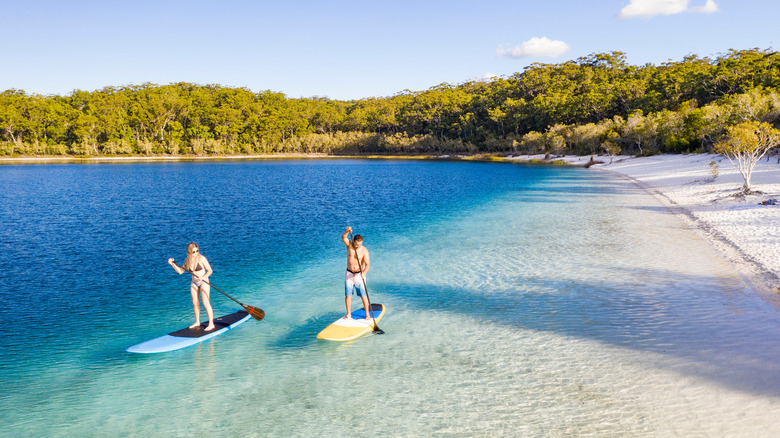 zstock/Shutterstock
With 85% of the population living only an hour's drive from the coast, beach life is a national pastime for many Australians; a place to unwind, socialize, party, barbecue, and do all the usual seaside things like swimming, sunbathing, surfing, and playing beach sports. Sydney's buzzing Bondi Beach is synonymous with the popular image of golden sands, sparkling waters, and well-tanned sunseekers. While many people in Europe and North America are dreaming of a white Christmas come December, thousands of Australians hit the beach for their seasonal celebrations.
Naturally, many visitors are also drawn to the island continent's beaches by the promise of hot weather, soft sands, and immaculately clean water. Australia's beaches are renowned as among the best in the world and, with around 12,000 dotted along over 37,000 miles of coastline, there is a right spot for every kind of traveler.
No matter where you go, a seaside vacation inherently comes with dangers, and Australia is no different. Rip currents can prove fatal and, with so much shoreline to patrol, not all beaches have lifeguards. While fatal shark attacks are rare, the ocean surrounding Australia is home to several species of sharks, including the much-maligned great white, not to mention some of the world's most dangerous jellyfish. For the most part, staying safe and enjoying your time at the coast is a case of being aware of the hazards, but two Australian beaches regularly duke it out for the title of the most dangerous.
K'Gari (Fraser Island)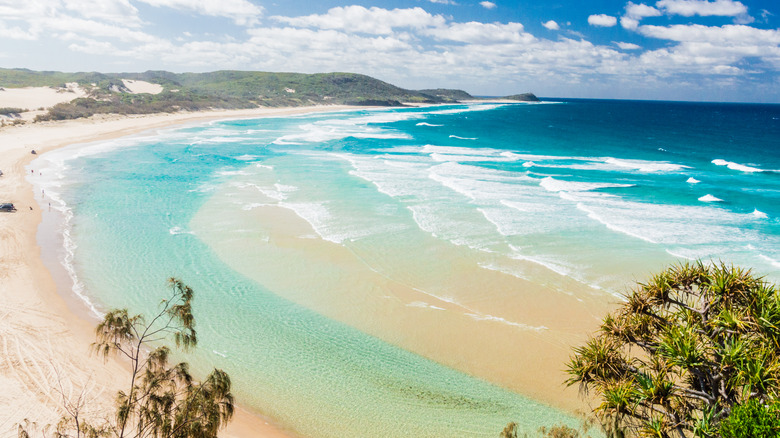 Bjuerges/Getty Images
K'Gari, or "Paradise" in the language of the indigenous Butchella people, is also known as Fraser Island, lying off the coast of Queensland 160 miles north of Brisbane. It is the largest sand island on the planet and was listed as a World Heritage Site by UNESCO in 1992, putting it alongside other wonders like Australia's Great Barrier Reef and Uluru. It was recognized for its amazing diversity of natural features, with wide beaches, ancient dunes, and a rainforest growing in sand. With only 1,500 inhabitants, it's a remarkable place where visitors come to feel closer to nature.
The island's wild and isolated nature also means it ranks as one of Australia's most dangerous tourist destinations. The sea can be rough, there are no lifeguards to provide warnings or assistance, and the island's wildlife can present a threat. Sharks are attracted to the waters by plentiful baitfish, and you also need to be wary of deadly jellyfish, including the tiny and almost invisible Irukandji. Other water creatures to look out for are stingrays, sea urchins, and venomous cone snails.
On land, dingoes can be vicious, and crocodiles are not unheard of on beaches. The sand itself can be dangerous, especially for drivers inexperienced in driving in such conditions. If there is a medical emergency, it can take a while for rescue helicopters to reach your location. K'Gari is without a doubt an incredible place to visit, but keeping your wits about you is advised.
Cape Tribulation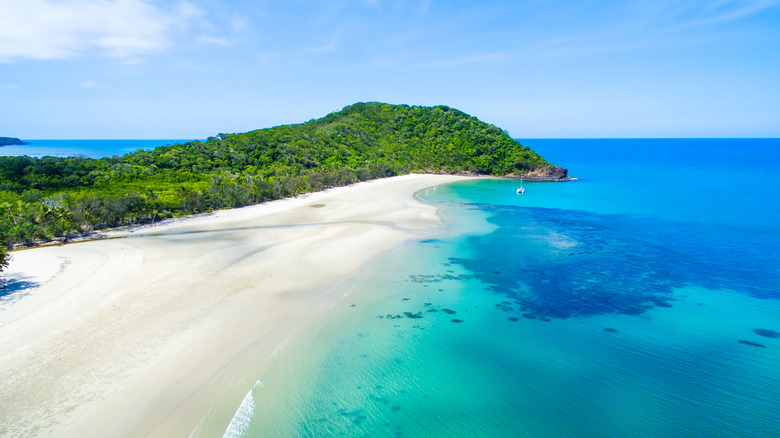 Darren Tierney/Shutterstock
Cape Tribulation, an isolated headland in the vast Daintree rainforest in Northern Queensland, gained its name when Captain James Cook's ship had a skirmish with a reef off the coast in 1770. The foreboding name hints at further perils for the unwary modern visitor, and its beaches have earned a reputation among the most dangerous in the world.
Like K'Gari, Cape Tribulation and its surrounding tropical forests are an area of outstanding natural beauty. Popular with ecotourists, it is literally the end of the road. Not far beyond, the tracks are suitable for four-wheel drive only. The forest offers plenty of opportunity for bush walks, guided tours, and horse riding, while the shoreline opens out onto a spectacular stretch of immaculate beach with dramatic coastal views. Beyond lies the Great Barrier Reef and boat trips are available from the Cape.
The beaches have acquired their notoriety largely thanks to the wildlife. As with many of the beaches in Queensland, swimmers need to be wary of lethal jellyfish, and saltwater crocodiles present another threat. Local tour guides warn that the beach is infested with "salties" (saltwater crocodiles), which makes swimming extremely hazardous. Poisonous snakes are another thing to look out for, as well as a more unusual hazard: rare birds called cassowaries that can weigh over 150 pounds and be aggressive if provoked. The local press has laughed off Cape Tribulation's lethal reputation, but even they acknowledge that swimming with salties is not a good idea.