Here's How Much It Would Cost You To Fly Private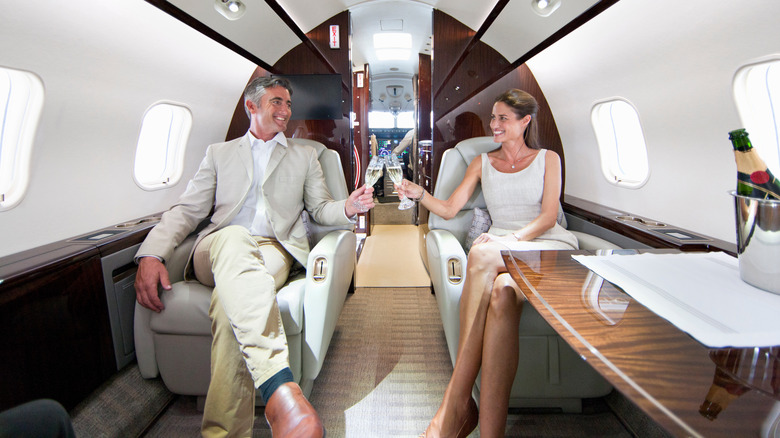 Juice Flair/Shutterstock
You might think that private jets are reserved solely for celebrities, politicians, and entrepreneurs who have the means to fly using them, but that couldn't be further from the truth. Sure, not everyone can afford to spend $150 million like Kim Kardashian on a custom aircraft like her famous Kim Air, nor be like John Travolta and acquire a considerably large fleet of personal planes they can use at any time. But that doesn't mean that you can't experience mid-air luxury.
Gregg Brunson-Pitts, founder of Advanced Aviation Team, a Virginia-based private jet broker, shared with CNBC that there was an uptick in demand for private jets after pandemic restrictions were lifted, with many travelers being first-timers. "People have come off the sidelines," he noted. "It wasn't just the wealthy people with means — governments were using them. They were a way to move around supplies so our business picked up pretty rapidly even during the shutdown."
Granted, flying private isn't the most environmentally friendly mode of transportation, with private jets reportedly being up to 14 times more polluting compared to their commercial counterparts. But if you're looking to try it out for yourself for the thrill of it, or are simply curious about the costs of chartering one, you might be surprised to find out that it's not as expensive as most people think. 
Prepare to shell out more than $1000 for a private flight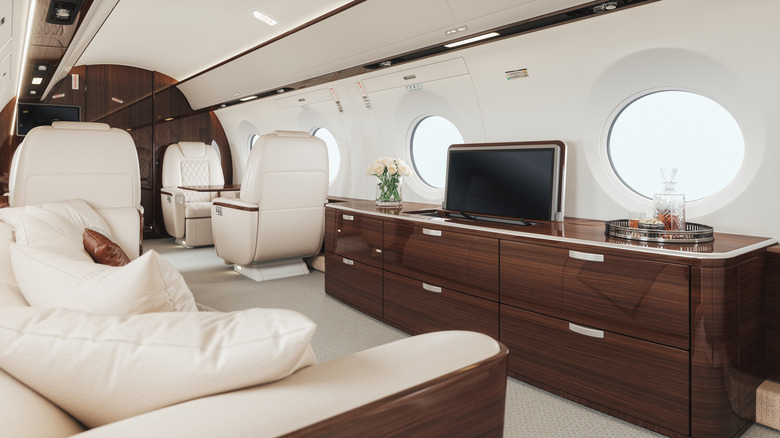 Imaginima/Getty Images
Who would have thought that chartering a private jet for domestic travel can sometimes cost less than an average business-class international ticket? Costs vary depending on the company you're renting from, but you have to pay by the hour. The cheapest jets you can rent are piston planes at $1000 an hour, but they can only accommodate up to six passengers. Turboprops come at a close second, sitting the same number of passengers and costing between $1,300 and $3,000 per hour. The kicker is their maximum flight time is four hours, and the furthest they can go is 1,300 miles. For comparison's sake, a large jet that can accommodate up to 50 and fly up to 12 hours for distances over 4000 miles can cost as much as $12,400 per hour. You can always split the cost among your group to make it more affordable, of course.
Obviously, if wish to fly internationally, you can expect to fork over more to charter an entire jet. Flying Magazine also noted that if you fly longer distances, you'll need to rent a larger aircraft as those are capable of carrying more fuel. Plus, just like most airlines, many private jet companies also charge extra fees on top of the base fare, including fuel surcharges, crew fees, and even cleaning fees. If you request additional perks like catering, WiFi, and bringing your pets on board, you have to bear the costs associated with those special accommodations.
Or you can book a private jet seat for much cheaper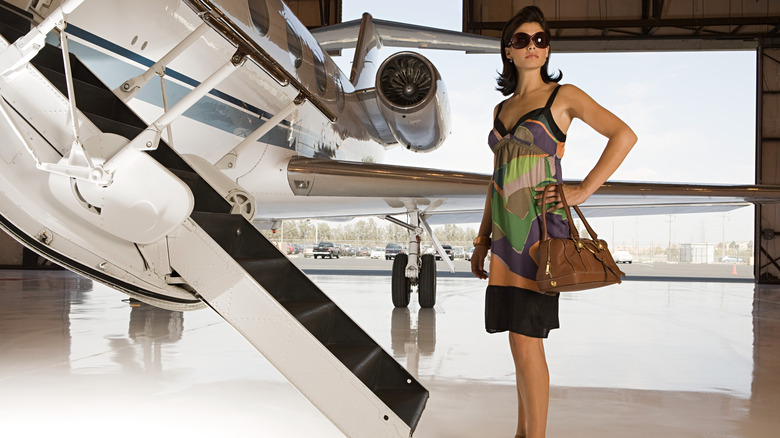 Image Source/Getty Images
If you find chartering an entire private jet expensive, you can still have a taste of luxury and fly semi-private instead. There are some companies offering seats in private planes, allowing you to ditch commercial flights and indulge in the benefits of flying private, even if it means having to fly with a couple of strangers.
Semi-private jets usually only accommodate up to 30 passengers and offer perks like contactless check-ins, access to lounges, free baggage checks, free snacks, hassle-free baggage retrieval, and virtually zero waiting times. Seats are also extra roomy compared to commercial flights, and some companies even allow small animals on board at no additional cost, which can save you a lot of hassle if you're looking to travel internationally with your pets.
The best part is flying semi-private is also incredibly cheaper than chartering an entire private jet, since you're technically only paying for a seat. JSX offers flights between Los Angeles and Las Vegas for only $119 during off-peak season, while Aero charges $1000 at the minimum, with flights reaching Europe. There are also companies that offer subscriptions and allow you to book as many flights as you want. Set Jet charges its members a monthly fee of $99.95, and flights start at $750 for domestic flights and $1550 for international. Surf Air memberships cost $295 a month, and members can opt for a $1,900 All-You-Can-Fly package that allows you to go on unlimited flights. Now who says only the rich and the famous can fly private?