Keep Your Kids Cool And Safe At The Beach With This Genius Tip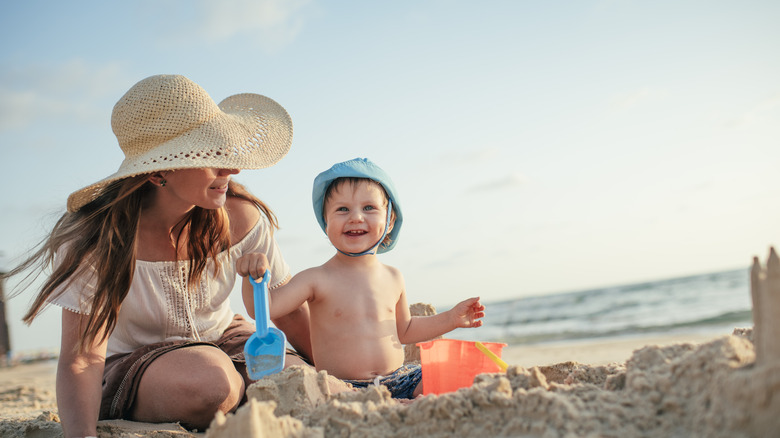 Artmarie/Getty Images
A trip to the beach is always a surefire way to keep kids entertained during a summer vacation. Whether you're collecting seashells, building sand castles, digging holes, eating ice cream, or playing with beach toys, there is always plenty of fun to be had. Then there is the irresistible draw of the ocean, especially on hot days when it's good to take a dip to cool off.
Unfortunately, that's where parents really need to be on their toes to keep their offspring safe at the beach. Young children, especially toddlers who may be unsteady on their feet or unable to swim, require constant supervision even in just a few inches of water. One wave can knock a kid over and put them in danger of drowning — and rip currents can be a deadly threat. Even with the precaution of water wings, an unexpected dunking can come as a nasty shock to a little one.
This can mean that Mom and Dad don't always get to relax and enjoy the beach as much as they'd like when they have to be so vigilant. There is nothing quite as alarming as turning your back for a split second, during which a toddler suddenly turns into The Flash and makes a hasty beeline towards the surf! Luckily, there is an excellent way to keep them cool and safe: Instead of letting them go to the water, you can bring the water to them.
A kiddie pool on the beach will keep them safe and happy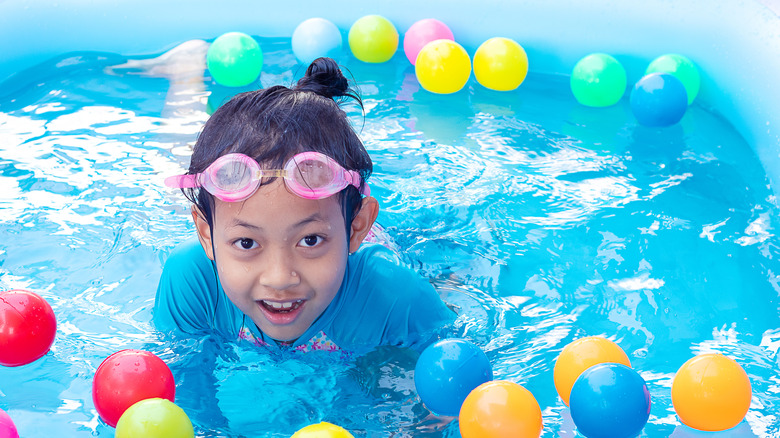 arrowsmith2/Shutterstock
An enjoyable day at the beach requires planning and packing, especially when you have kids. It's so easy to forget something when you're loading up the car with all of the gear you need. The more organized parents among us will have an extensive checklist, including towels, sun lotion, beach toys, picnic hampers, coolers, swimming costumes, water wings, umbrellas, plus any number of other items. With so much to remember, a kiddie's paddling pool might not seem like an essential addition. That's what the ocean is for, right?
But the sea can be an unpredictable force of nature, and bringing your own pool provides a huge benefit. You can fill it with water and let young children splash about happily without the worry of waves, currents, or careless swimmers who might knock them over in the surf. Add a few toys to the pool, and they can play for hours in your vicinity without feeling the urge to venture into the sea.
If using your lung power to inflate a paddling pool sounds like too much effort, there is another clever option. To makeshift your own "pool," simply take a shower curtain liner, push it down into the sand to create a shallow circle, and fill that with water. Now you're all set to enjoy a day at the beach while your little one plays contently and safely within easy reach.