Take In Incredible Waterfalls At This Popular West Coast Park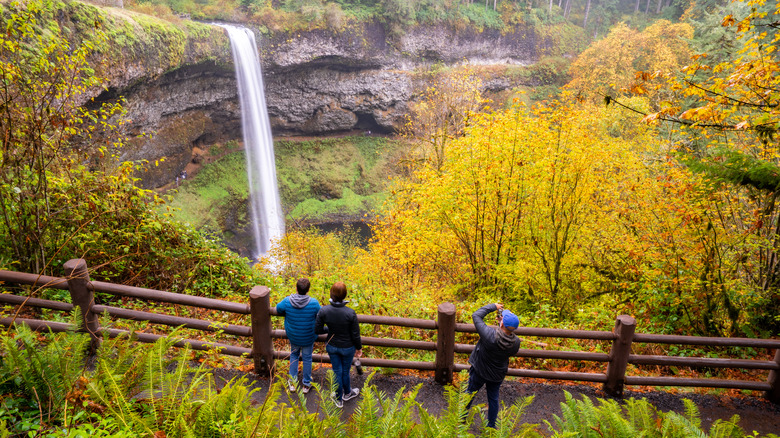 Bob Pool/Shutterstock
When it's time to get out and explore new places, every adventurer has a slightly different idea of what makes a getaway unforgettable. If you happen to be an outdoor enthusiast with a specific passion for cascade chasing, there's a place on the West Coast you simply won't want to miss. When admiring impressive waterfalls is what you're after, you'll want to begin with a trip to Oregon. According to Oregon State Parks, the Beaver State is home to no less than 255 state parks for visitors and locals to enjoy. However, it's only at Silver Falls State Park that you can savor an experience on the Trail of Ten Falls.
Silver Falls State Park provides a place where adventurers can pair their time on the trails with some truly breathtaking cascade scenery. As the name suggests, it's home to ten inspiring cascades designed by nature for enjoying. Whether you're one for nature photography or you're just looking for an unsurpassed view, it's a stop worth adding to the itinerary.
A one-of-a-kind scenic trail experience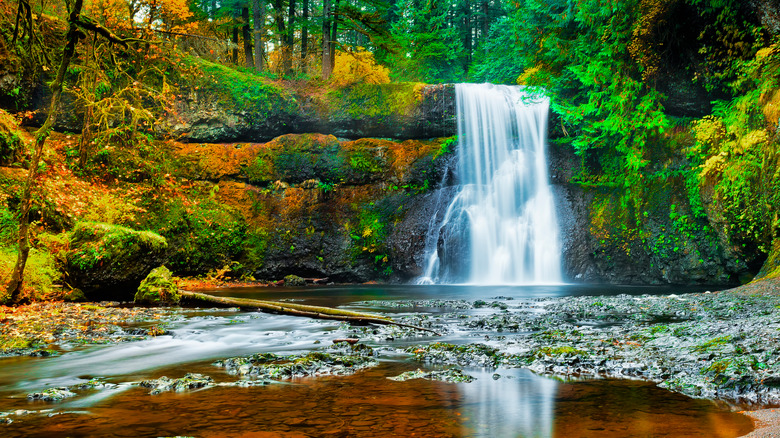 Dee Browning/Shutterstock
The combination of outdoor recreation and spectacular scenery has made Silver Falls State Park a popular destination within Oregon's park system. Upward of 1 million visitors spend time here annually according to Oregon State Park records. While there are more than 9,000 acres of terrain to explore, the Trail of Ten Falls is typically a highlight.
This fascinating trail is open all year to outdoor adventurers. Its Willamette Valley location means it's often snow-free, even in the heart of winter. If you're looking to enjoy wildflower viewing on your way to the cascades, you'll want to drop by between March and May when blooms are at their best.
No matter when you take time to explore the Trail of Ten Falls, you'll find it to be a route rated moderately difficult (thanks to an elevation variation of 800 feet). If you decide to admire every cascade on the Trail of Ten Falls, you'll explore a 7.2-mile loop.
Viewing each of the ten cascades head-on is sure to impress. Beyond these front-facing vistas, there are certain waterfalls guests can walk behind as well. The four cascades with paths behind the falls for a new perspective include the North Falls, South Falls, Middle North Falls, and Lower South Falls.
Adventure beyond the cascades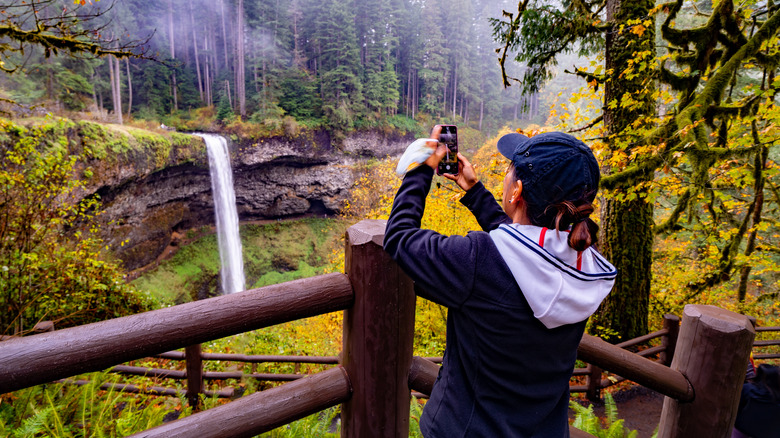 Bob Pool/Shutterstock
Silver Falls State Park has more to offer beyond waterfall watching. The park is home to over 35 miles of backcountry trails that provide a place for mountain biking and horseback riding. If you're an adventurer who enjoys views of wildlife, you can set up a camera and keep your eyes open for everything from cougars to bears that call the park home.
Many Silver Falls State Park visitors pair their trip to the South Falls with time enjoying the day-use area. Here, you'll find a collection of barbecue stands, picnic tables, and shelters alongside sprawling lawns that are great for enjoying time outdoors. There are even horseshoe pits where you can get in a little friendly competition.
If you're heading to Silver Falls State Park to see the cascades with kids in your group, you'll want to make time to stop by the North Canyon day-use area too. There's a nature play area for little ones to check out here that's designed to be both educational and engaging. While the kids play, the adults can make the most of the wonderful views of the North Falls.
Silver Falls State Park hosts an amphitheater on site as well as spacious campgrounds to enjoy. Swimming is allowed at the park and the Howard Creek Horse Camp operates between May and September. If you're interested in a guided park tour alongside a ranger, those are available by special request too.