Head To This Enchanting West Coast Forest To Visit The Set Of E.T.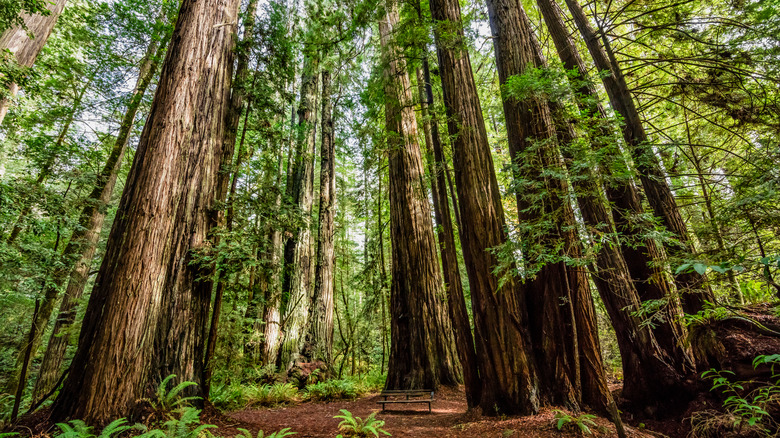 Ovidiu Hrubaru/Shutterstock
If you're in Redwood National and State Parks in California and you happen to see an extraterrestrial with a glowing heart, don't panic. E.T. himself, star of Steven Spielberg's Oscar-winning film of the same name, has been known to roam these woods. Heck, when there's a full moon and he's phoned home ahead of time, the lovable space alien has even been to known fly over the trees with kids on bicycles. In fact, for the last 20 years, ever since the E.T. Adventure ride closed at Universal Studios Hollywood in 2003, you've had about an equal chance of seeing everyone's favorite '80s alien in Redwood National and State Parks as you would there.
In all seriousness, apart from America's opposite coast — where the old-school ride still exists at Universal Studios Florida — the best place to see E.T. is probably onscreen. Living your own E.T. adventure at Redwood National and State Parks is a different matter entirely. True, flying bicycles aren't yet commonplace (despite being on the market in 2023), but who wouldn't want to spend time walking among the world's tallest trees?
Spielberg shot much of "E.T. the Extra-Terrestrial" on soundstages, but the forest scenes that bookend the film showcase the real Redwood National and State Parks. Located on the northern coast of California, the area encompasses a national park and three state parks: Prairie Creek, Del Norte Coast, and Jedediah Smith. Collectively, they span over 130,000 acres.
Things to do in Redwood National and State Parks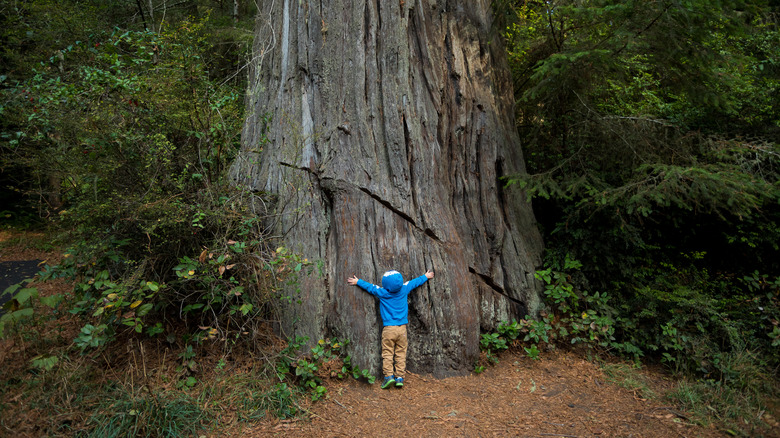 Joshua Rainey Photography/Shutterstock
Whether it be hiking, biking, picnicking, camping overnight, or literally tree-hugging (just try to wrap your arms around a massive redwood trunk), Redwood National and State Parks has activities to fit both long and short itineraries. Depending on how deep you want to go, you could spend one or more days in the parks, or simply check them out when you have a spare hour on your road trip down the West Coast.
If nothing else, you can just drive through the parks and enjoy the scenery, like a location scout for your own real-life "E.T." sequel. Unlike some other national and state parks, Redwood has no traditional entrance gates and requires no reservation with a set entry time. (The only exception to this is its Fern Canyon Loop Trail.) U.S. Highway 101 runs through the park, and even just pulling over to the side of the road will allow you to commune with nature and wonder at the sight of California's towering coastal redwoods.
The boundaries of Redwood National and State Parks begin near the Oregon border in Crescent City, California, the location of the parks' headquarters. In Crescent City, you can see the Battery Point Lighthouse, which is listed in the National Register of Historic Places as the Crescent City Lighthouse. For more redwood action, head to the nearby city of Klamath for the Trees of Mystery, where you can find unique natural formations like a Cathedral Tree and a Candelabra Tree.
Get in touch with your inner Ewok or Hitchcock character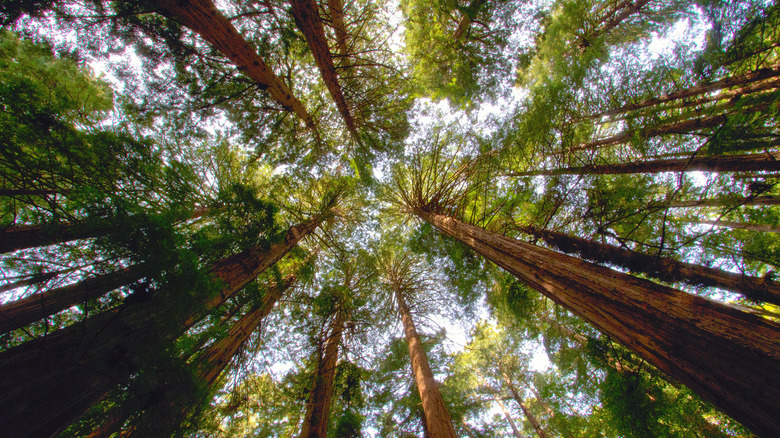 ShishkaBob/Shutterstock
"E.T." isn't the only game in town when it comes to cinematic redwoods, of course. Just a year after Steven Spielberg's alien-friendly film hit theaters, the "Star Wars" sequel, "Return of the Jedi," took moviegoers on a speeder bike chase across the forest moon of Endor, home of the furry Ewoks. Two of the three parks contained within Redwood National and State Parks — Jedediah Smith and Prairie Creek — have reportedly served as filming locations for "Return of the Jedi."
For its part, Redwood National and State Parks is about a six- or seven-hour drive from San Francisco, but even if you're sticking close to the City by the Bay, you can still see redwoods and live out some famous movie moments near there, too. Alfred Hitchcock's classic psychological thriller, "Vertigo," which notably unseated "Citizen Kane" as the greatest movie of all time in a 2012 British Film Institute poll, famously featured Muir Woods National Monument.
Whether you go for the carefree E.T. adventure with your family, or take time to do some soul-searching worthy of a Hitchcock character, California and its Redwood National and State Parks are a must-see for anyone traveling through the Golden State, movie fan or otherwise.