The Best Train Travel Tip When Traveling With Young Children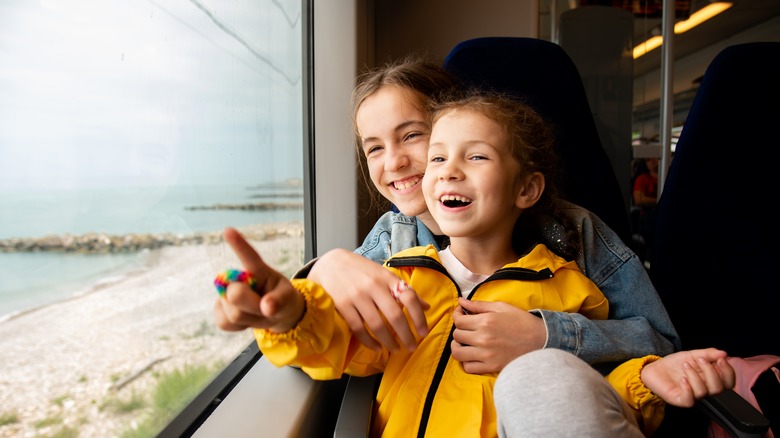 Natalya Temnaya/Shutterstock
Train journeys can be long, and they can feel even longer with bored little ones. While there are so many expert parenting tips out there that help caregivers successfully travel with kids, like always bringing plenty of snacks, sticking to nap schedules, and packing extra clothes — one simple piece of advice for traveling on trains is easy to do and opens a "window" of possibilities. No, it doesn't involve an iPad, although those do come in handy!
The world outside the train window is entertaining for all ages, especially if it offers a peek at a new destination. Little ones will see varied landscapes, spot local wildlife, whiz through cute towns, and pull in and out of interesting train stations. But for young children, the outside world may only stay exciting for a short while. If that's the case, don't panic. From creative activities to fun, family-friendly games, a train window offers more than parents might think.
A train window offers much more than just a scenic view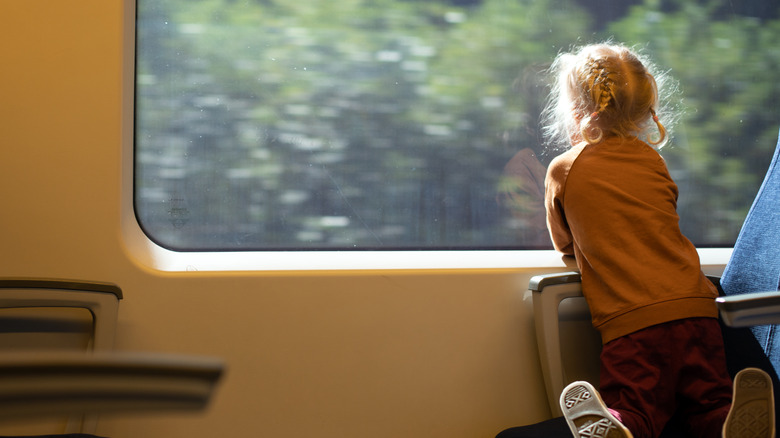 Karinabost/Getty Images
Scenic routes are a great option when traveling with little ones. Simply gazing out the glass can lead to many family-friendly activities. For example, a game of "I Spy" is always fun. And if kids are too young to participate using letters, why not play the classic game by spying things of specific colors? Bingo is another family favorite to play on the train. While this takes some advanced preparation (don't forget the homemade Bingo cards!), it's an excellent way to spend time together. Simply check off items on Bingo cards when found out the train window. 
Another fun option is reusable stickers or window clings. They come in all shapes and sizes, from small letters to big dinosaurs, and little ones will get a kick out of decorating their space. The stickers are easy to peel off and put back on again, and if they get dirty, a little soap and water will do the trick. For an even easier train window activity — give children a piece of paper and some crayons (square ones work best when traveling as they don't roll off the table), and let them draw something they see outside. The little masterpieces may just become your family's favorite souvenirs. Traveling with young children is worth the effort, and snagging a window seat on your next train ride might make the journey a little easier.