Keep Your Cruise Cabin Organized With This Household Staple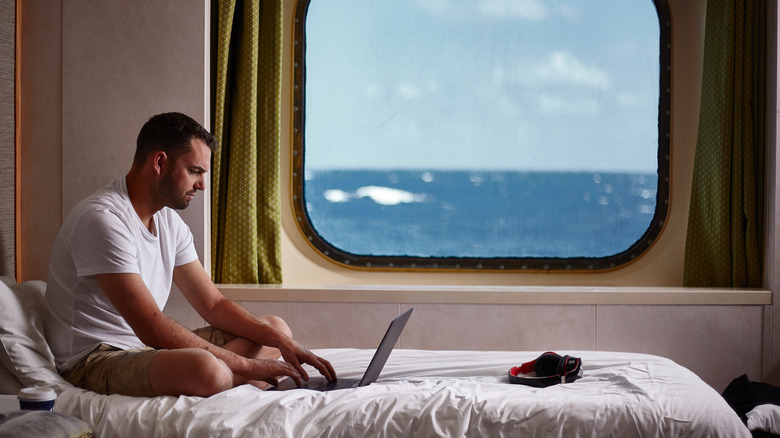 Cgf Photography/Getty Images
Cruise cabins can be claustrophobic, especially if you're staying in an inside cabin with no windows. On the one hand, those are more affordable than exterior staterooms, where you might have windows or a balcony to take in a view of the ocean and let in some natural light (and maybe some much-needed fresh air).
On the other hand, you can sometimes run into the same trouble with staterooms that you do with hotel rooms, in that there aren't enough hangers or hooks where you can hang clothes, hats, or other essentials you've brought while packing for your cruise vacation. Even a deluxe suite — to say nothing of a simple porthole cabin — might feel like a tighter space than a traditional hotel setting. When you're sealed into cramped quarters, even if you're just using them for sleep, you want to make the space around your bed as comfortable and homey as possible.
This is where magnetic hooks come in. They're a common household item you can buy in packs. Maybe you've used them at home to hang a dish towel on your fridge. People also use these hooks in the garage or office, on metal doors or whiteboards — anywhere that a regular magnet would work. Given that most cruise cabins have metal walls, they're fair game for magnetic hooks, too.
Pack some heavy-duty magnetic hooks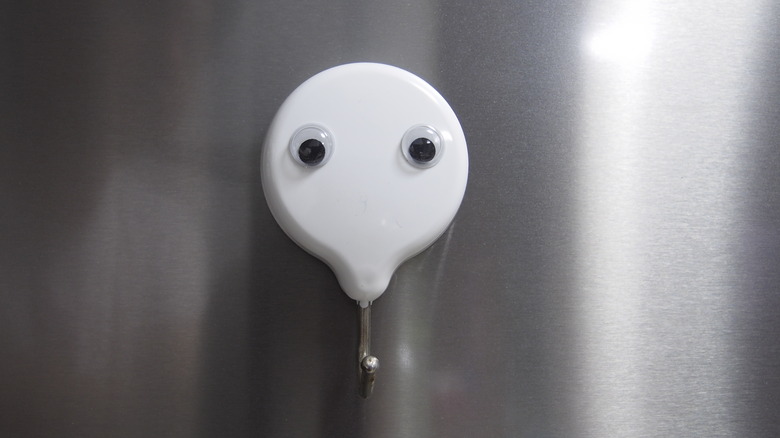 kariphoto/Shutterstock
As Life Well Cruised notes, you'll probably want to invest in some heavy-duty magnetic hooks for your cruise cabin. This is because the hooks can slide down the wall or fall off, depending on the weight of the thing you're hanging. Lightweight hats shouldn't be a problem, but in general, it's better to go with hooks that hold more weight than the googly-eyed one pictured here. Online retailers like Amazon sell some that hold 25 or 30 pounds and others that are extremely heavy-duty and hold over 100 pounds. Check your local home goods store, and maybe they'll even have some model hooks hanging where you can test out their sturdiness.
Whichever type you choose, magnetic hooks should come in handy for keeping your cruise cabin organized and free of haphazard piles of clutter. They'll add a little storage space and can be used for utilitarian purposes. If you're taking a Princess Cruise, for example, you might have a Medallion necklace you're wearing around. With a magnetic hook, you can hang your necklace by the door so it's right there and you can grab it and go.
At the end of the day, unless you have a really nice cruise cabin, you'll probably want to spend more time outside of it, enjoying onboard activities or the local sights as you venture ashore to different places. When you come back from the buffet or pool, however, hooks can give you something to hang your literal hat on.