The Unexpected Location Of The World's Rarest Passport
Passports are a major privilege for citizens of any country. They are the golden ticket to escaping the confines of your country's borders and exploring the world for new experiences and opportunities. However, not all passports hold the same power or, in the case of the world's rarest passport, are all that accessible.
For example, the pièce de résistance of passports is currently Singapore, with its visa-free access to 192 countries out of 227 in the world. This title once belonged to Japan, which offers access to 189 countries. As of 2023, it now actually ranks third behind Italy, Germany, and Spain, which each have access to 190.
The world's rarest passport doesn't come close to these numbers, but we don't think the holders of these exclusive documents would really care that much, anyway. That's because the Sovereign Military Order of Malta — based in Rome, Italy – only has about 500 passports in circulation, and they are primarily used for diplomatic missions ... not for backpacking around Asia or weekends in Ibiza.
Everything you need to know about this obscure order
If you don't know who the Sovereign Military Order of Malta are, you're not alone. Their history is about as obscure to the average person as their passport. This is a humanitarian Catholic order that had its sovereignty recognized by Pope Paschal back in 1113. If you didn't do the math there, that's 900 years ago! This makes the Order one of the oldest institutions in Western and Christian civilization.
Today, members of the Order provide medical aid to countries around the world, and only a select number of its members are granted these diplomatic passports to allow them to carry out these missions. Who gets them? Firstly, the Grand Master and members of its Sovereign Council. Then, the leaders and members of its diplomatic missions, as well as their partners and their children. Passports are also granted to the Grand Priors, the Presidents of its National Associations, and those entrusted with special missions or who hold senior positions in the Grand Magistry of the Order of Malta.
To become a member of this Order, you need to be invited (and a Catholic, of course), so the chances of you getting one of these passports someday is pretty slim, but then again, anything is possible.
Here's where holders of this special passport can go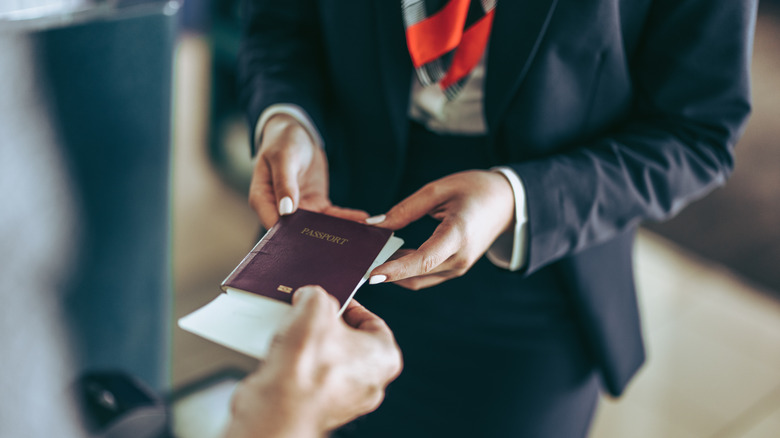 Jacoblund/Getty Images
Even if you could get access to one of these passports, you're likely not going to be putting it to personal use. As we mentioned, these rare documents are really only used by members to embark on diplomatic missions. They are also only valid for four years, and their use is tied to the duration of a given assignment.
Additionally, the passports are only accepted by the 112 states that they have diplomatic relations with. They are also not considered a valid form of identification in countries with strict travel rules, such as the United States, New Zealand, and the United Kingdom.
However, Sovereign Military Order of Malta passport holders don't really need access to these wealthy countries, as they typically help countries that are in the middle of armed conflicts or facing the impacts of natural disasters. So while it's not as powerful as Singapore's, the holders of this passport are doing a whole lot of good for the world with the access the document provides.