Why You May Want To Avoid This Popular Tourist Swimming Spot In Texas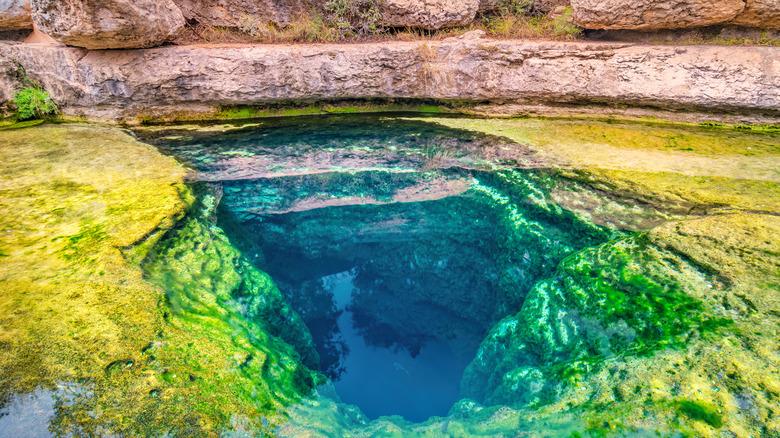 Benedek/Getty Images
Spending summer afternoons at the lake is a favorite activity for many Americans. Whether exploring by boat, splashing at the shore, or relaxing beachside with a good book, the epitome of life by the water is relaxing, refreshing, and lots of fun. But what if unknown risks lurked below the surface and along the shorelines?
Jacob's Well is an artesian spring with its fair share of hidden dangers. Located in the Texas Hill Country, the popular swimming spot has an underwater cave system that is so dangerous to explore that several casualties have been reported. According to a 2016 Houston Chronicle article, 12 scuba divers died at Jacob's Well, which resulted in sealing off the area, declaring it only open to swimmers and free divers.
While the opening to Jacob's Well is only 12 square feet, the space extends 140 feet below the surface and includes multiple caverns. The main cavern is whopping 4,341 feet in length, while a second cavern is still impressive at more than 1,000 feet. With water temperatures at an average of 68 degrees Fahrenheit, many swimmers cool off from the hot Texan sun in Jacob's Well, many unaware of the dangers that lurk below.
What's below the surface in Jacob's Well?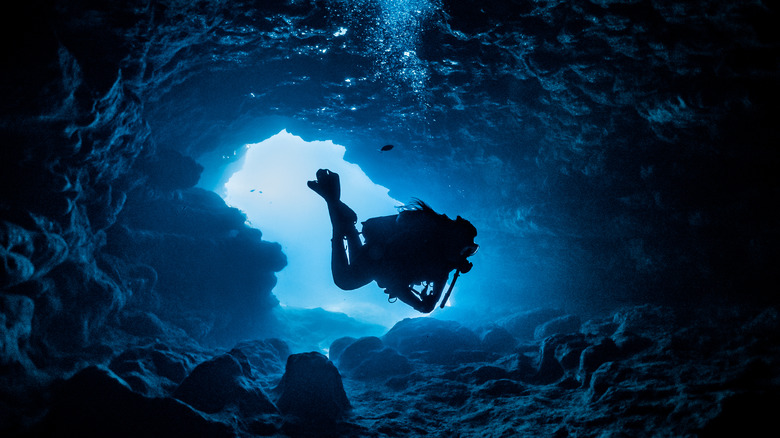 Jellyman Photography/Shutterstock
Most people witness the allure of one of the country's most mysterious places by simply opening their eyes underwater while swimming near the surface. But some thrill seekers swim far deeper. Diving into Jacob's Well with scuba equipment started in the 1950s. In 2000, trained cave divers began the exploration of the natural wonder. In 2007, volunteers and self-funded cave divers started the Jacob's Well Exploration Project. The project has successfully mapped out 6,000 feet of the underwater world in two main caverns and produced a detailed map of the intricate cave system. Due to its in-depth research, we now know that Jacob's Well is the second largest fully submerged underwater cave in Texas. To date, Hays County Parks Department has authorized Jacob's Well Exploration Project-led diving operations at Jacob's Well to continue exploring, mapping, and researching. 
Author Stephen Harrigan logged over 20 dives in Jacob's Well before writing his book, "Jacob's Well: A Novel." In the Texas Standard, Harrigan described the underwater world beneath the idyllic surface as "like a portal from another dimension, a world of unnatural vibrance and mystery." He believes only experienced certified cave divers should dive deep into Jacob's Well, further stating, "It gets so dark you can taste it."
What to know before you go to Jacob's Well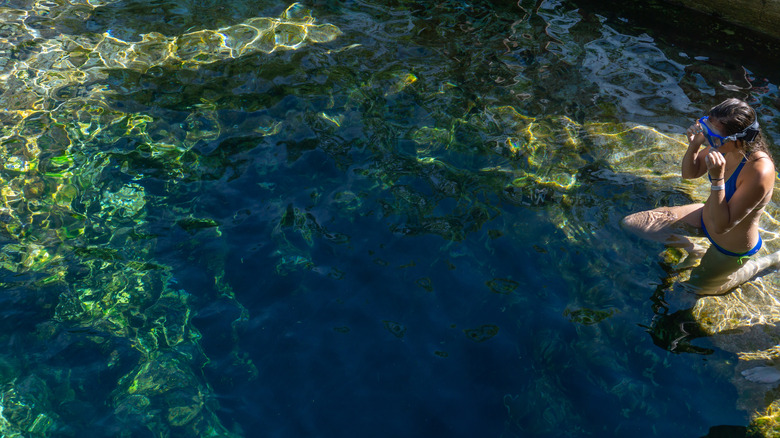 Erin Donahue Photography/Shutterstock
While the Jacob's Well Natural Area is open year-round to hike and view the spring, it's currently closed for swimming until further notice due to drought. However, when jumping in is safe, there are a few tips worth knowing. First and foremost, only professional and experienced divers should explore the beautiful caves. Also, there is no lifeguard on duty at Jacob's Well, so swim at your own risk.
Next, regardless of whether swimming is allowed, all visitors to Jacob's Well should bring water, especially in the summer months. The Texas Hill Country is hot, and hydration is always a good idea. Or better yet, plan ahead and bring a picnic. There's nothing better than a hike or quick dip followed by a cold drink and a tasty lunch! For visitors' convenience, picnic tables are available, and coolers are permitted.
Appropriate footwear is also advised as the distance from the small parking lot to Jacob's Well is a good 15-minute steep hike. For families with strollers, consider leaving them at home. Strollers may be difficult to navigate up and down several sets of slippery stairs.