Protect Your Head From RV Awnings With This Genius Hack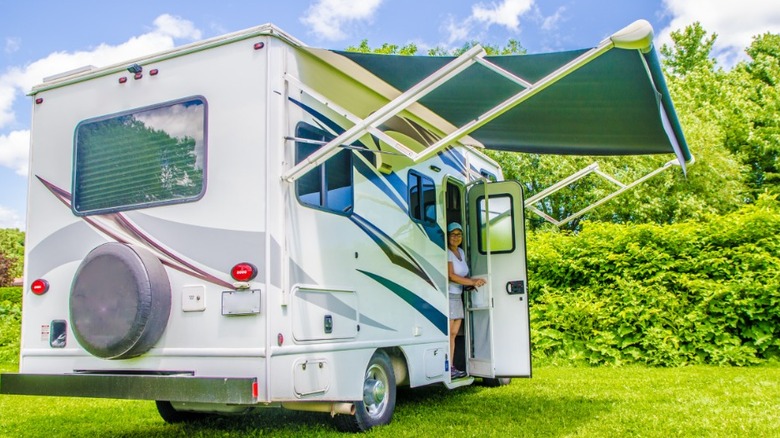 Kenwiedemann/Getty Images
Sometimes it is difficult to have spatial awareness when using an RV. Once parked, your RV may have multiple slide-outs and awnings that are not there when in motion. Additionally, navigating a campsite in the middle of the night makes for low visibility. Hitting your head on something hard at any time of day can make for an annoying trip. However, there are ways to protect yourself and others from parts of your RV that stick out into open space.
Awnings are wonderful for providing shade once your RV is parked. To slide them out and keep them in place, RVs have metal poles called struts. The issue is sometimes these struts come down low on the awning and right in the path when walking around the campsite. Protect your head by sliding a foam pool noodle over the metal strut. Though you may want to measure the length first.
Trim a pool noodle to fit over the awning struts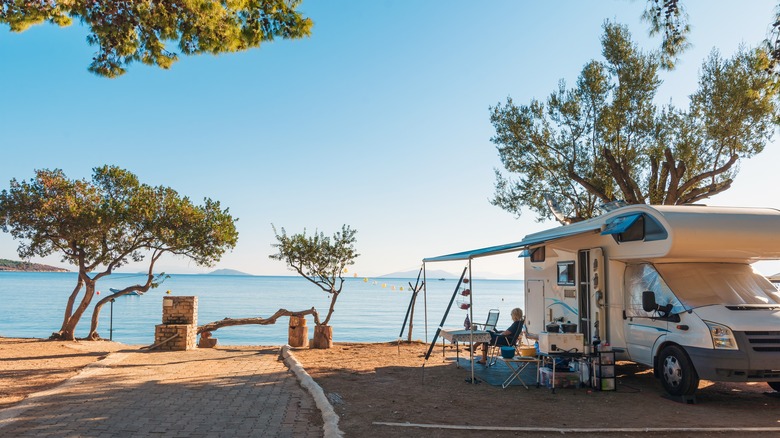 Andrii Marushchynets/Shutterstock
To put a pool noodle over a RV awning strut, measure the length of the awning and cut the pool noodle to size. Then cut the noodle horizontally so that you can fit the metal strut in the cylindrical hole of the noodle. The narrow size of pool noodles do not sacrifice the awning's functionality. Though the soft foam protects your forehead from the struts, the bright color of the noodle draws attention to the awning like reflective tape on a safety vest as well.
Pool noodles can easily be stored during camping trips as well. You may already own one as many campsites have pools onsite. If not, they are easy to find. Retail chains like Dollar Tree and Wal-Mart sell them in droves at low prices. Even if you don't use one for your RV's awning, they might come in handy for other things like protecting fragile items in your suitcase. While they sometimes start to crumble after heavy use in water, they last longer when kept dry for any savvy uses that you can find for them.