Pack More Efficiently With This Color-Coordinating Hack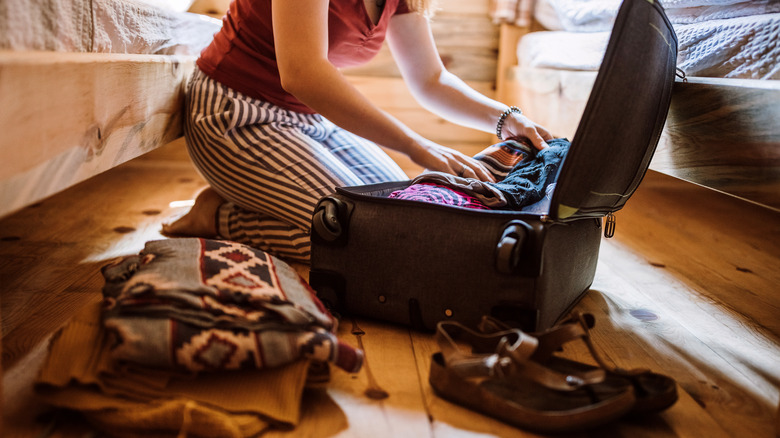 Pekic/Getty Images
Figuring out what to wear while traveling, be it a vacation you've always dreamed of or a business trip filled with meetings, can be a hassle. You want to pack light but you also want a variety of clothes to choose from — these two desires are often at odds with one another. You could stuff your suitcase and just accept the fact that it'll be a nuisance to lug around and eventually unpack, or you could try to pack light and risk being dissatisfied with your outfit choices while you're on your trip. If you're looking for a solution that won't weigh you down or limit your options, coordinating your outfits by color could be your solution.
You can borrow from the idea of a travel capsule wardrobe when packing. "[It's] a mini wardrobe made up of really versatile pieces that you totally love to wear," the blogger behind Un-Fancy Caroline Rector told Who What Wear. This method enables you to have a wide variety of outfit choices with minimal articles of clothing — perfect for packing.
How to do it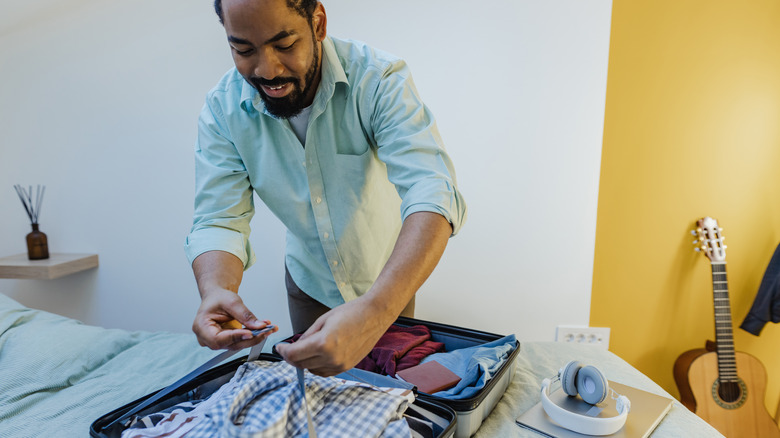 Blackcat/Getty Images
Color-coordinating while packing is as simple as it sounds. You choose a base color and exclusively select articles of clothing that match. This enables you to mix and match the clothes you pack while you're away. You can start with a couple of pairs of pants and load shirts that match. This also quickens the packing process since you're searching for matching patterns and colors rather than coordinating entire outfits.
If you're trying this method out for the first time, it may take you a little bit longer to find where your matching clothes are tucked away and sort them out based on color. With that being said, since it's a visual process, it'll still go by in no time at all. "I can simply throw in a bunch of separates I know will look good no matter what combination," Oneika Raymond wrote for Expedia. "Doing this allows me to pack way more quickly and efficiently." After trying it out, this might just become one of your top packing strategies. 
Starting the process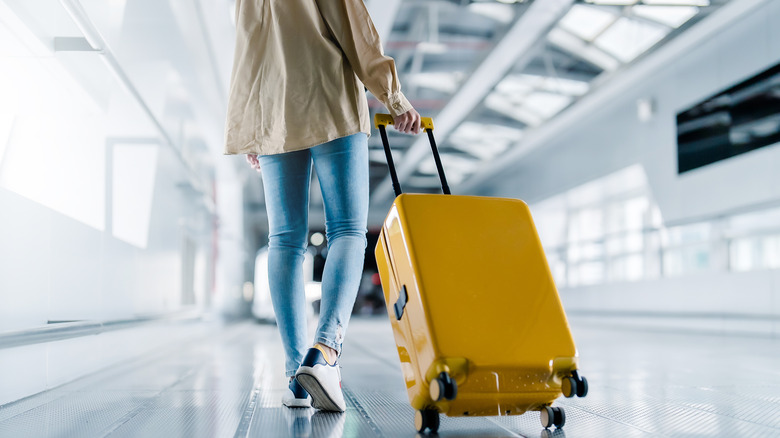 Marchmeena29/Getty Images
Creating a color palette and packing accordingly can save you time and stress. The hardest part is getting started. To do so, start with your favorite pieces of clothing. "Evaluate your wardrobe and pull out the things you already wear, create new combinations from the old," personal stylist and sustainability expert Lakyn Carlton told Harper's Bazaar.
Shoes also play a role in your outfit. The last thing you want to do is decrease the amount of clothing you bring only to increase your suitcase's weight with shoes. Consider only bringing three pairs of shoes — one for going out, and two that are practical to wear. Once again, make sure they match the color scheme you've selected for your clothes so everything is cohesive. 
Once you're packed, you can head out with peace of mind, assured that you'll look great no matter which option you choose for an outfit. Everything will match and you'll be able to walk with confidence in your favorite fits.