Avoid One Clothing Mistake When Visiting A National Park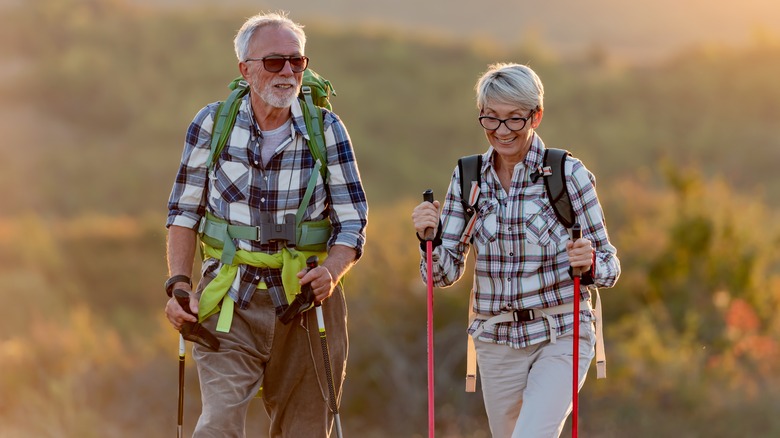 Lordn/Shutterstock
Visiting a national park is on many people's bucket list. Some are even ambitious enough to try and visit them all, from the most popular parks to the lesser-known ones. Visiting a national park is a worthy goal because it offers an immersive experience in nature. Tall trees, towering mountains, glistening lakes, and wildlife are only the beginnings of what they contain. For those looking to escape the bustle of the day-to-day grind and connect with nature, these parks provide a refuge.
National Parks are for everyone: Experienced outdoorsfolk and families with children are bound to find beauty and fun. Regardless of your level of expertise, one key thing to consider is clothing. Some, especially those venturing out to a national park for the first time, tend to look at the temperature and plan their outfits accordingly. While weather is important and relevant, it doesn't tell the whole story. Dressing in layers is ultimately the best move to make.
Dressing in layers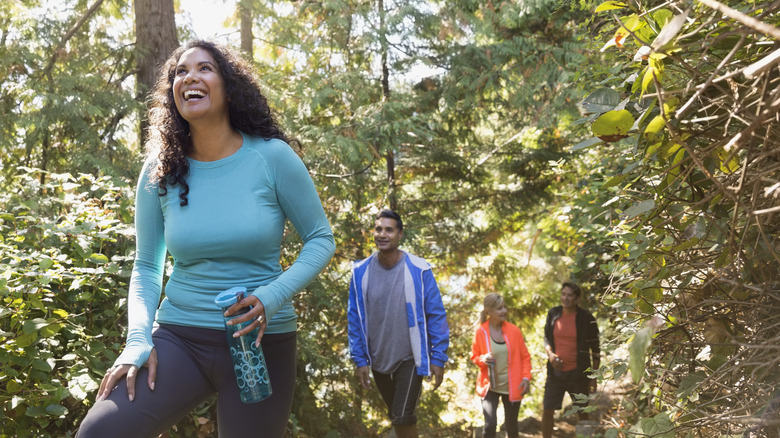 Hero Images/Getty Images
Elevation levels, time of day, and wind can dramatically impact the temperature — what was comfortable and sufficient in one location could leave you shivering or sweating in the next. The solution to this problem is dressing in layers. By doing this, you'll save yourself from discomfort.
Since the weather can be finicky in a National Park, adding a rain jacket to your bag can save you if it starts raining. "Hikes that started early in the morning were a bit chilly until the sun came out and we started moving. [...] The sun is brutal, particularly on the high line trail, it is pretty exposed," a Reddit user wrote. "[At Glacier National Park] the weather went from beautiful and sunny to dark and rainy in seconds and I am glad I had a rain cover." Depending on the weather upon your arrival, you can slip a long-sleeved sun shirt or sweatshirt over the tank top or put the long-sleeved sun shirt in your bag. As for pants, zip-off hiking pants provide the warmth of pants with the choice to turn them into shorts if the sun is blazing.
Shoes for comfort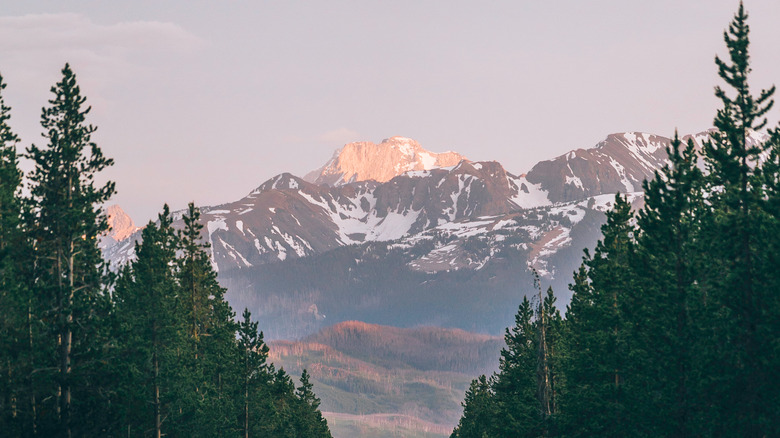 Kevin Kopf/Shutterstock
One TripAdvisor reviewer chronicled his trek from Grand Teton National Park to Yellowstone National Park and shared how he experienced a roller coaster of temperatures and weather conditions. "[I] had to go back to West Yellowstone and detour to west of Grand Teton National Park to Jackson where the sun was shining," he wrote. "[I] stopped on the way to photograph Grand Teton peaks but they were shrouded in clouds. [I got] to the Moran entrance and snow and rain started!"
For those packing up the car with the intent of exploring the most beautiful places in America's national parks, make sure you have appropriate clothing for the variety of weather conditions you can encounter. From waterproof shoes to sunglasses, have a list of what layers you'll bring and make sure that each item is checked off. Once your clothing is in order, you're ready to go on your grand adventure in the great outdoors.