Never Forget Your Pillow At A Hotel Again With This Genius Hack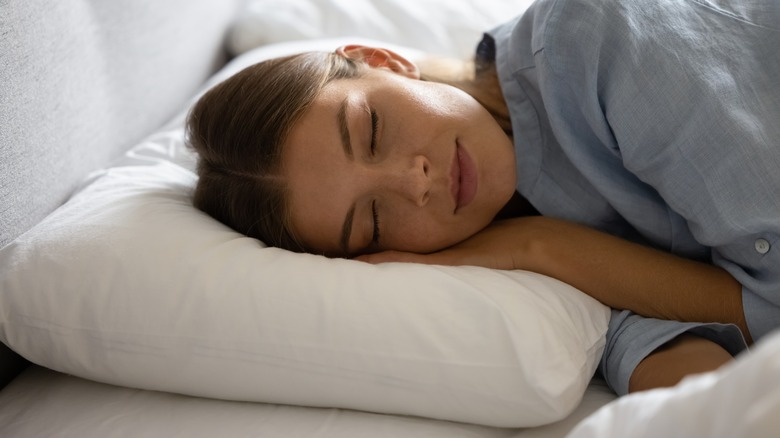 fizkes/Shutterstock
Sensitive sleepers out there know how frustrating it can be to lay down in your hotel room after a long day of travel and find a lumpy no-good sack of "memory foam" trying to pass for a pillow. Regardless if you have one or five of them, they all suck, give you terrible neck pain, and aren't as good as your favorite pillow at home. So, what do you do next time? Bring your own. This is a great idea and a travel essential we definitely recommend if you're on a long road trip
There is one drawback to this, though. Like anything you bring with you into a hotel, there is a chance you could forget it there. And if your pillow is also white, it may start to blend in with the other hotel pillows, and you could forget about it entirely when it comes time to leave. So what do you do?
Dress up your pillow to make it stand out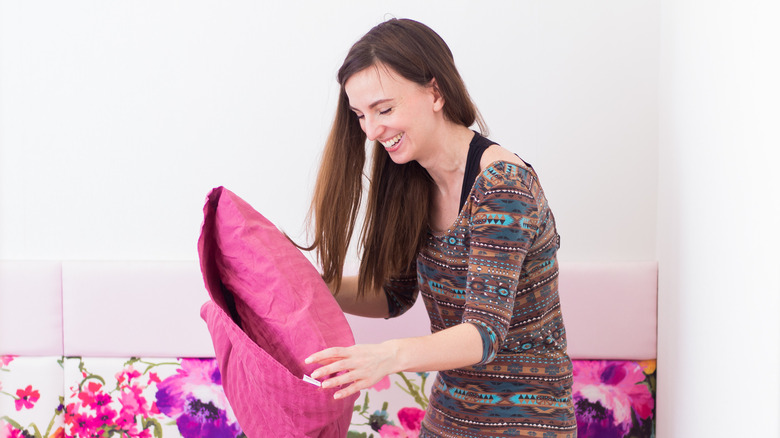 lipmandarin/Shutterstock
While a white pillowcase is much easier to clean and looks nicer on a bed, when you bring it along with you to sleep in a hotel, it's a recipe for disaster. Not only could you forget it at your hotel and be without your pillow for weeks, but having the concierge send it back to you could also be a major hassle.
So here's the trick to making sure this never happens to you ... put a brightly colored pillowcase on your pillow. Yup, it's that simple! This is the easiest way to ensure that your perfect pillow never gets left behind since it will stand out among all the white pillows. That is unless you find yourself at a very unique hotel that coincidentally uses the same colorful pillowcases. However, we're pretty sure that's unlikely and that this hack will work wonders for you. And if you still forget it there, at least the hotel housekeepers will be able to spot it right away and get it back to you quickly.