The Safest Type Of Hotel To Book If You're Traveling Solo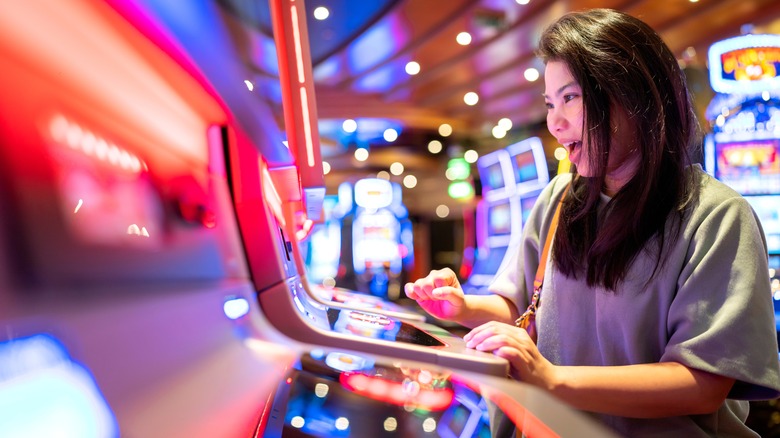 WHYFRAME/Shutterstock
Traveling alone can be a daunting experience, so feeling comfortable and safe is of the utmost importance — especially when it comes to where you'll be sleeping. When choosing where to stay, solo travelers must consider both the type of accommodation and the physical location of their destination, which will offer a sense of safety and security while still being able to have fun.
According to solo traveler and blogger Leslie Carbone, one of the best places to stay is casino hotels. These hotels have cameras in nearly every corner of the building to keep an eye on guests, and have ample security personnel. While this might be disconcerting for those who like their privacy, this is fantastic for solo travelers. Cameras can prevent individuals from attempting anything unscrupulous, and if someone does try something, help is close by. Not only that, but you won't have to splurge on safety — the rooms are usually priced fairly, and there are tons of things to do inside the hotel if you don't feel like venturing out.
But what do you do if there aren't any casino hotels available where you're traveling solo? We'll share all the tips for finding safe accommodations and more.
Finding safe accommodations as a solo traveler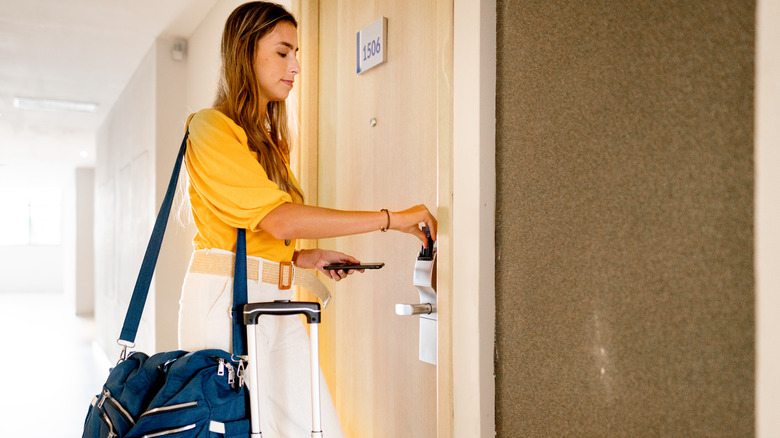 Giselleflissak/Getty Images
Casino hotels are a great option for solo travelers, but you may have issues finding them outside the U.S. or in less populated places. If that's the case, you'll need to find a different kind of accommodation that's still just as safe. Regardless of where you stay, consider bringing some devices that enhance your sense of security at your hotel.
Unfortunately, there isn't one thing that intrinsically makes a hotel or vacation rental safe. So you'll need to rely on word of mouth through online reviews and forums. Check solo travel forums such as The Solo Female Travelers Network on Facebook or r/femaletravels or r/solotravel on Reddit to see if any of the users have suggestions for hotels or accommodations at your destination. If you can't find any, simply create a post in these groups, and you're bound to get plenty of comments with options to choose from. Once you find a few, check the reviews across multiple platforms to see what people have to say.
When it comes to vacation rentals like Airbnb's, again, check the reviews and see what people have to say about the host. Though we are hesitant to generalize, if you're going to be staying in a room and sharing the apartment or house, you might feel more comfortable booking your stay with a female host. However, always trust your gut and go with what you feel will be the best fit for you! 
Don't just research the hotel — read up on the area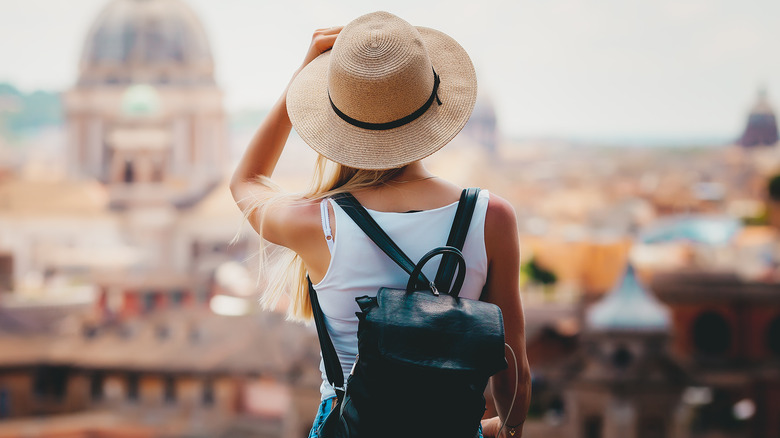 mcroff88/Shutterstock
While solo traveling does require you to put some toes outside your comfort zone, you should still take measures to book your stay in a place where you'll feel comfortable walking around during the day but also at night, if possible.
Casino hotels will typically be located in or near a big city and though this doesn't make them inherently safe or unsafe, you should still be sure to read up about the hotel and what former guests have to say about the area. The less people have to say about it, the better. If there are only good things people have to say about the area, that's obviously a positive, too.
Regardless if you'll be staying in a casino hotel or not, check on Google Maps street view to see what the general "vibe" is like and whether it's a place you would be comfortable in. Keep in mind that some street view images may be a few years old, so things might look different when you arrive. This is why it's important to read up about the city and its different neighborhoods and scan local news reports. You should definitely check the same solo travel forums to see if there are recent posts about your destination and what people are saying regarding safety and crime.