The Easy Packing Tip That Will Make Your Travel Day Less Stressful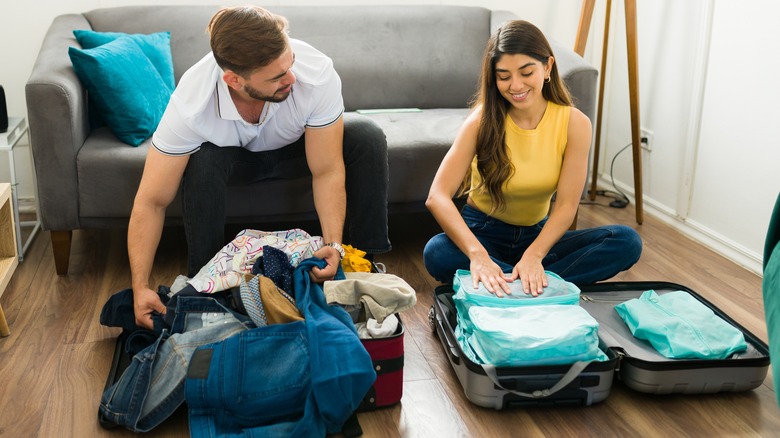 antoniodiaz/Shutterstock
If you've been planning the perfect vacation, there's nothing more exciting than when departure day finally rolls around. After weeks of anticipation and planning, it's finally time to embark on your adventure. You've double-checked your flight time, confirmed your hotel and rental car reservations, and checked in with your travel companions. Your ducks are in a row, right?
Somehow, even with all the planning and excitement, departure day never seems to run smoothly. If you're always wildly running around the house doing last-minute things and feeling like you're forgetting something, you're certainly not alone. Packing for a trip can be incredibly stressful, and according to a 2021 collaborative study between TrunkClub and OnePoll, 65% of Americans have a hard time packing.
If you're waiting until the very last minute to pack your bags, you aren't doing yourself any favors and are much more likely to forget something crucial. Travel can cause anxiety for various reasons: disrupting your daily routine, thrusting yourself into the unknown, and potentially even experiencing sleep disruption and unexpected travel delays. You certainly won't be able to control every outcome while you're traveling, but you can manage your level of preparation before you depart. Still, according to the same 2021 poll, a third of the people surveyed only begin packing within 24 hours of departure. Even if you're packing light, waiting until the last minute can lead to unwanted anxiety. 
When to pack for a trip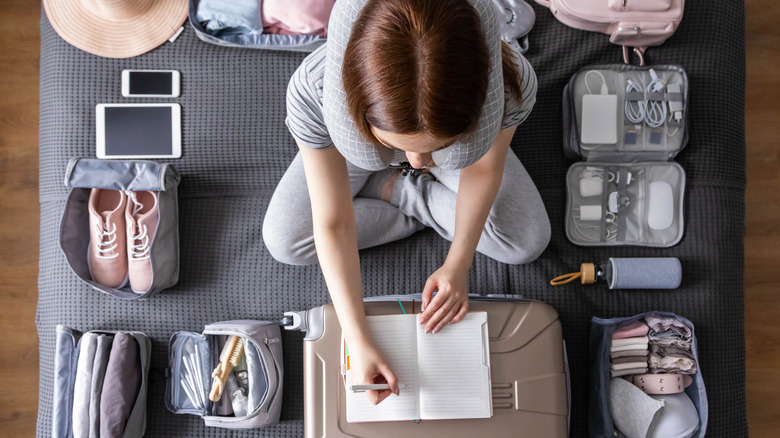 Kostikova/Getty Images
If you're like most Americans who think getting packed up is one of the most stressful parts of traveling, take some pressure off of yourself on departure day by packing your bags in advance. You'll be amazed by how calm, cool, and collected you feel heading to the airport when you didn't spend your final hour at home digging through the laundry, looking for your favorite jeans.
Instead of waiting until the last minute, consider beginning the packing process several weeks before you leave for longer trips that will last a week or more. A few days in advance should be fine for shorter weekend trips.
Begin your packing strategy by making a list of everything you will need. Your list should include the necessities like clothing, toiletries, medications, travel documents, and any electronics you'll need on your trip. Once you've narrowed down everything you can't do without, you can add extra comforts, luxury items, or additional outfits. After making your list, pull out everything and ensure it is all clean and ready to pack.
A day or two before you're scheduled to depart, go ahead and pack your bags. Completing this step well in advance will ensure that all your belongings fit in your luggage. Check each item off the list as you pack to ensure you don't forget anything. Finally, zip up your suitcase and set it by the door so you're ready to rock when it's time to head out.