Try TikTok's Soap Hack For Packing Light And Staying Fresh While Camping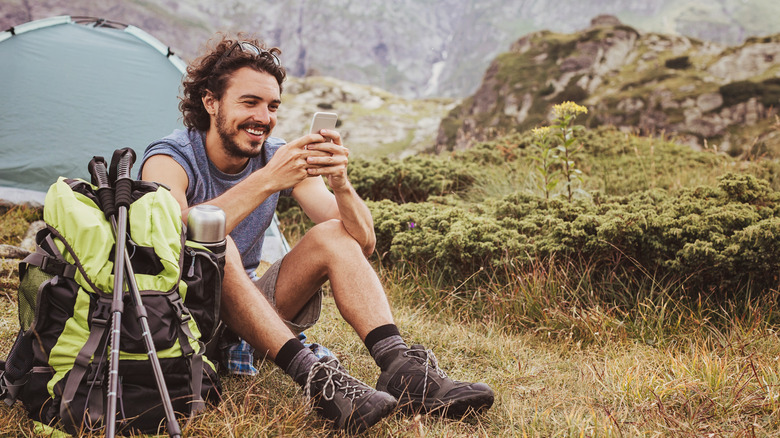 Pixelfit/Getty Images
Packing light is essential when you're camping. After all, you don't want to be carrying too much around on your back — both for health, safety, and convenience. That said, packing light usually comes with its own set of sacrifices. From bringing minimal clothing and downsizing toiletries in order to maximize space for the essentials, some of the first things to get left behind are those self-care items you love using back at home. Because of this, it can sometimes feel like cleanliness and comfort get thrown out of the tent — which also means things can get a little ... smelly.
Luckily, popular TikToker @hikinghacks has a clever way to ensure you never fail the sniff test again. Using a vegetable peeler, you can quickly shave off single-use soap carvings and store them in a tin box. These small, thin slivers of soap not only take up much less space, but they're also significantly lighter than a full bar. That way, you'll have plenty of soap to stay fresh outdoors without having to carry around always-wet, mushy soap in your kit.
Packing light will take a load off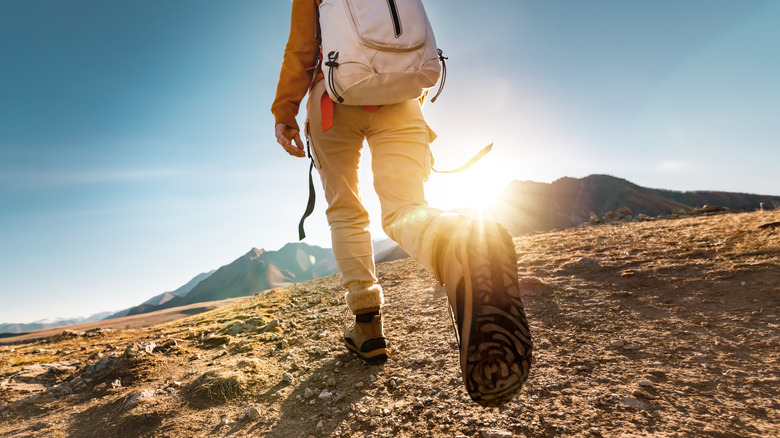 Molchanovdmitry/Getty Images
A game-changer for anyone who loves a multi-day camping trip, this clever soap hack shines not just for its simplicity but also because of its effectiveness. Not only do the soap carvings work perfectly when it comes to washing your hands and under your pits, but some soaps — like ones made with oatmeal — are also handy for relieving the itch after a mosquito bite. Plus, by reducing the amount of weight in your pack, you can ultimately make your adventure a lot more comfortable.
After all, packing light during a camping trip is more than just a matter of convenience — it's about health and safety too. In some instances, carrying a bag that's too heavy can lead to injury. From overworking your muscles to straining your neck and shoulders, heavy backpacks put a literal load on your body that it can't handle for extended periods of time. This ultimately leads to weaker joints, long-term damage to your nerves, and even headaches as former nurse Carrie Madormo writes in Reader's Digest.
Meanwhile, a lighter pack allows for greater mobility. Reducing the strain on your back and joints, a lighter backpack means you can be on your feet quickly and efficiently once you've packed up your campsite and are ready to hit up the next spot on your backpacking journey.
More space-saving hacks for your next trip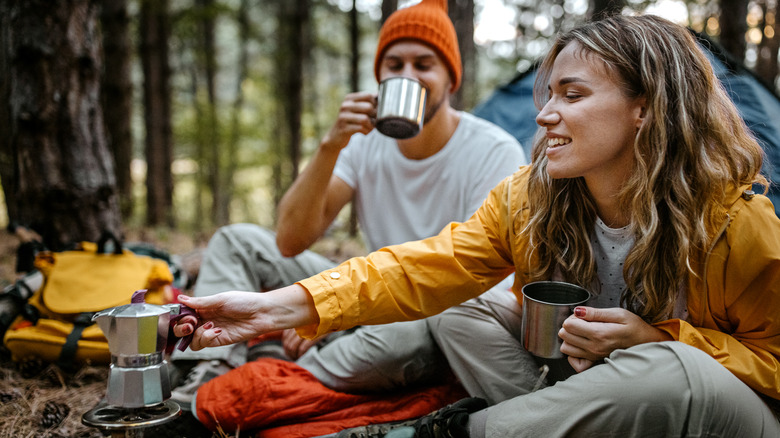 Mixetto/Getty Images
Unsurprisingly, this soap hack is just one way to save space and weight when packing for a camping trip. Another great tip that seasoned travelers and camping enthusiasts swear by is the use of multi-purpose items. For instance, a simple bandana can be used as a sun protector, hand towel, emergency sling, coffee filter, dish rag, and even a makeshift pot holder. That's a whole lot of bang for your buck, considering you can easily find multi-packs for less than $15 on Amazon. Similarly, a spork — aka a spoon-fork combo — can replace two separate eating utensils by merging them into one handy tool. Reusable and lightweight, they can be easily wiped clean (with a bandana) and put away for your next meal.
Additionally, strategic meal planning can also reduce the amount of food you need to carry around. According to REI, you should plan for at least 2,500 calories per person a day, and up to 4,500 calories for more strenuous trips that involve a long-distance hike. And, when it comes to camp cooking, opt for lightweight, non-perishable foods and high-protein snacks, and consider meals that only need hot water to prepare. By putting these together in advance, you can make sure that you only bring the essentials, maintain a healthy diet during your trip, and still enjoy your favorite meals. Remember, the goal here isn't just to survive in the outdoors but to thrive and enjoy every moment of it.