Visit This Massive World Market That Has More The 5,000 Stores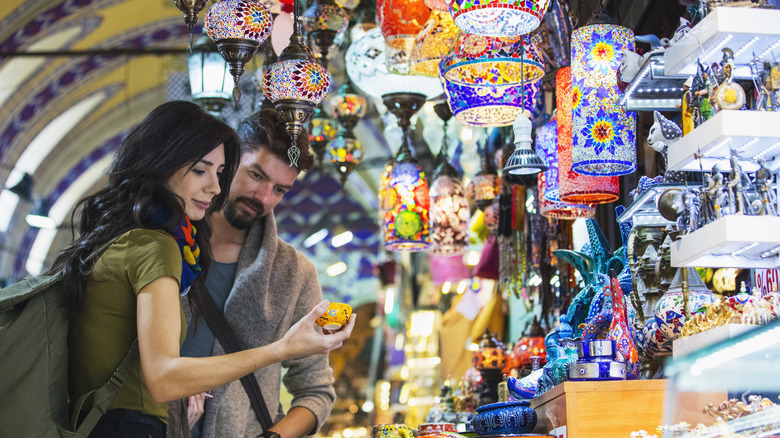 Petekarici/Getty Images
Istanbul is one of Europe's great cities. While travelers may delight in the hustle and bustle of London, swoon at the beauty of Paris, or fall in love with the old city of Venice, few other destinations offer the same overwhelming sense of majesty and sweep as the buzzing Turkish metropolis. With a population of 15 million, the traditional end stop of the fabled Orient Express straddles two continents. With the city sprawling along the coast in every direction, you can stand at the edge of Europe and gaze across the Bosphorus Strait toward Asia to get a tantalizing glimpse of further adventures beckoning across the water.
When faced with the magnitude of Istanbul, you are also hit with the question: How on earth can you possibly fit it all in? The short answer is that you can't — you could spend an entire lifetime exploring the city and still unearth new wonders and curiosities. Your best solution is to try and soak in as much as possible. Many visitors gravitate towards the historic Sultanahmet district at first. While locals might not regard it as the "real" Istanbul due its tourist-centric nature, it is where the bulk of the city's show-stopping attractions reside, such as the stunning Blue Mosque and the beautiful Hagia Sophia. Nearby is also one of the world's greatest shopping destinations: the Grand Bazaar. But with over 5,000 shops to explore, where should you start?
Haggling is an important part of the shopping experience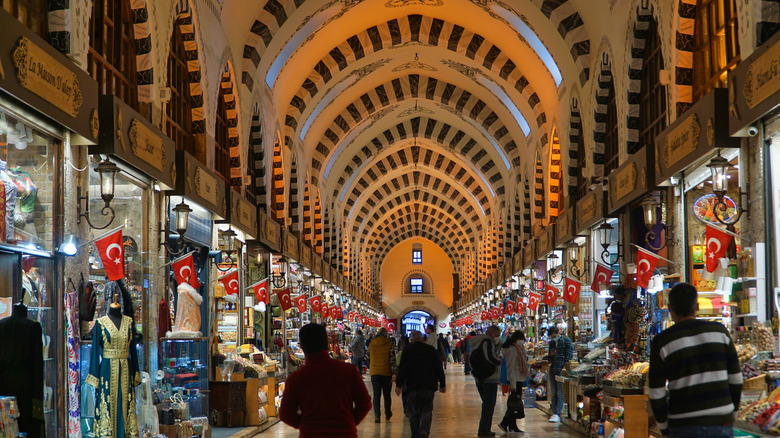 turkfotograf/Shutterstock
There has been a covered market at the Grand Bazaar since the 15th century, and it's a lot to take in. It is crowded and noisy, with the aromas of grilled meats, spices, carpets, and your fellow shoppers all hitting your nostrils. It may seem a little daunting, but determined shoppers can plan ahead with a wide variety of guides and maps online. For those with a curious spirit, the best way to explore is to let yourself get lost and see what you find.
The Grand Bazaar is famous for its carpets, jewelry, and other goods in silver, gold, and leather. Shoppers with a certain product in mind will find that most shops selling these items are grouped in certain areas. It's best to ignore the stalls peddling cheap souvenirs and spend your time admiring the artistry of high-quality handmade goods.
Whether buying or window shopping, it won't take long for a vendor to approach you with an eye on making a sale. Haggling is a time-honored tradition, and most sellers stay on the friendly side of pushy. There is no harm in engaging in some light banter for the fun of it, and don't be afraid to accept a glass of tea. You're not obligated to buy, although it is regarded as bad form to haggle a price unless you actually intend to purchase the item.
The Grand Bazaar is a great place to eat and drink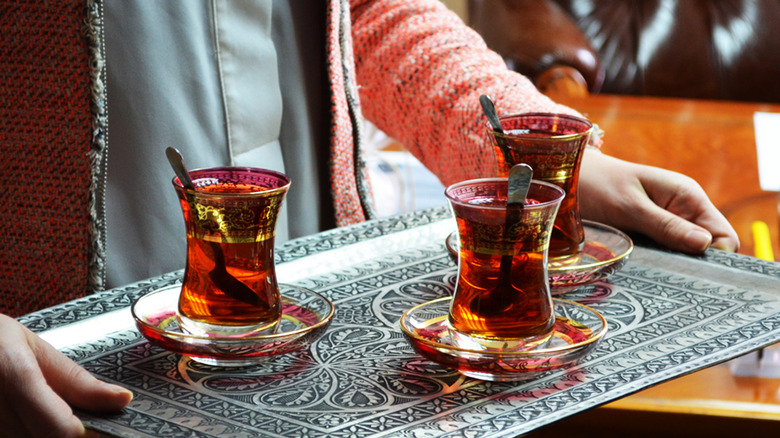 shutterDeniz/Shutterstock
All that bargaining can be hungry work; luckily, the Grand Bazaar is also a fantastic place to stuff yourself with Turkish delicacies. As with any destination that attracts hundreds of tourists a day, many of the most visible food spots are aimed at foreign visitors. That isn't necessarily a bad thing, but you'll be rewarded in terms of variety and atmosphere by delving further into back alleys and lesser-visited courtyards to discover places that cater more to the local crowd.
With limited space on the Bazaar's narrow streets, a popular restaurant or teahouse often amounts to little more than a hole-in-the-wall or a few stools at a counter, which offer great people-watching opportunities while you wait for your food to arrive. Perennial favorites include succulent grilled meats cooked over coals and tasty dolmas (stuffed vegetables or leaf wrappings) all served with dürüm wraps or lavash bread with sides of fresh salad and herbs. 
Regular soft beverages are usually available, but it's worth dining like a local and washing it down it a glass of Ayran, a homemade yogurt drink, or a hot glass of tea. Choose wisely and you're sure to be well-fed, restoring your energy for another round of bargai-hunting and bartering. And whether you leave the Grand Bazaar with just a few trinkets for the folks back home or a beautiful Turkish rug over your shoulder, it will be a shopping trip to remember.