Swap Your Travel Neck Pillow For This Unexpected Drugstore Product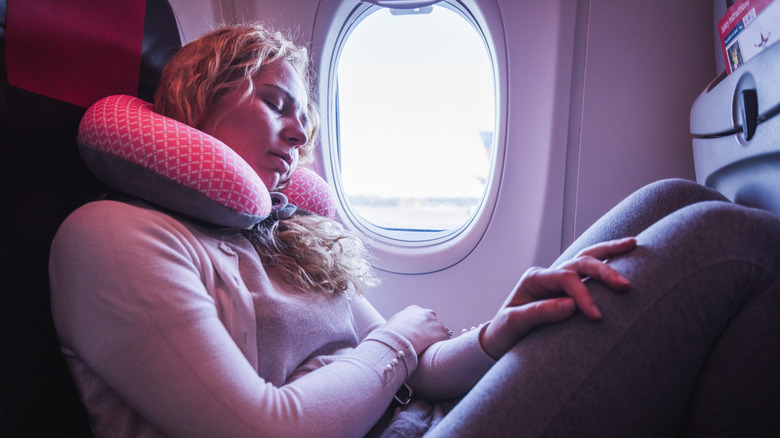 Isbjorn/Getty Images
We may receive a commission on purchases made from links.
Since air travel is such a big part of life for anyone with a sense of wanderlust, hacks and tricks for feeling at ease and relaxed on flights is our jam. This is why we've become interested in swapping out those old (and often ineffective) neck pillows for a neck brace. Why? Because as much as we love traveling, flying can be a tough experience and we want to make it easier wherever we can. 
One reason that people struggle with flying (especially on long flights) is how challenging it can be to get comfortable and relax on a plane. Sleeping in an airplane seat can be a major challenge. After all, most people don't typically doze while sitting upright. Travel neck pillows have long been the gold standard of sleep support on a plane, but we're here to tell you that a neck brace might just be a better bet.
The travel neck pillow is out. The neck brace is in!
While some have tapped into the hack of wearing a traditional neck pillow backward — that is to say, you wear the opening towards the back of your head and rest your chin on the roundest part of the pillow — others say this simply doesn't offer enough support to sleep on a plane. After all, many of us are familiar with that horrible sensation of falling asleep on a plane, only to have no support and wake up to your head bobbing and jerking around. This is where the neck brace comes to the rescue. TikTok personality @hellokristen shared her discovery that a neck brace, the kind you find in a drug store, actually worked way better than the traditional U-shaped pillow. These neck braces typically cost less than $10, so they're also a total bargain.
People loved the suggestion and were eager to try it out. "Best idea ever!!!!! Avid traveler here & it's a great idea! Exactly what I want in comfort!" one person wrote. Others noted that a neck brace is also way easier to pack than the bulky travel neck pillow, saving you space and making life easier both on and off the plane.
Shopping for the perfect travel-friendly neck brace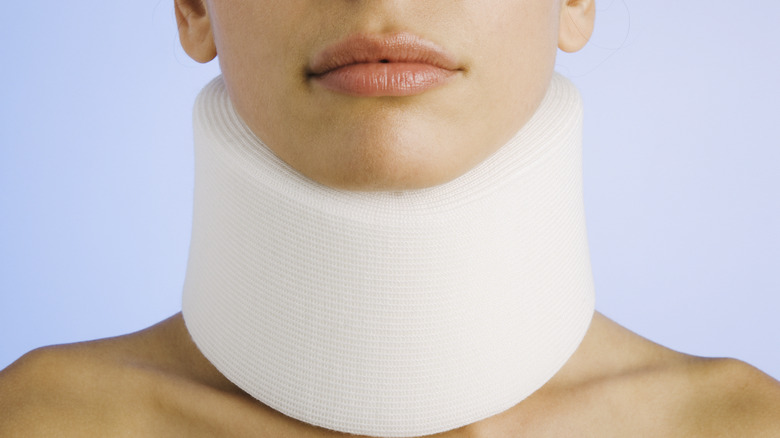 Martin Barraud/Getty Images
In an Amazon review for the Velpeau neck brace, one happy customer wrote about using it on a plane. "This thing works wonderfully," they wrote, referring to their experience on a long-haul flights. They addressed the potential awkwardness of wearing a neck brace. "I didn't want to wear it at first because no one had anything like that besides the pillows," they went on. "Anyways, I pulled this neck brace out and put it on. It has a lot of support. I went to sleep. I woke up an hour or two later to eat. I had no pain in my neck. I was so relieved and happy that I can turn my head with no pain at all." That sounds like a successful piece of sleep support right there. 
Not only can neck braces reduce potential pain, but they can also soothe it while you're wearing it on your flight. In fact, there are heated neck braces that can offer both pain relief and support. If you're already struggling with some aches and tension, you may want check out one of these (although you'll need a USB power supply for the heating component). We're all about pain-free flights with as much rest as possible.