Want More Leg Room On Your Next Flight? Try TikTok's Latest Hack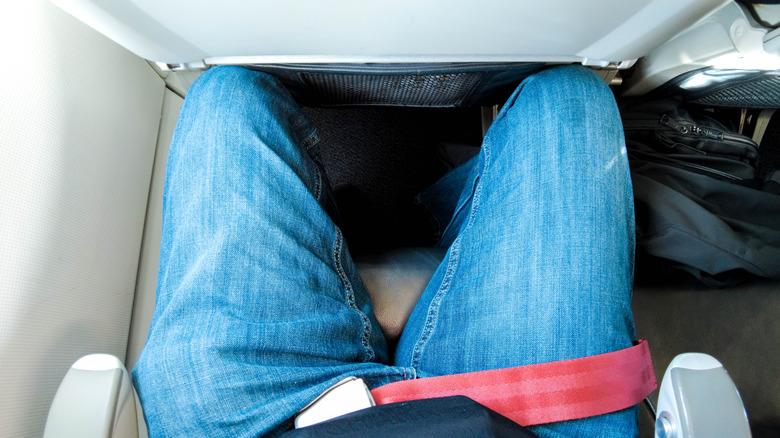 Norrie3699/Getty Images
An airline seat is not always the most comfortable place to be, especially when you fly economy. According to the advocacy group Flyers Rights, the average legroom in planes has gone from 35 to 31 inches in recent years. The situation is even worse with low-cost carriers, with the average legroom clocking in at 29 to 30 inches. Spirit Airlines seats are known to be the tightest, with a pitch size of only 28 inches.
The bad news is you can still expect more shrinkage in the foreseeable future. "It's all a matter of squeezing as many passengers as they can," said Mathieu De Marchi, a consultant at aviation research firm Landrum & Brown, told Time. "It's only going to get worse over the next decade." Cramming your body into these seats may be tolerable for short-haul flights, but if you're flying for longer than three hours, you may want to consider booking a flight with an airline that provides more leg room for your comfort and sanity.
Not all economy seats are as cramped as Spirit, of course. To help you enjoy more legroom on your subsequent flights, try the viral TikTok hack that helps you compare the legroom of each airline.
Download the Legrooms for Google Flights Chrome extension
Who would have thought that the key to enjoying more legroom on flights involves installing a Google Chrome extension? Zachary Burr Abel, an actor turned content creator, pointed out in a TikTok video that had gone viral that an extension called "Legrooms for Google Flights" allows you to compare airlines better when looking for flights on Google Flights.
As it turns out, the extension automatically lists the legroom of each flight option beside its corresponding price, along with other helpful information like the type of aircraft, carry-on restrictions, and whether WiFi, USB ports, or power outlets are available. If you're flying business class and legroom is not much of a concern, the extension lets you know whether the seat allows you to lie flat or not.
It's worth noting that legroom information is already available on Google Flights without installing the extension, but it's not easily accessible as you have to click the specific flight first. When you have the extension, the most crucial information can already be seen at first glance, allowing you to browse your options much more quickly and book flights faster.
Other tips to score more leg room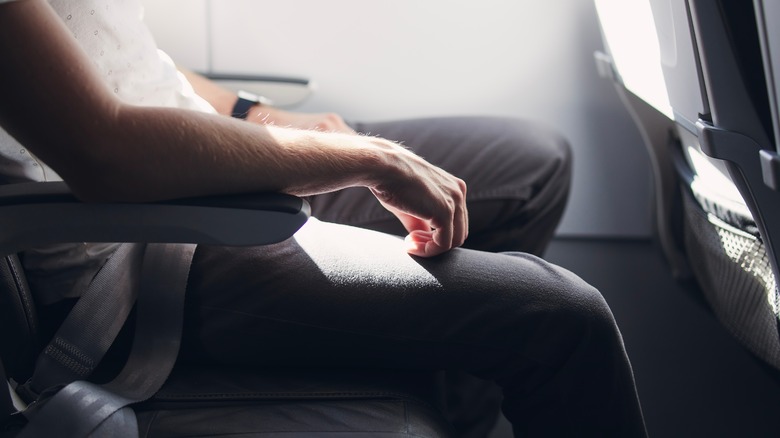 Jaromir Chalabala/Shutterstock
Being more selective when it comes to airlines isn't your only option to enjoy more legroom on flights. You can also look into booking the emergency exit rows, as these seats are typically more roomy. Just remember that they are often pricier, but you get to stretch out your legs a bit instead of wedging them in crampy seats. Some of these exit row seats, however, are not readily available online, so you may have to ask about them when you check-in. If you can, try to arrive at check-in as early as possible so you can get first dibs on them. Alternatively, you can also take a risk and check in last to see if your flight has roomier seats available.
Booking bulkhead seats are another option, considering how they're roomier than any other coach seat on the plane. You won't have anyone in front of you, though, so you also won't get to enjoy any extra under-seat storage space. You have no choice but to stow your stuff in overhead bins. Entertainment systems are also usually limited to either a screen that's farther than you'd like or a separate screen in the armrest. However, rethink a bulkhead seat if you want to avoid additional disruptions, as they are situated near bathrooms and kitchens. If you don't mind all these and feel like they're worth the trouble if it means you get to stretch your legs, then by all means, reserve that bulkhead seat.