How To Take The Stress Out Of Planning Your Next Disney Vacation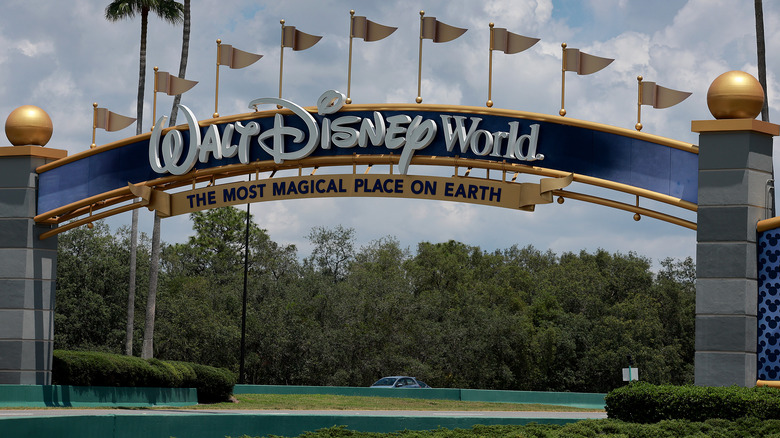 Joe Raedle/Getty Images
Taking a Disney vacation can be a memorable, once-in-a-lifetime experience. Walt Disney World is known as the Most Magical Place on Earth, and there's no denying the world-creating wonder Disney is able to accomplish within its theme parks. However, while Disney's atmosphere, attractions, and shows can be magical, a successful Disney vacation still relies on the less-magical worlds of budgeting and planning. In these worlds, even Disney magic can't make stress disappear.
Fortunately, your next Disney vacation doesn't need to be overly stressful. When you plan a trip to a destination that's both expensive and popular (like a Disney theme park), you'll understandably feel compelled to optimize your time, strategize to beat the crowds, and budget, budget, budget. A good plan can help to reduce stress.
On the other hand, overplanning can lead to disappointment, fatigue, friction among your group, and more stress. A Disney vacation should be magical and not overly stressful. After all, it's a vacation, not Mickey's Bootcamp of Fun. By incorporating the following Disney vacation tips, you can minimize trip-related stress or, bibbidi-bobbidi-boo, make it disappear altogether.
Planning helps, but strict itineraries typically don't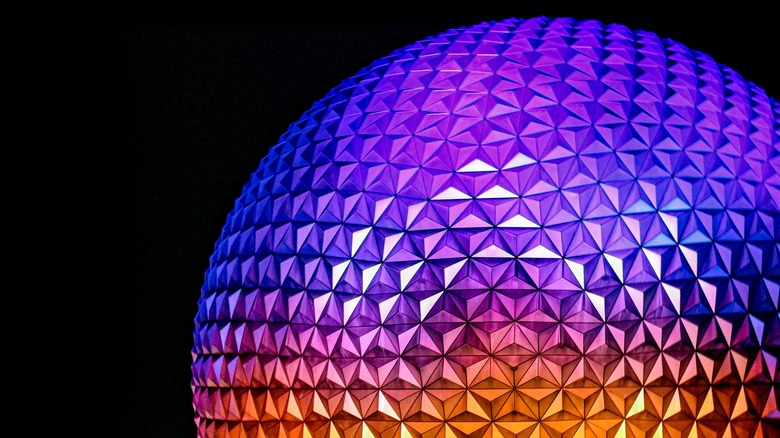 Wirestock Creators/Shutterstock
There's a difference between planning and overplanning; and due to Walt Disney World's size (over 25,000 acres), it's tempting to create a lockstep itinerary for everyone to follow. How better to make the most of your vacation? This approach is understandable. Throughout its four theme parks and two water parks, you'll find a total of 173 rides, as well as live stage shows, parades, firework displays, impromptu character encounters, and the general wonder of the park's atmosphere.
While overplanning can be problematic, we do recommend starting each day with some sort of plan. For instance, if you have a Park Hopper ticket, which allows you to visit multiple parks in one day, consider sticking to one or two parks max in the course of a day. You can spend two entire days at the Magic Kingdom alone, so trying to shoehorn too much across different parks is usually inefficient and stressful.
That said, spending the day at Magic Kingdom followed by an easy international dinner and fireworks display at EPCOT's World Showcase Plaza may be a good idea. But to reduce stress, make that the extent of your plan for the day.
Take advantage of Disney apps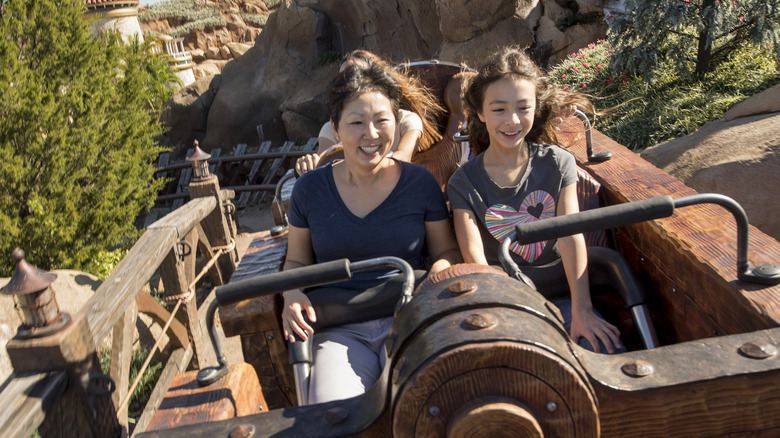 Handout/Getty Images
Disney recently upgraded its theme park app to help visitors navigate the parks and optimize their time. Again, while overplanning can create stress, the My Disney Experience app can assist you in broadly planning your days. For instance, the app will inform you of various showtimes of live performances, the locations of character appearances, and the wait times of rides. By adding a little tech savviness, you can make real-time decisions to jump into that shorter-than-usual line or walk around the corner to meet Minnie.
You can also choose to purchase Genie+ through the My Disney Experience app, which starts at $15 per day, per person, depending on what park you go to. Replacing the old Fastpass+, the Genie+ upgrade allows you to join virtual queues and use Lightning Lanes to skip the general lines, possibly saving you hours of line-standing.
We should mention that some of Disney World's most popular rides aren't covered by Genie+. These include the Seven Dwarfs Mine Train, Tron Lightcycle/Run, Guardians of the Galaxy: Cosmic Rewind, Star Wars: Rise of the Resistance, and Avatar Flight of Passage. While these rides do offer a virtual queue option, you need to purchase individual Lightning Lane passes to skip the main line.
Accept wait lines, crowds, and your decisions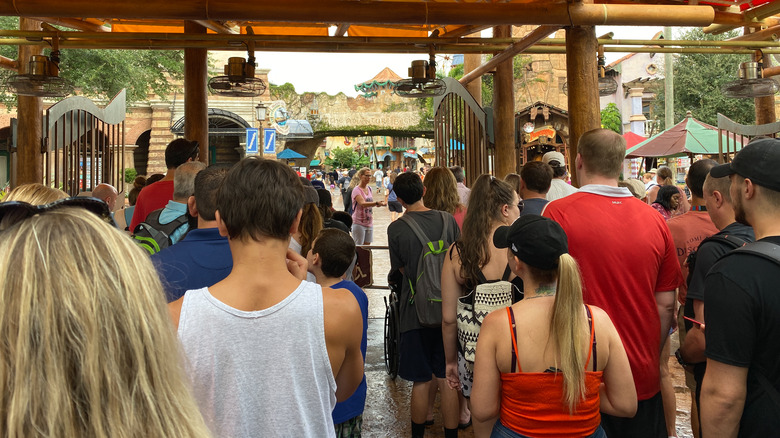 Joni Hanebutt/Shutterstock
You'll need to accept two truths about Walt Disney World: There will be crowds, even during "off" seasons, and a Disney vacation isn't cheap. Acknowledging these two truths can help your stress level, but you can still make decisions that minimize costs and crowds. However, you shouldn't stress yourself out by always trying to strategize, either.
For instance, if you'd rather not pay extra to skip the main line for Guardians of the Galaxy: Cosmic Rewind, then consider getting to Epcot super early. This "rope-drop" strategy refers to entering a park as early as possible to enjoy shorter wait times at popular rides. However, this decision should be totally dependent on what you find personally stressful. In other words, what's the easiest thing for you to handle? The wait time, the cost of skipping the line, or waking up early and moving quickly? 
While you'll need to accept crowds and lines (patience is a valuable trait at Disney World), you should also accept the decisions you make for dealing with crowds. If you choose a Genie+ upgrade, accept it as part of the cost. Or, if you choose to skip the upgrade, accept longer wait times as part of the experience. Overall, you can reduce stress by accepting the crowds, as well as accepting your own choices. Allowing crowds and lines to bother you is like struggling in quicksand — it's a stressful and futile mindset.
Don't try to do everything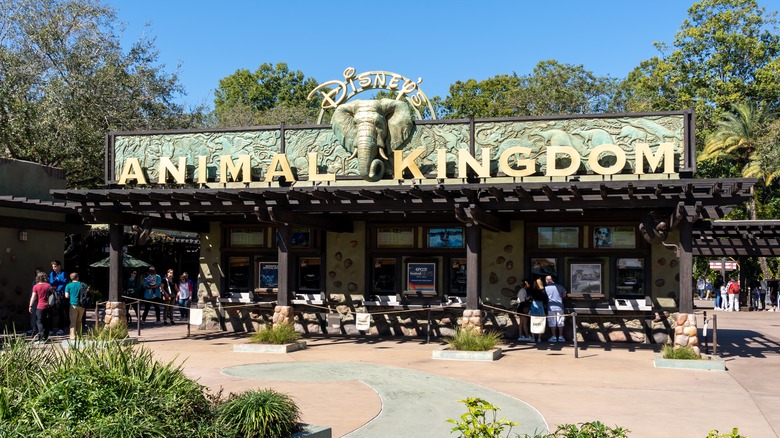 JHVEPhoto/Shutterstock
As previously mentioned, Disney World is incredibly big. In fact, it's the largest theme park in the world. Since experiencing everything at Magic Kingdom, EPCOT, Hollywood Studios, Animal Kingdom, Blizzard Beach, and Typhoon Lagoon within a week-long vacation is simply impossible, there's no reason for you to try. Attempting to keep an impossible itinerary will be a constant contributor to vacation stress.
We'd recommend prioritizing three rides/experiences at a maximum each day. And prioritizing is the operative word. Once you arrive at a "priority" experience, you may be met with a decision to either wait for two hours for that one ride, or get on two other rides while also catching a live performance within the same timeframe. Whichever decision you make will be the correct one. There's no right or wrong way to experience Disney, so instead of succumbing to disappointment and stress, let circumstances guide you.
Again, it's impossible to experience everything at Disney World, but let the overall experience remain positive. If you or your family begin to feel stressed or overwhelmed, consider taking an afternoon off to nap or relax by the hotel's pool. A little downtime can help you recalibrate the goal of the vacation — to have a good, memorable time.
Keep it democratic and fair for everyone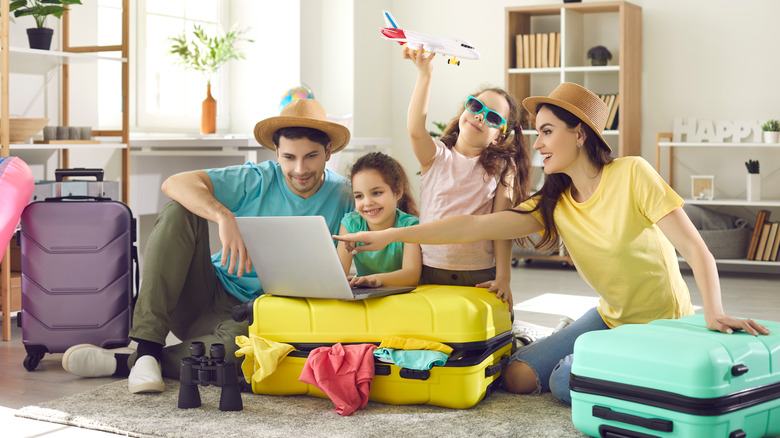 Studio Romantic/Shutterstock
Lastly, you can help to reduce stress for everyone if you're considerate of each vacationer's personal goals and expectations. While this is good advice when planning any group vacation, this last tip is particularly true for vacationing families at Disney World. Needless to say, as adults, you're probably better at managing expectations than your little Mouseketeers.
With that said, you can help mitigate disappointment and reduce the risk of arguments by allowing everyone to choose their own personal priority experiences. This could mean giving each person their own personal day, allocating a few priorities to each person for the week, or implementing another method that ensures each vacationer's voice is heard.
To help manage expectations, you may also consider setting ground rules before arriving, such as a two-item limit on souvenirs or budgeting for one character meet-and-greet meal. While your kids may envision sitting around Cinderella's Royal Table all week, communicating basic parameters before arrival may help to avoid dream-dashing disappointment. And when we're talking about creating a stress-free family vacation, the magic trick of keeping every vacationer happy is worth attempting.