What Really Came Of Getaway From 'Shark Tank'?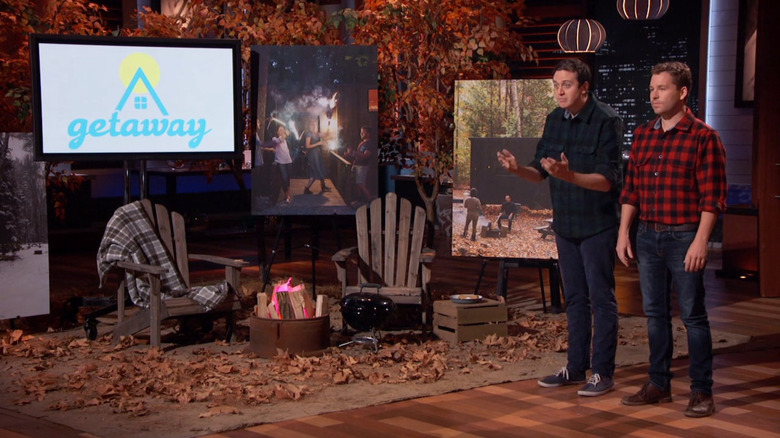 ABC
The popular business reality competition series "Shark Tank" is all about innovation. Entrepreneurs go there to present their big ideas to seasoned investors like Mark Cuban and Kevin O'Leary, and more often than not, they showcase technology-centric products they claim will change the world. But Harvard college buddies Jon Staff and Pete Davis went the opposite direction. Their company, Getaway, sells the idea that sometimes, freeing yourself from technology is the way to go.
Getaway is a company that builds tiny cabins in the woods, offering an escape for city dwellers who have grown tired of their day-to-day hustle and bustle. The cabins are situated far enough from city centers that they get the illusion that they're off the grid but still close enough that it's unchallenging to reach them. The cabins are also unequipped with Wi-Fi, so visitors can fully unplug, but they're built to be comfortable to enhance relaxation. "We've always wanted Getaway to provide people with a way to easily get back to nature and reconnect with themselves and their loved ones," Staff told Whitewall. "What Getaway offers compared to other nature-based destinations is time and space for disconnection and a gentle nudge to put away devices during a stay."
Before "Shark Tank," Getaway only had 10 cabins operating in two places, Boston and New York. Staff and Davis joined the show hoping to secure $500,000 in funding, but they had difficulty convincing the sharks to bite.
Getaway walked away from a $500,000 deal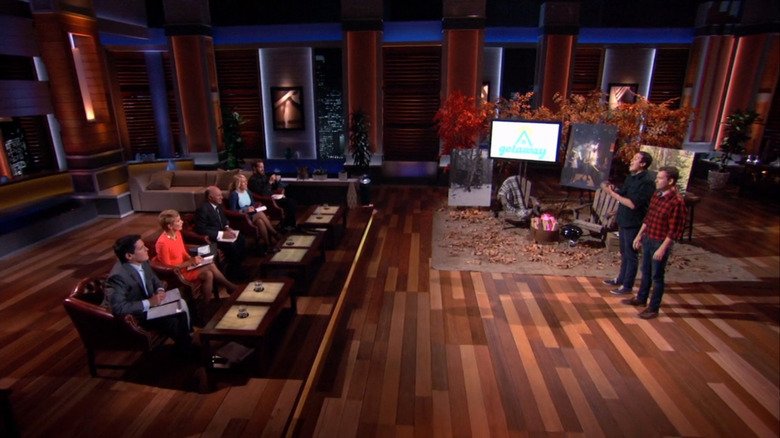 ABC
Longtime buddies Jon Staff and Pete Davis entered "Shark Tank," hoping to get $500,000 in funding in exchange for a 5% stake in the business. They pitched Getaway as a company that has "handcrafted the perfect way to escape" and provides a "hardworking Americans [an environment] to disconnect and recharge." The pair hoped to use the money to expand nationwide, confident they could reel in more occupants. At the time, they also boasted that they raked in $300,000 in sales with a 60% margin and anticipated garnering $2.1 million the following year. Over the next 5 years, they hoped to expand to 30 cities and build 1,000 more cabins.
While initially skeptical, Kevin O'Leary counter-offered with a $500,000 loan with 11% interest over three years and a 2.5% equity effective immediately. Barbara Corcoran wanted out, and so did Lori Greiner, who admitted that the woods creeped her out. Meanwhile, Mark Cuban expressed concern over Getaway's scalability, noting that the company would have to raise money for a long time and rebuild houses every few years. That leaves Chris Sacca, who offered $500,000 in funding for a 7.14% stake.
Staff and Davis almost accepted Sacca's offer, but after a brief discussion, they thought a 7.14% stake was too much and would be unfair to their current investors (they had raised $1.2 million prior), so they chose to walk away with nothing.
Getaway's 'Shark Tank' exposure boosted its popularity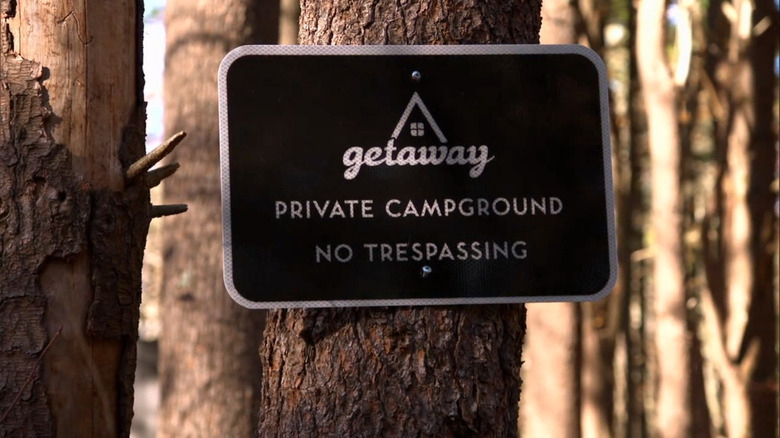 ABC
Jon Staff and Pete Davis had no regrets about turning down offers on "Shark Tank." Speaking with CNBC a year after their appearance on the show, Staff said that accepting the offers was tempting, but there was no point in partnering with people who don't share the same vision. "For innovative ideas, fundraising and picking partners, it's a lot more about finding people who connect to the common vision than about how much money they can bring to the table," he explained. Since none of the sharks was 100% sold on their product, there was a clear disconnect.
Luckily, they secured $15 million in funding shortly after. They told Washington Business Journal they would use the money to introduce Getaway in other markets. They also pointed out that they were being careful about their moves to avoid compromising their service. "It is not lost on me that I could've started a simpler business," Staff said. "That's the balance we have to strike, of wanting and needing to grow. But we can't do it at the expense of a great experience."
Their "Shark Tank" appearance was also quite fruitful, resulting in a deluge of visitors and a boost in reservations a day after the episode aired, per Business Insider. Staff also told CNBC they learned a lot from the sharks and accept "being a weird business that not everyone gets."
Getaway managed to secure even more funding from investors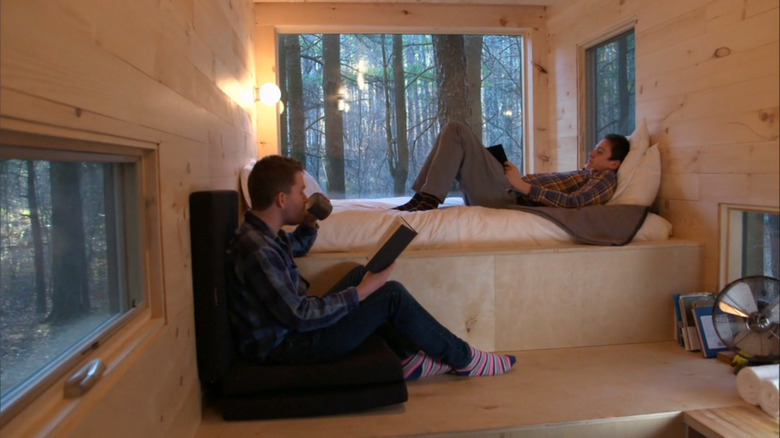 ABC
In 2021, Tech Crunch reported that Getaway raised $41.7 million in Series C funding, and by then, the company had already raised $81 million overall since its inception in 2015. Jon Staff shared in his Whitewall interview that the company had been able to raise such amounts because a growing number of investors are beginning to believe in the power of going off the grid, if only for a little while. "We're lucky to have investors who believe in our mission, know there is a strong desire by people to spend more time in nature, and that Getaway offers an appealing outdoor experience to the urban consumer," he said. "Yes, they need to work less and disconnect more, but I am working with them on that."
Even though the cabins in the woods were Getaway's main draw, Staff asserted that they were looking to offer more beyond accommodations to offer more value to their customers. "The brand is not about tiny houses or tiny cabins, the brand is about [the fact that] the world is too noisy and too connected over the long haul. Getaway could be doing other things to solve that problem," he shared with Tech Crunch.
Getaway continues with its expansion nationwide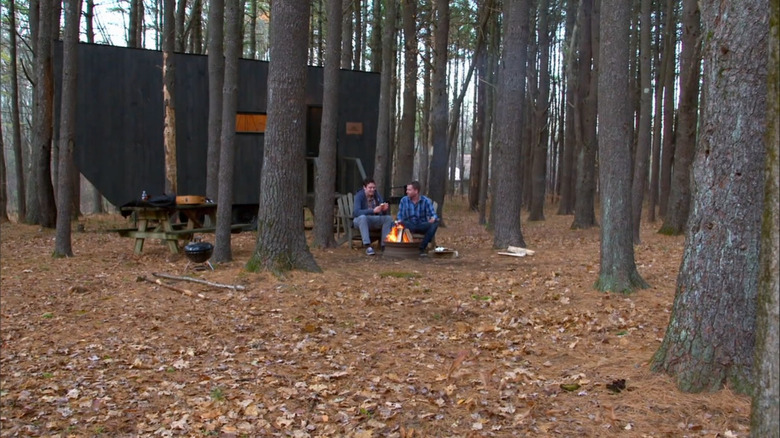 ABC
In 2022, Getaway finally reached the goal the co-founders discussed on "Shark Tank." After expanding to new markets like Indianapolis, Atlanta, Chicago, and Washington, DC, the company revealed that they have managed to build 1,000 cabins. As of this writing, Getaway cabins are available in 29 locations nationwide.
They are also offering other services, including Getaway Groups, in which they help groups curate a one-of-a-kind experience in the wilderness, whether it's a company-wide retreat, celebration, or even a wedding. Getaway has also launched Getaway Campgrounds, which offers a premium camping experience with modern amenities. "The Getaway experience is not just about the destination – we're turning the industry on its head and encouraging our guests to escape to nature to focus on themselves," Jon Staff said in a statement to PR Newswire.
In an interview with Triple Fat Goose, Staff shared that Getaway continues to follow through on its mission to temporarily provide solace to people looking to escape from the demands of busy daily living. "We want to provide a cultural counterweight to the collapse of work-life balance in the digital age, and in doing so, allow people to retain a bit of their humanity that is at risk of being lost in our overcommitted and overconnected culture," he explained. "I believe that project is critical and I hope many organizations will help tackle this problem. We want to do our part by making Getaway accessible to as many people."