The Best Methods For Securing Your Tent To Feel Safer While Camping
Camping provides a welcome respite from modern life, a break from the world where you can take a step closer to nature and unwind. You can unplug for a few days and focus on yourself, your family, or your friends without the usual distractions, and an escape from the hubbub of the city is great for relieving stress. Just taking a big breath of that good old-fashioned fresh air makes you realize just how much we're choking on fumes in congested urban areas, and there's nothing quite like snuggling up in your sleeping bag and listening to the rain pattering on the tent or the soothing sound of wind in the trees.
Sleeping with just a thin layer of material between you and the great outdoors can offer a sense of freedom and adventure. However, this more exposed element of camping can make some people feel a little vulnerable. Newcomers may feel incredibly anxious about what they are about to encounter. What stuff do I need to take? Will it be cold sleeping outside? How will I manage with basic facilities or no facilities at all? What about the bugs? Do dangerous creatures live in the woods? What if there's some hockey-mask-wearing maniac on the loose?
The list of questions is endless, but safety and security are primary concerns for everyone, from beginner campers to seasoned pros. Here are some great tips to help keep your tent secure from other people and the forces of nature.
Keeping your tent secure from other people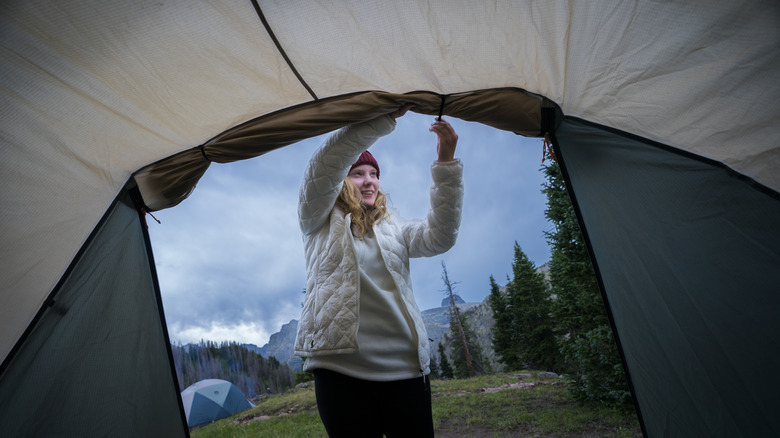 Wanderluster/Getty Images
One of the main concerns for campers is keeping their belongings safe while they're away from the tent. This is especially true at events such as festivals, where crime may be more commonplace. While some camping experts recommend a lock to fasten the tent entrance, others advise against it. A lock may suggest that you have something valuable inside, which isn't much of a deterrent for someone wanting to gain access. 
You could invest in a battery-operated security camera to monitor activity around your tent, although a better option might be to hang a motion sensor light nearby, which can scare away unwanted visitors at night.
Tent security is often down to common sense. It's a good idea to pitch up near a well-trafficked area rather than in total isolation, as thieves prefer working out of sight and reporting any suspicious activity to camp security. For peace of mind, don't leave anything in the tent you can't afford to lose, and keep valuables with you or secured in a car or locker provided by the site. 
Perhaps one of the biggest fears is that someone might come into your tent while you're inside it. The best way to avoid this undesirable scenario is to do your research before you go and make sure you choose a campsite with a good reputation for safety.
Tent precautions against other hazards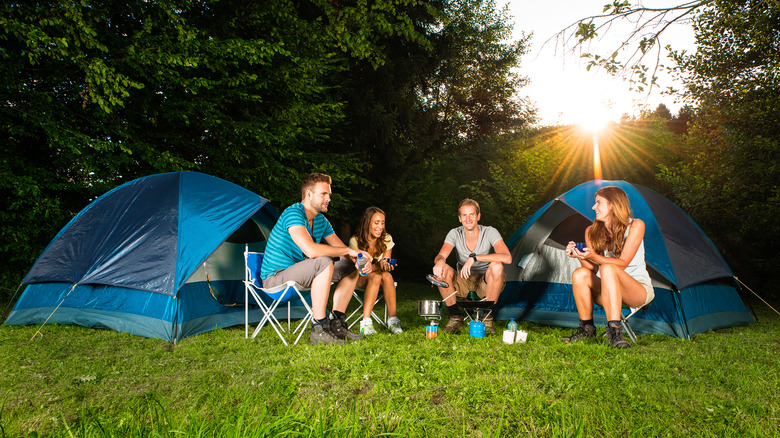 Corepics VOF/Shutterstock
While most camping trips go without a hitch, it isn't just other people you need to consider for a secure stay. Strong winds and storms can potentially wreck a vacation, so careful tent orientation is key to preventing mishaps. If possible, pick a sheltered area and align the tent in the same direction as the wind. Guylines provide added security, and you can use rocks or other heavy objects to anchor the tent to the ground. While it is unlikely that you'll get swept away in a downpour, waking up in a puddle isn't very pleasant, so think about pitching on a slight slope so rainwater runs away.
If camping in an area populated by bears, it is crucial to bear-proof your site. You can do this by ensuring your cooking area is at least 200 feet away from your tent and avoiding taking smelly items like food and toiletries inside with you that might attract a bear's attention. If possible, keep things like that in a Bear Canister or similar storage device.
Another hazard for campers is fire: a careless flame can destroy a tent in less than 60 seconds. Therefore, it's important to cook at a sensible distance away from the tent walls and flammable materials like long grass and avoid lighting a fire, smoking, or using naked flames inside. Safe and happy camping, everyone!