The Top-Ranked US Destination For Rock Climbing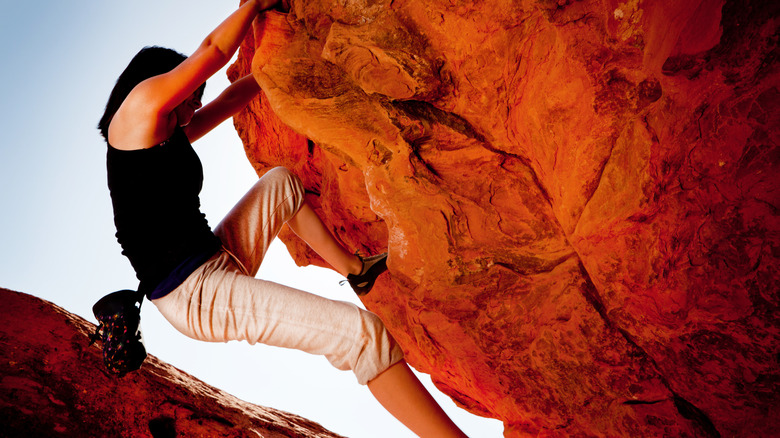 Andipantz/Getty Images
Thrill seekers and outdoor recreation enthusiasts share a common passion for adventure sports –- especially rock climbing. Over the past few decades, rock climbing has skyrocketed in popularity. What was once considered a risky hobby for elite adventurers has become a popular international sport. More than 10 million Americans rock climbed in 2021. There's no wonder why the popularity of climbing continues to grow each year: It allows participants to exercise both their bodies and their minds as they enjoy epic views of cliffs and canyons.
The United States has emerged as one of the best places to experience rock climbing, with over a hundred thousand outdoor climbing routes scattered throughout the country and indoor climbing gyms popping up in every major city. While indoor gyms are great places to practice and learn the ropes (no pun intended), nothing beats getting outside and climbing on some rugged, natural rock formations.
The top-rated destination for rock climbing may come as a surprise. It's located only 17 miles outside the party paradise, Las Vegas, Nevada, at a National Conservation Area called Red Rock Canyon.
The making of a desert oasis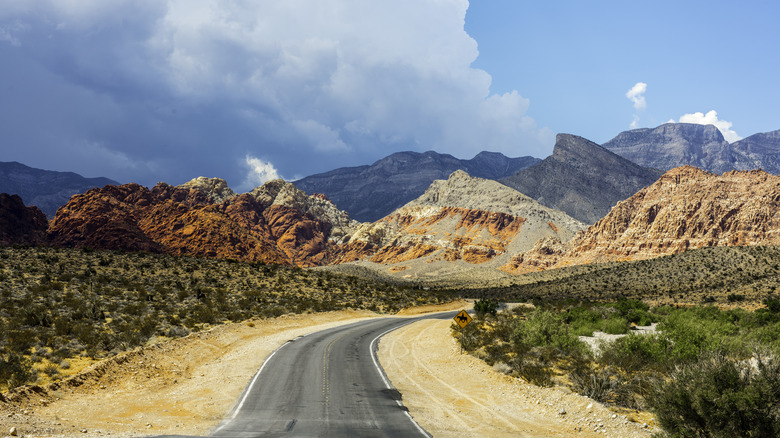 4kodiak/Getty Images
Red Rock Canyon is the perfect place to get your climbing fix. It's close to Las Vegas and within a day's drive of other famous national parks like Zion National Park, Joshua Tree, and the Grand Canyon. Yet, it remains a hidden gem without the massive crowds you'll run into at some of the nearby parks.
The breathtaking canyon in the Eastern part of the Mojave desert was formed over 600 million years ago when a deep ocean covered it. As sea levels dropped and eventually dried up, the landscape transformed into massive sand dunes, which compressed into the epic rock formations we see today. The red color comes from the oxidation of the iron in the rocks, resulting in the otherworldly landscape we know today.
Over the years, Red Rock has served as an oasis for plant, animal, and human life in the otherwise barren desert. Early indigenous people inhabited the area as early as 11,000 BCE. You'll have the opportunity to see more than 600 species of native plants and animals like rabbits, wild donkeys, and desert tortoises.
Red Rock Canyon was officially established as a National Conservation Area in 1990 and was the first place in Nevada to receive the distinction. Now, the park gets more than 2 million visitors yearly and has become a popular place for outdoor recreation activities like hiking, mountain biking, horseback riding –- and, of course, rock climbing.
Climbing Red Rock Canyon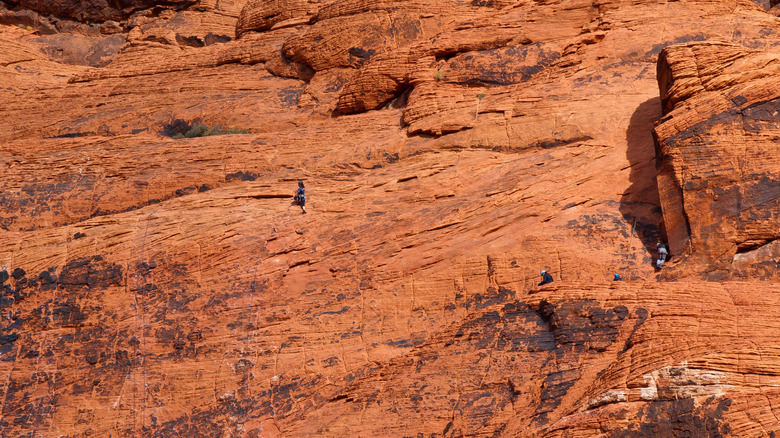 Irina Mos/Shutterstock
Red Rock has more than 2,000 climbing routes, with options for all skill levels. You can find everything from fun bouldering problems that don't require ropes, to towering climbs that take several days to complete.
Generally, you can enter Red Rock between 6 a.m. and 7 p.m. during the peak climbing season, but hours vary seasonally. Timed entry reservations are required between October 1 and May 31 if you want to take the Scenic Drive. Late exit permits are available to access the Scenic Drive for two hours after it closes. For multi-day climbs, you must apply for an overnight permit beforehand.
While it rarely rains in the Nevada desert, it's essential to keep in mind that when it does, climbing should be avoided for a few days until the rocks are completely dry. The sandstone can become crumbly when wet, and holds can easily break, making it unsafe and ruining the routes for future climbers.
Since Red Rock is so close to Las Vegas, plenty of accommodation options are nearby. Red Rock Canyon Campground tends to fill up fast, and making reservations well in advance is a good idea.