Why You Might Want To Leave Your Ring At Home For Your Honeymoon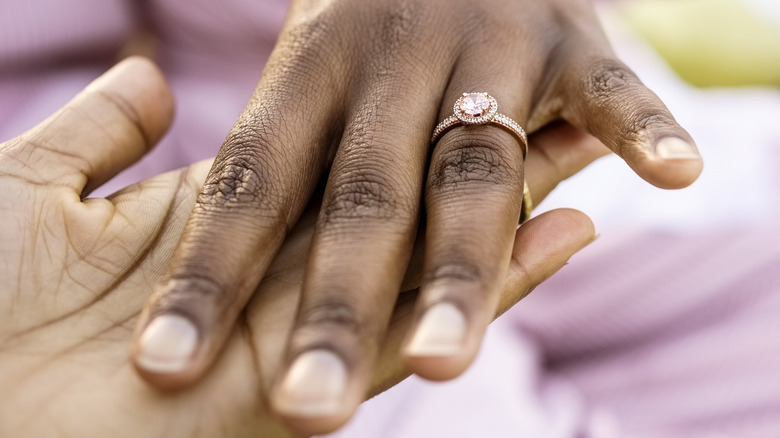 Nickylloyd/Getty Images
You just tied the knot in front of your closest friends and family, and you're thinking about your future. The stress leading up to the wedding was worth it, and now you get to relax and celebrate your new marriage. It's honeymoon time.
Maybe you chose a city and have plans to spend your days touring museums and investigating food scenes; or maybe you decided on a romantic beach getaway complete with piña coladas; or maybe you love nature and are headed to the mountains to hike trails for days. Whatever your choice, you're excited — no, elated! You're headed to your honeymoon destination with your new ring and fresh commitment to your partner; it's time to show them off — or so you think.
Go ahead and show your partner off, that's not where the concern lies. Your ring, however, might not be the best thing to showcase. In fact, you might want to rethink bringing it on your honeymoon at all.
Is your ring insured?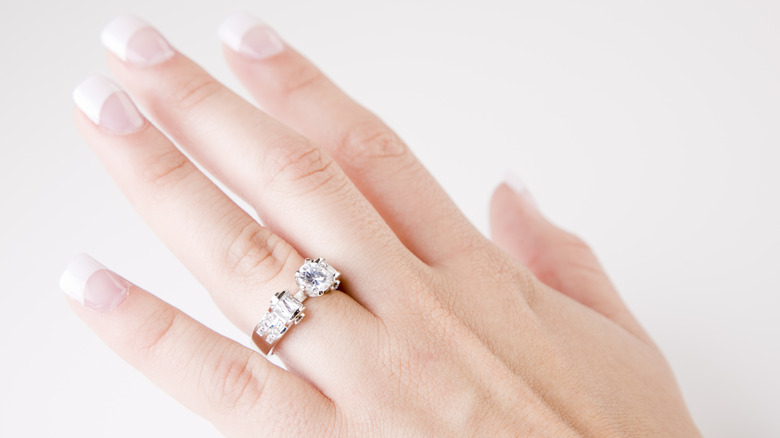 Richlegg/Getty Images
We get it, you just got married and you want the world to know. Having a ring on your finger is one of the most surefire ways to communicate your new commitment. So that's why it's ultimately up to you to decide whether or not to bring your ring on your honeymoon. Before you make your decision, however, there are a couple of things to consider.
First off, is your ring insured? That answer alone can determine whether or not you bring it along. "If it's not insured, don't travel with it. Period," editor-in-chief of Brides.com, Keija Minor, told Travel Channel.
Losing your ring is unfortunately a possibility. Misplacing your ring at home is different than losing it when you're out. The last thing you want is to blight your honeymoon memories with a missing ring. Also, you can never rule out the chance that your ring gets stolen. While this could happen anywhere, removing the likelihood of that happening by not bringing your ring might ease your mind.
Other reasons not to bring the ring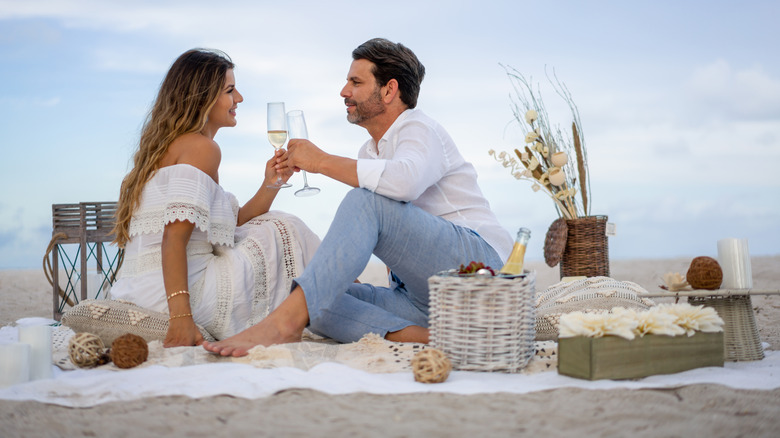 Andresr/Getty Images
In addition to the obvious reasons to leave your wedding ring at home, like getting it lost or stolen, there are other things to keep in mind. If you're headed to the beach, consider the sand. Sand can sneak in and embed itself between your ring's stone and prongs. The same goes for dirt. The last thing you want to do after spending all that money on a honeymoon is spend more on a ring cleaning.
If you're going to be somewhere hot and spend your days out in sunlight, leaving your wedding ring behind might be the best idea. The heat and sun can cause your ring's color to fade. Plus, if you accidentally get sunscreen on it, there's the possibility that the ring's stone will lose some of its brilliance.
If you're still determined to bring your ring, take some steps to keep it safe. Don't leave it out in the open at any time. If you're going to the pool, don't leave it on your towel. If you're stepping out of your hotel room, don't leave it on the nightstand. If your room has a safe, store it in there. To monitor it even more, add a bluetooth device to the ring's box so you can locate it from your phone at all times. Whether you're on an adventurous honeymoon or a cozy one, make sure to remember these tips to keep your wedding ring safe and beautiful.