How Much Should You Expect To Pay For Food While Traveling In France?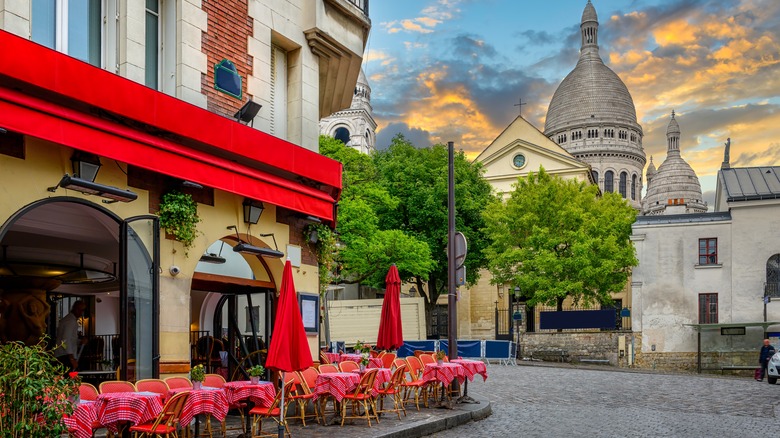 Catarina Belova/Shutterstock
Travelers may come to France for the high fashion, but they stay for the fine dining and food. Think: flaky croissants, buttery baguettes, creamy cheeses, piping hot frites, the freshest fruits and vegetables, and last but certainly not least, melt-in-your-mouth macarons. In fact, the United Nations Educational, Scientific and Cultural Organization (UNESCO) recognized France's food culture for its ability to bring people together through the enjoyment of delicious cuisine and beverages. It cultivates a sense of community, appreciation for flavor, and harmony between humans and nature's bounty.
Alas, eating — and let's be real, drinking — your way through France can definitely add up, and it's not always budget-friendly! But just how much money should you set aside for sustenance on your trek? Here's what you can expect to pay for food while traveling in France so you can live your best "Emily in Paris" life, crêpes and all!
It's all about location, location, location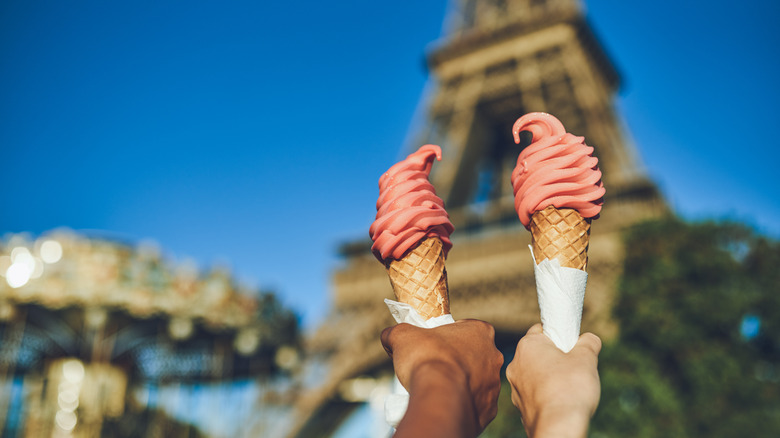 Charday Penn/Getty Images
Roughly speaking, tourists can expect to fork out an estimated €25 to €40 per day on food in France. It should be noted, however, that this amount largely depends upon the city or region you are traveling to. While you can expect to pay top dollar for food in Paris, a similar meal in the French countryside can be much more affordable.
Breakfast in a café in the City of Lights will set you back around €5 to €6. Meanwhile, an espresso and a muffin at Coogee Coffee in Marseille, another large city in France, will cost you €4 to €5. In contrast, dinner prices can vary anywhere from €8 for a quick bite at a fast-food establishment to €100 at a gourmet restaurant. And suppose you're looking to enjoy bouillabaisse, the classic fish stew that originated in Marseille. In that case, you can expect to fork out a whopping €79 per person at the world-renowned Le Miramar. 
For a better bang for your buck, however, traveling to a small town in the French countryside, like St. Emilion, may be worthwhile. Many hotels there offer complimentary continental breakfasts with your stay, and dinner prices are typically much lower than restaurants located in larger French cities. Lard et Bouchon offers a prime rib for two for only €79.
Opt for a cute lunch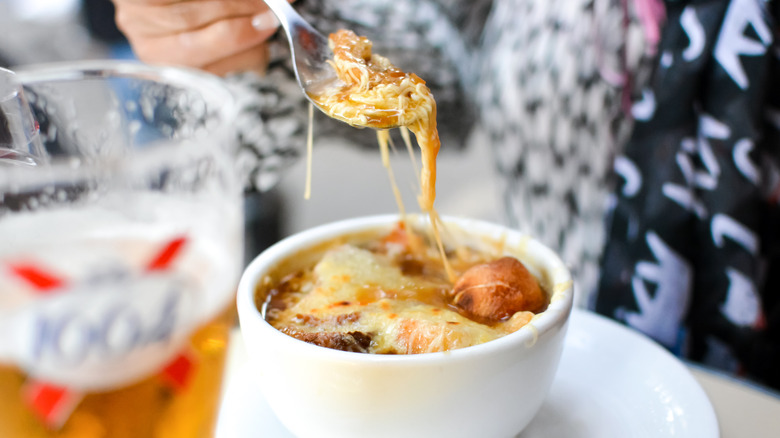 Kirk Fisher/Getty Images
France is known for its gourmet dining and Michelin-star restaurants. While those establishments aren't necessarily attainable for all budgets, there is a way to do it cheaper: consider going at lunchtime. Many restaurants offer a set lunch menu at a great discount compared to their evening prices, including L'Agapé, Auguste, and Dominique Bouchet. While a set lunch menu at a Michelin-starred restaurant in Paris will typically run anywhere from €40 to €60, travelers in Lyon, another city in France, can enjoy a three-course set menu lunch at a Bouchon-style restaurant like La Tête de Lard for €22.
Enjoying a long, leisurely lunch is a beloved pastime in France and a must if you want a truly authentic experience. But don't just take our word for it! "A long lunch in France is a big tradition. There are not many other countries in the world that do lunch like we do. The restaurants are always full at lunchtime in France, and that's because enjoying a proper lunch is in our DNA," Jon Trouillet, head chef of Bistro Moncur, explained to the Special Broadcasting System. French law deems it illegal to eat while at your desk. So follow the rules and enjoy that long lunch!
Avoid tourist traps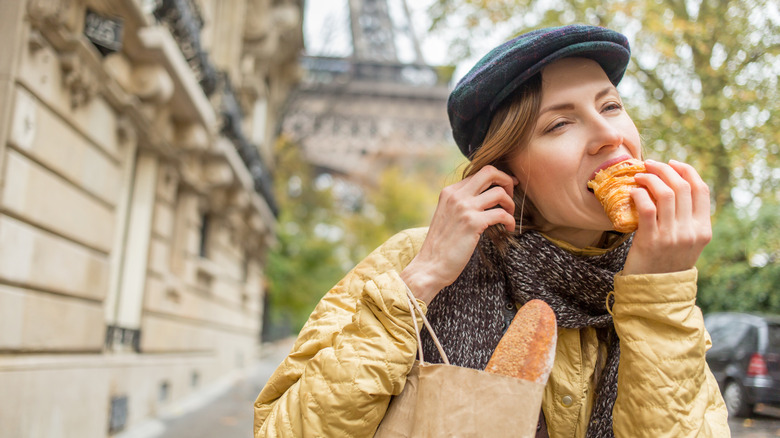 Hotphotopie/Getty Images
If you're trying to stretch your euros, it's best to avoid the tourist traps near the top Parisian attractions, as they are notorious for more expensive fare and subpar cuisine. Instead, consider veering off the beaten path and dining at some restaurants further away from the hustle and bustle. Case in point: the 11th Arrondissement, where the options are plentiful, and the French vibes are immaculate. 
And one Parisian chef says the no tourist trap rule rings especially true regarding pastries! "There are so many different specialties and ranges of pastry shops in this city! Not all baguettes are created equal, nor are pain au chocolat," Chef Ruth Schertenlieb of La Bossue told Devour Tours. "The best pastry shops are normally not on touristic streets, so take a walk around. Read some reviews, and ask the locals. We always know where to go. Some of my favorite pastry shops are Les Trois Frères (14 rue Léon), Boris Lumé and Aux Merveilleux de Fred." 
Another option is to stop by a bakery or nearby market and pack a picnic. A pastry at a Parisian bakery can cost as little as €1 to €3, and lunch at a sandwich shop can run you €6. Lunch with a view of the Eiffel Tower at a fraction of the price? Don't mind if we do!