The Florida Resort Offering Families Incredible And Budget-Friendly Dolphin Experiences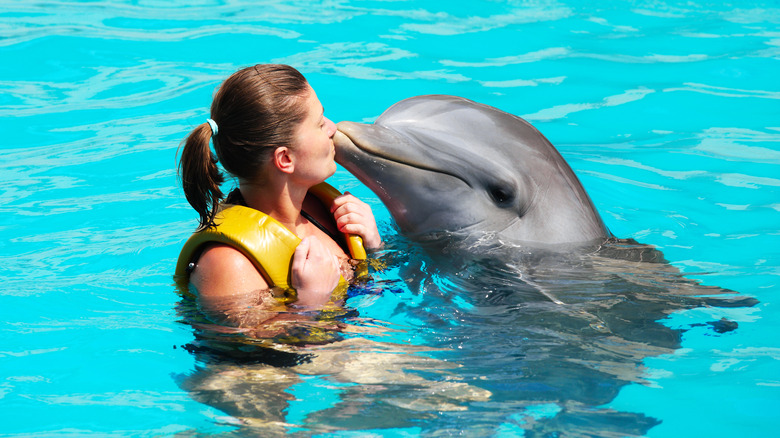 Macniak/Getty Images
One of the many perks of visiting Florida is the opportunity to swim with dolphins. The marine immersion gives visitors, especially kids, the chance to encounter the wild up close and safely. What could be better for a family vacation? But the magical experience can often be prohibitively expensive, meaning that many families don't get to participate in this novelty. But this is where Discovery Cove comes in. The all-inclusive day resort in Orlando, Florida gives tourists the chance to swim with dolphins and literally offers every single amenity you could need without hidden fees.
It's one of the many reasons families are flocking to Florida for the summer getaway of a lifetime. The state also boasts the best spot to swim with manatees, so there's no end to the adventures that await. But of all the marine life immersive activities, Discovery Cove is something special, considering that it's both budget-friendly and the trip of a lifetime.
The all-inclusive perks of Discovery Cove
There are different packages available at Discovery Cove Orlando to fit the experience that you're looking for. The best deal is the Signature Dolphin Swim Package + 3 Parks, so ticket holders also get 14 days of admissions to Seaworld, Aquatica, and the Busch Gardens. This package starts at $184.20 and can go up to $500 in peak season. But not to worry, even during the summer months, tickets can still be much cheaper.
All tickets for Discovery Cove include access to other areas of the park, including the Grand Reef, Freshwater Oasis, Explorer's Aviary, and Serenity Bay. This holds true for the cheapest ticket, which is the Signature Dolphin Swim Package, starting at $115.20. Prices hit their max during peak season at around $400 a ticket, but there are several options during the summer for more affordable days.
What makes Discovery Cove so compelling for families is that the amenities that come with your ticket make all the difference. Parking, towels, locker access, and animal-safe sunscreen are all included, as are wetsuits and the necessary snorkel gear. Your admission ticket also includes unlimited food and drinks, including beer and wine for adults. The travel blogger known as Amber Likes said that this included breakfast and lunch, as well as snacks of chips, soft pretzels, and cookies, as well as frozen drinks, soda, coffee, and juice. The only additional costs that visitors find is the optional chance to buy personalized photos of the dolphin swim at the end of their visit.
How to make Discovery Cove even more affordable
As with many vacation packages, booking a visit during the off-season is the best way to score a deal. July is frequently the most expensive month for ticket sales at Discovery Cove, so if you can adjust your visit, do so because flexibility is the key to getting the best price. On top of that, if you're a Florida resident, you can get 20% off your ticket. If you're traveling with children 2 years or younger, the children will get in for free when accompanied by a paid adult — just be mindful that you still need to reserve a spot for them. The website also offers hotel packages, so you can save when you book your entry tickets as well as overnight accommodations.
Several travel bloggers gave the day resort rave reviews and stressed that tickets were well worth the money. To squeeze the most out of your visit, arrive around 7:30 a.m. so that you can enjoy breakfast before getting into the key activities. And keep in mind, while swimming with dolphins is the big highlight of the trip, there's so much to do that you'll pack in a full day. Swim in the Grand Reef with tropical fish and Manta rays, float in the Lazy River, and feed Caribbean flamingos. It's a day your whole family is sure to remember.