How To Choose The Right Tent For Your Next Camping Adventure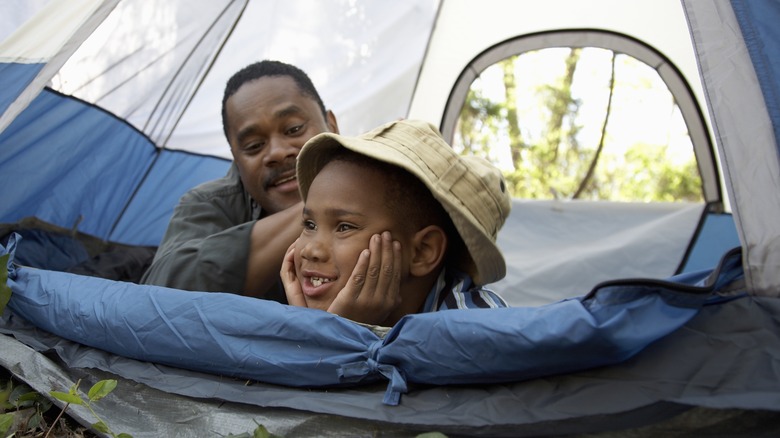 Larry Williams & Associates/Getty Images
Choosing the wrong tent can spell disaster for your next camping trip. Too small and you and your tent companions will feel cramped. Too big and you'll regret lugging around more than you really needed. If the tent isn't suited for your camping location, you could wake up to water in your tent which can be very hard to dry out, especially if you need to do so quickly before you pack up and hike to your next location. Deciding on which tent to get isn't easy, though. There are a number of factors to consider and a seemingly endless number of tents to choose from, from ultralight to hammock tents to large family tents and more.
Before beginning your search, it will help to nail down a few things first. What kind of camping will you primarily be doing? This could be car camping, backyard camping, solo camping, etc. How many people and/or animals will also be in the tent with you? Where will you primarily go camping? By answering these questions, you will have a much easier time deciding on the type of tent you need. We'll cover what type of tent is perfect for each camping style, which will hopefully make your next camping trip a breeze.
The right tent for your camping style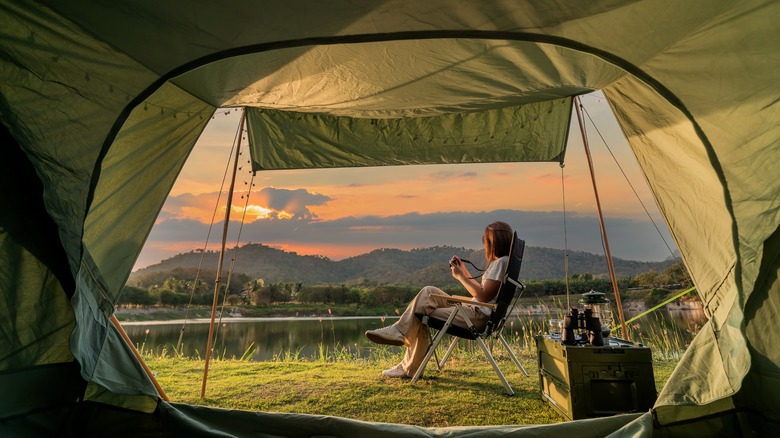 Theera Disayarat/Shutterstock
Your camping style will determine two important characteristics of your tent: size and weight. Campers doing thru-hiking or backcountry camping will want to consider a lightweight or ultralight tent. As the name suggests, these are lightweight tents that pack up very small and don't add too much extra weight or take up a lot of room. While these are a specialized bit of equipment that can run up your bill at REI, there are many options for ultralight tents. These can fit every kind of budget and space needs. Some backpackers like to use hammock tents. Not only do these take up less space in a pack, but backpackers can stay off the cold, wet, or rocky ground and sleep more comfortably. 
If you're pulling up to your campsite on four wheels instead of two feet, you have more flexibility with the size and weight of your tent and thus many more options at your disposal. If you want more room, grab a tent with more square footage for a more comfortable stay. These are typically a bit heavier and may take longer to put up and take down but are suitable for longer stays in one campsite. If you do a combination of car camping and backpacking, there are crossover tents suitable for both types of camping though these tend to be a bit heavier or bulkier.
Other important considerations when choosing your tent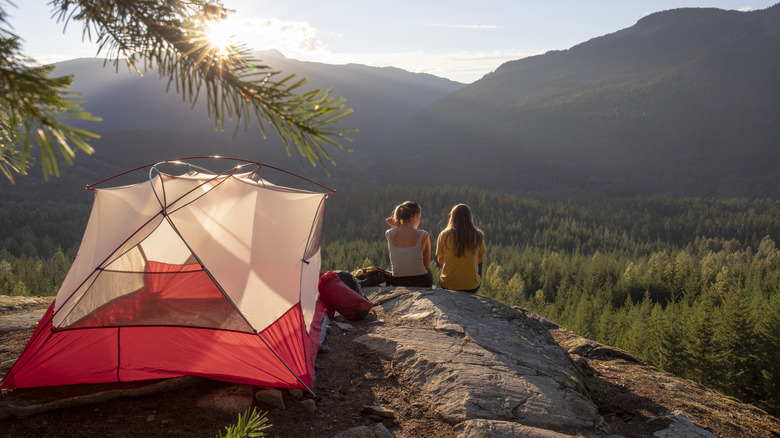 Ascentxmedia/Getty Images
If you plan to camp in more than one season, you'll want to look into multi-season tents. A tent's season rating refers more to the tent's durability than the seasons it's actually suited for. For example, a one- or two-season tent is best for warm and dry climates where there won't be a lot of wind. A three-season tent will be suited for a variety of climates, including cold weather, but is still light enough for backpacking. Four- and five-season tents are much bulkier to help keep you warm in your tent and safe from more extreme elements.
Next, you'll also want to choose between freestanding or semi-freestanding tents. Freestanding tents can stand up on their own without staking into the ground. These are great for terrain that would be difficult to stake, such as rocky ground. Semi-freestanding tents can stand up on their own but are more stable when staked to the ground. These tents offer an ideal combination of features for those who want a little of everything — a versatile and spacious tent that is still lightweight. You'll also want to consider ease of setup. The last thing you want to do after a long day of hiking is spend 20 minutes messing with a tent. Backpacking tents are easy to set up just for this reason, but it doesn't hurt to practice putting up your tent at home before setting off.