Why These Flags Could Mean Danger At The Beach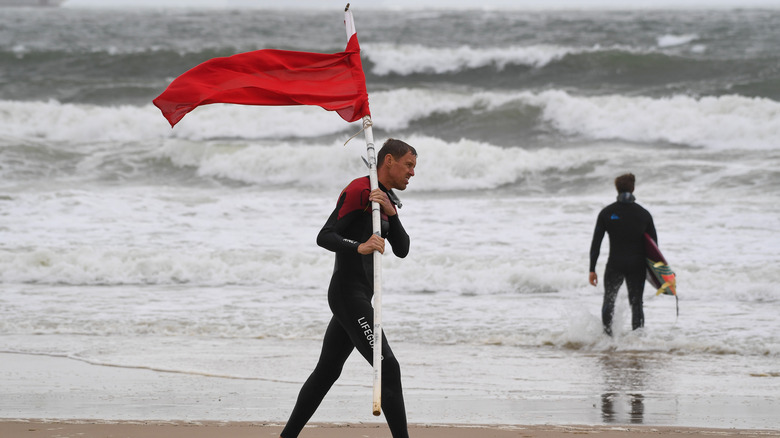 Finnbarr Webster/Getty Images
Red flags don't just apply to dating. A day at the beach can involve several different kinds of flags, and some could potentially be red. Beach flags are a way of communicating between lifeguards and beachgoers about the safety of the waters. The flag system was created by the International Lifesaving Federation and the United States Lifesaving Association, and in 2004, the ILF made the flags global standard, so that travelers all over the world could understand the beach warning flags, no matter what language they spoke.
The flags are there to warn swimmers of changes in swimming conditions and water safety. And these flags are no trivial thing. There can be serious dangers when swimming at a beach. For example, Ocean Beach in San Francisco has been named California's most dangerous beach, and for good reason. But that's only one of the deadliest beaches around the world. There could be deadly rip currents, treacherous waves, and threatening marine life. So navigating these fun, but potentially dangerous spots, is essential to stay safe in the summer.
The most important flags to know for safety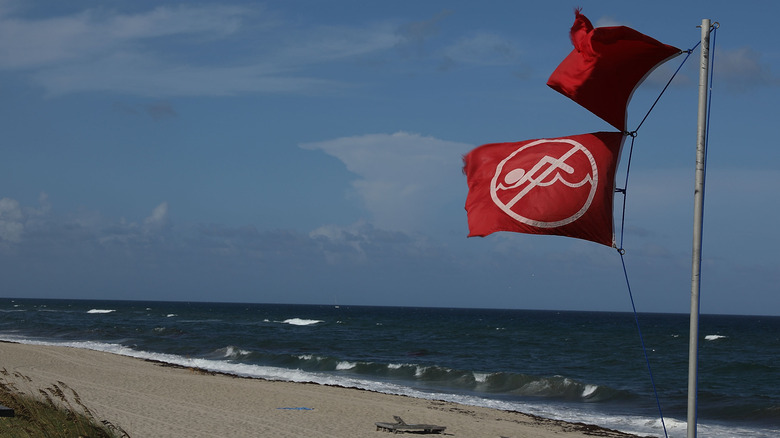 Joe Raedle/Getty Images
When it comes to beach warnings, red flags are always a bad sign. A single red flag stands for high hazard, which means that there's likely a dangerous rip current in the water or there's a strong surf. Swimmers are strongly advised not to go swimming, and those who do go should proceed at their own risk. A double red flag means that the water is closed to the public. Sometimes one of the flags will also have the image of a crossed-out swimmer, just to emphasize the point.
A yellow flag means that the water condition presents a medium hazard. This means that there are currents present, and inexperienced swimmers should not enter the water. Just because a yellow flag is present doesn't mean things aren't serious. "The waves may be a little larger or rip currents may be present, but if you have any concerns, talk to a lifeguard to see what the yellow flag is signaling," Dr. Stephen Leatherman, a professor at Florida International University told AccuWeather. "[However], even if you are a good swimmer, you do need to know something about rip currents, because the response that nature tells us is to swim back to shore," Leatherman said. "That would be against the rip current, and even great swimmers can drown in a case like that." So be cautious with these flags present.
What purple and green flags mean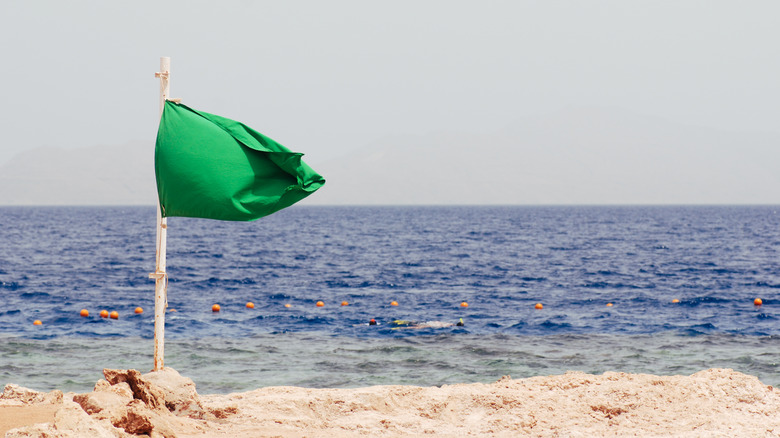 skrotov/Shutterstock
A purple flag at the beach means that potentially harmful marine life is in the water, typically jellyfish or stingrays. "Beachgoers should be alert and cautious of these animals," Elyssa Finkelstein, spokesperson for the Florida Department of Environmental Protection told AccuWeather. Purple flags are typically used to designate marine pests rather than sharks. In some cases, lifeguards will hoist a white flag with a black shark image and sound a siren if there have been shark sightings in the water. In other cases, lifeguards will raise a purple or blue flag if there have been shark sightings. Meanwhile, a red and white flag means that there has been an emergency evacuation, for any number of reasons, not specifically related to sharks.
On a more cheerful note, a green flag means that the beach and water conditions are safe for swimming. "The green flag signifies low hazards and calm conditions," Finkelstein told AccuWeather. "Beachgoers can enjoy the water and swimming while remaining alert to changing conditions and currents." Beach goers may also notice red over yellow flags in certain sections of the beach. These flagged zones mean that the marked area is the best place to swim, since there are lifeguards present. There are some other flags that are helpful to know. Black and white flags indicate that the zone is used for surfing and should be avoided by swimmers, while a yellow flag with a black circle in the center means that the area is designated only for swimming and not surfing.