Hike One Of The Most Dangerous Trails In The World At Zion National Park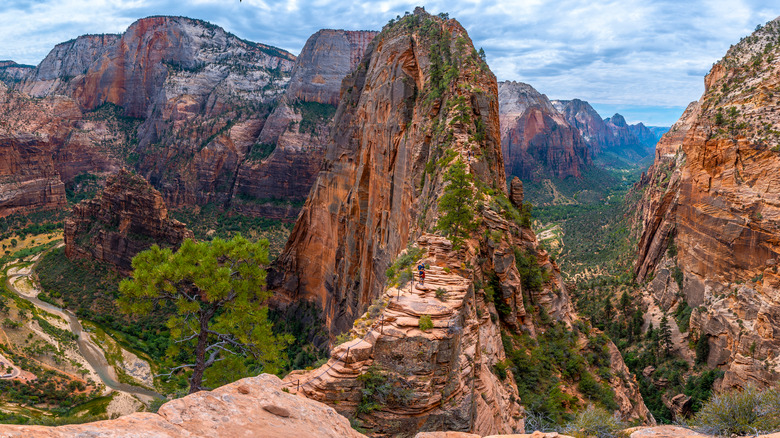 Unai Huizi Photography/Shutterstock
In 1916, a Methodist minister named Frederick Vining Fisher, when first visiting Zion Canyon, noted that only an angel could reach the top of what's now known as Angels Landing. A century later, Angels Landing is one of Zion National Park's most popular attractions and one of the world's most dangerous hiking trails. The trail attracts thousands of spirited (and experienced) hikers each year, and if you're an adventurous and gutsy hiker, with a comfort for guardrail-less heights, then Angels Landing may be a heavenly proposition.
The Angels Landing hike is 5.4 miles roundtrip with a gain of nearly 1,500 feet of elevation during the ascent. Most hikers can complete the trail in between 2-4 hours. Notorious for its sheer drop-offs, pretty intense exposure, and narrow ridges to reach the summit, Angels Landing is a thrilling hike and not for the faint-hearted. However, steel-nerved hikers who complete the ascending trek are rewarded with panoramic vistas of Zion Canyon from the summit. To help you prepare, there are a few things to know before you lace up and take flight.
What to expect on your hike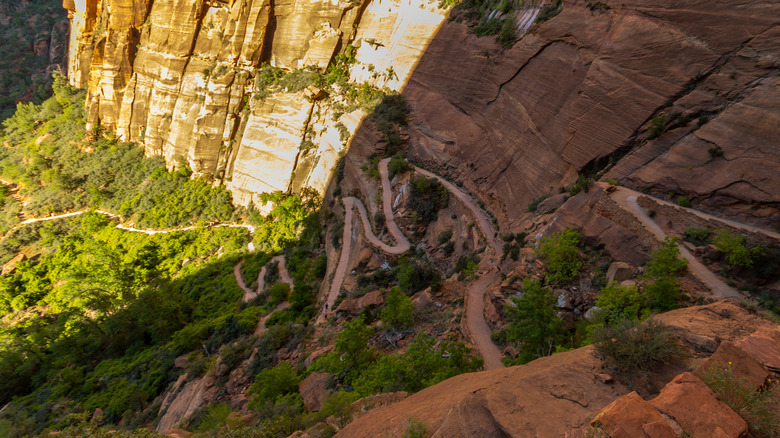 Picturist/Getty Images
After getting dropped off at the Grotto shuttle stop, you'll begin your hike at the Grotto Trailhead. Perhaps offering hikers a false sense of security, the first section of the hike is relatively easy and pleasant. To begin, you'll first hike the West Rim Trail for two miles, crossing the Virgin River, until you reach Refrigerator Canyon. Once you arrive, you'll appreciate the canyon's namesake, as it's noticeably colder than the primary canyon.
After Refrigerator Canyon, the elevation gain becomes more strenuous while you begin to ascend "Walter's Wiggles,"  which is a series of 21 switchbacks carved into the side of the canyon. Once you complete the thigh-burning switchbacks, you'll come to a sandy landing called Scout Lookout, which offers hikers a quick reprieve and aerial views of Zion Canyon. For some hikers, Scout Lookout also offers a final opportunity to turn around before the final 500-foot push, climb, and scramble to reach the top of Angels Landing.
What makes Angels Landing so dangerous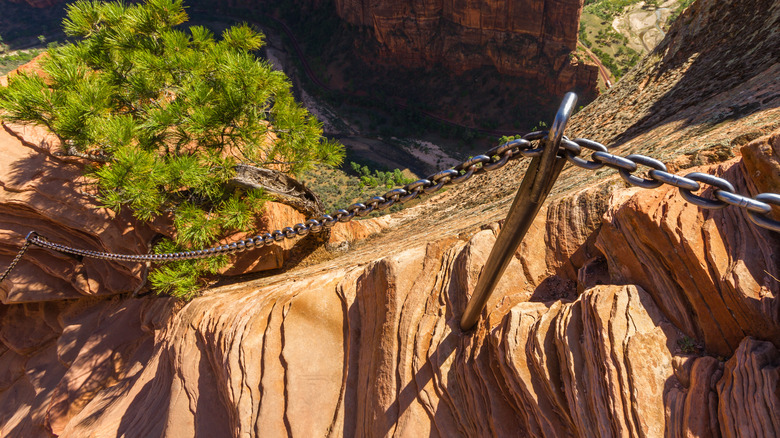 The final 500 feet of Angels Landing is what gives the trail its notoriety. As you approach the summit, the trail follows carved sandstone steps along a narrow ridge. Heavy chains, which serve as handholds, are available for hikers at most (but not all) ridges with drop-offs throughout the last section. If you're uncomfortable with exposure, it may be wise to keep your gaze straight ahead during this section. The sheer altitude of the hike can be disorienting. 
After crossing the narrow ridges, you'll then resume climbing and scrambling using chain handholds and sandstone footholds. Once you reach the summit, which doesn't feature any guardrails, the lofty height is both dizzying and incredibly rewarding. From the top, you'll enjoy expansive views of Zion Canyon, as well as views of Red Arch Mountain and the Great White Throne monolith.
Due to the trail's popularity and the incredibly narrow ridges on the last leg, you currently need to apply for a permit to hike Angels Landing through the National Park Service. To help limit the number of hikers, the park service offers a day-before lottery and a seasonal lottery for permits. For adventure seekers, the nominal fee to apply for a permit is well worth buying the stairway in Zion.