What To Do When An Airline Damages Your Checked Luggage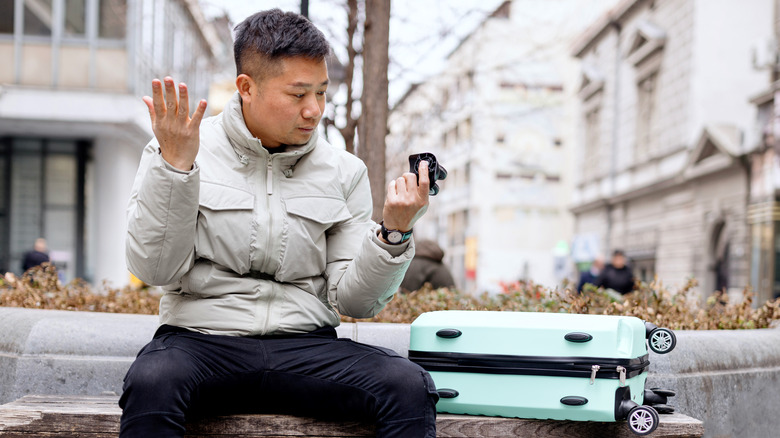 Anchiy/Getty Images
When you travel, you want to anticipate things going well. New destinations can mean life-changing experiences with each departure. However, when airlines are involved in the process of getting where you're going, there's inevitably a lot that can be less than ideal too. One of the particularly stressful scenarios to consider for many travelers is the prospect of having their checked luggage damaged along the way.
According to SITA, mishandled luggage by airlines worldwide has increased by 24% in the last two years. Air transportation communications and IT specialists at SITA also estimate the chance of luggage being mishandled as being four times higher on international flights as opposed to domestic journeys. While passengers don't have a lot of control over what happens to their luggage once it's checked, taking some proactive steps before any damage occurs can bring some peace of mind.
One of the most important steps passengers can take before checking in their luggage with an airline is to take precise and thorough photographs of their bags. This includes the exterior and interior details of luggage that are prone to potential damage. It's an often overlooked step before flying that can be a huge time saver when it comes to a potential damage claim down the road. Having photographs of how your luggage looked before you set off on your journey can help you effectively and efficiently prove your case in the event your checked luggage is in rough condition when you go to retrieve it.
File a damage report and claim through the airline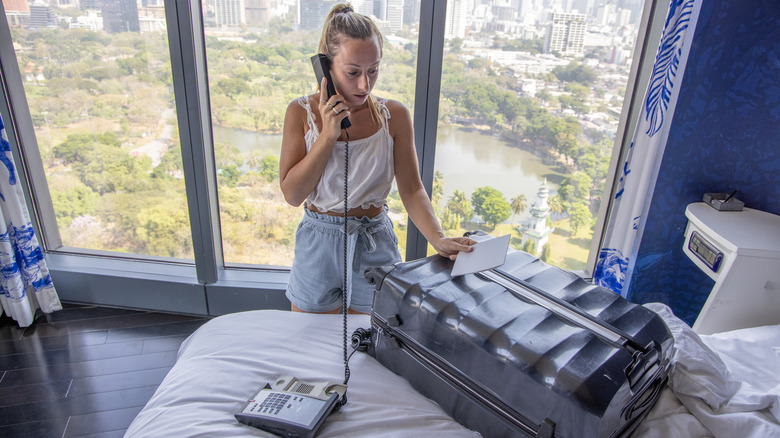 Swissmediavision/Getty Images
It's never a great feeling to head to the luggage claim only to spot your bag and find it broken in some significant way. When an airline has clearly damaged your luggage, you'll want to begin by heading to their baggage service office on-site. The airline check-in counter is your second option if the baggage service office is closed for any reason. If you notice damage after you've already left the airport, you can call the airline's customer service line to report the damage and file a claim as well.
In all of these scenarios, once you've explained the situation to the airline representative, shown them the damage, and presented your photos, you'll be asked to fill out an official Property Irregularity Report. They'll also ask you to report where you purchased the luggage initially and how much you paid for it. In many cases, the representative will offer an immediate solution which could be a replacement bag, or compensation equal to what it would cost to repair the damage.
If a real-time solution isn't plausible or acceptable, you can expect to receive a claim number to track your case online through to its resolution. No matter how long it takes, be sure not to discard the damaged luggage before you've received official compensation of some type from the airline. There's a good chance you'll be asked to detail damage further before all is said and done.
Keep damage claim deadlines and restrictions in mind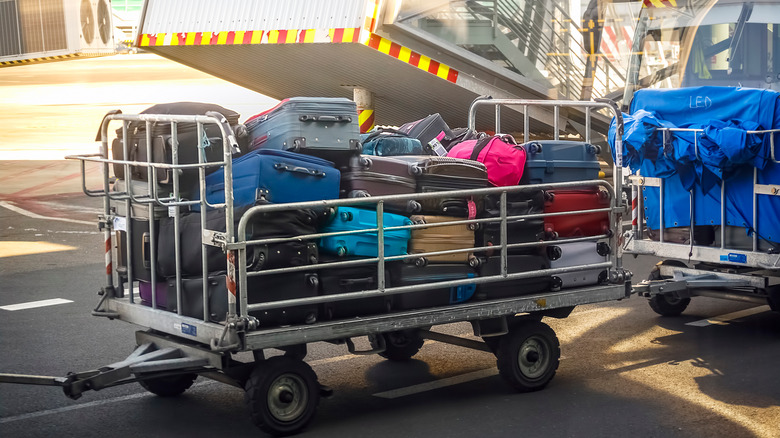 OSDG/Shutterstock
When your checked luggage has been damaged by an airline, there's a certain amount of time you have to file a claim. If your luggage was damaged on a domestic flight, you're going to want to file a claim within 24 hours of landing. International flights generally extend this deadline to seven days, but verifying with the airline is always recommended.
Once you've submitted your claim, airlines have options in terms of resolution. You might be asked to send your luggage directly to them at a reimbursed cost so it can be repaired and returned. Airlines might also choose to send a replacement bag your way. Unfortunately, there are times when claims are simply denied outright as well.
While the U.S. Department of Transportation sets clear liability limitations for airlines, there are some damages airlines aren't required to compensate passengers for. Claims for stains and minor points of wear and tear are universally denied. Claims related to broken zippers are also typically turned away as well. Taking time to check your airline's website for a full list of unacceptable claims will help you avoid frustration.
Any time you check your luggage, you run the risk of damage. Understanding the process of filing a claim makes dealing with the aftermath easier. As long as you don't forget to snap those pre-travel photos before you go, you're in good shape to earn compensation for the damages that might occur along the way.