Must-Download Translation Apps To Make Communicating While Abroad Even Easier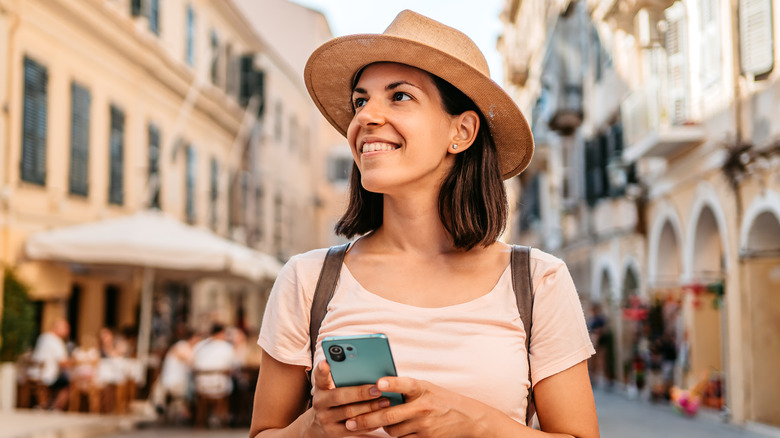 Urbazon/Getty Images
Many people around the world understand English, so strictly speaking, there's often no need to learn the local language when you travel abroad for a short period of time. However, if you travel outside English-speaking nations, you might start to feel the language barrier for real. While English is often spoken in tourist spots, you will benefit from understanding the local language once you venture outside the major attractions.
Knowing some common phrases will be useful in getting around and communicating with locals. Hailing a taxi, ordering from a restaurant, or asking for help becomes easier when you can speak and understand the local language. You reduce the risk of getting lost in a foreign place and can dive deeper into local culture as well.
But, if you're only visiting for several days, learning the local language might require a big chunk of time you don't have right now. A good alternative is to download a translation app. Translation apps can translate many languages quickly and many are free and easy to use. And, because most of these apps can only translate small amounts of text at a time, they're a great tool for engaging in casual conversations with the locals and asking for directions or questions. Here are some of the best translation apps out there.
Best overall: Google Translate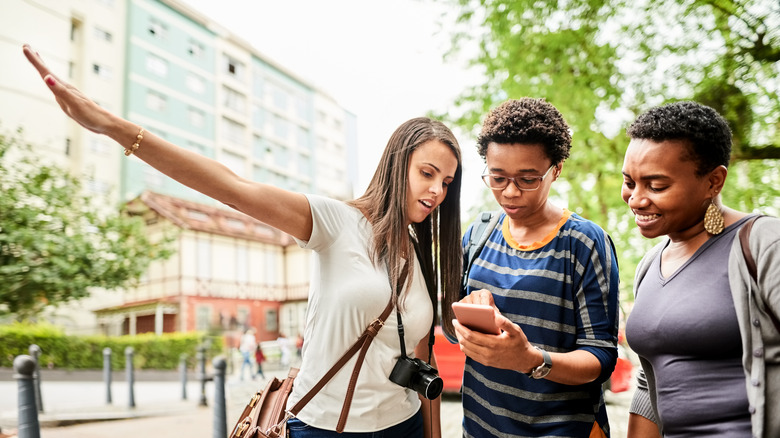 Aj_watt/Getty Images
Among the translation apps available, Google Translate is highly rated for several reasons. First of all, it can translate more than 100 languages. And, it can translate foreign words in practical ways.
In addition to translating typed or copied text, it allows you to use your phone's camera to instantly translate signs, menus, or other printed material into dozens of languages Or, take or upload a photo to the app to have a higher quality translation. Plus, you can listen to how translated words are pronounced, which can help the locals to understand you or help you learn to say foreign words correctly. Non-English users can even draw or write characters, and it will translate them into many other languages. Plus, you can save translations in its phrasebook.
Google Translate is simple to use, but it's far from perfect. Some of its translations can be clunky, especially Asian characters and blocks of text. But, the free app is handy to have on your travels, especially its ability to transcribe almost in real time. The transcribe function translates spoken words or speech into text, and it's available in languages such as Chinese, Hindi, Russian, and Thai. And, its conversation mode translates both sides of a bilingual conversation. You can even use the app without an internet connection. Just download a language and it will be available for use offline.
Best for audio translation: iTranslate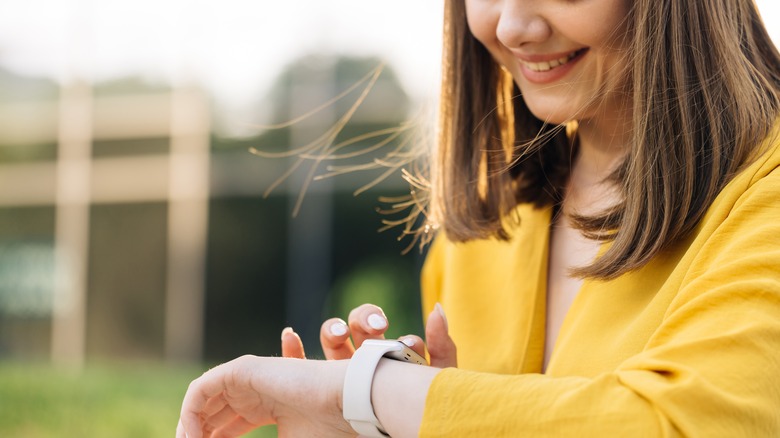 mpohodzhay/Shutterstock
Another popular translation app is iTranslate, which offers fast and accurate translation for more than 100 languages. While it works on text and photos, audio or voice translation is where the app shines. Its audio translation, albeit currently limited to fewer languages, is unique in that it features male and female voices, the playback can be slowed down or sped up, and you can switch between dialects. This makes it easier to learn how to speak the local language correctly.
If you're an Apple user, the app includes features specifically designed for Apple devices. It integrates with your Apple Watch, translates foreign-language websites via a Safari extension, and comes with a mode that recognizes objects and provides their local name. Plus, its keyboard extension feature offers instant translations in your iPhone messaging app.
Another helpful feature is the ability to save or bookmark translations or share them via email. Plus, it's available offline for many languages. Other special features include translation history, transliteration, verb conjugations in different tenses, alternative translations that add context to translations, a dictionary that includes synonyms, and a widget and flashcards that help you learn a new foreign word daily. As with Google Translate, iTranslate has its flaws, specifically with its phonetic English spellings for languages using a non-Roman alphabet. Note also that photo, offline, and voice translation as well as Apple-specific features are part of its paid version.
Best for group conversations: Microsoft Translator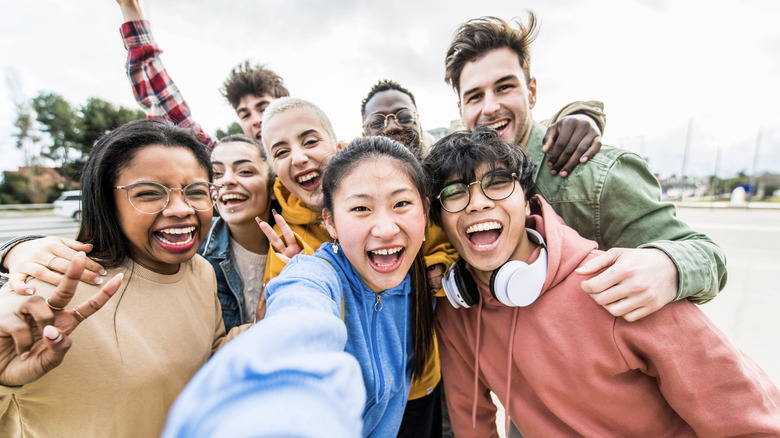 Kar-tr/Getty Images
If you like meeting many new people during your travels, then Microsoft Translator might be the translation app for you. While the app currently only translates over 70 languages, it translates multiple languages simultaneously and accurately. And, you don't even have to tap any icons to choose languages; it auto-detects them and translates words and phrases quickly. So, if your new acquaintance speaks French, you'll see the English translation and they'll see the French translation on their phone. This option is available for up to 100 people in one setting.
"About a month ago I discovered the Group Conversation functionality and it has been a complete game-changer," a user review in Apple's App Store said. "I teach ESL classes to a diverse audience with five languages present and it initially did not look like it would be possible to have a multi-language class. The Group Conversation allows everyone to hear in their original language as they learn new material and then we can all practice in English."
There's also a split-screen option so you can see the original word or phrase and its translation. Plus, you can add more than 200 phrases to a phrasebook, which is populated with verified translations, for easy offline access. In addition, text translation has three playback speeds, and along with pronunciation guides, you'll be learning how to speak the local language properly in no time.
Best for a mix of culture and language: TripLingo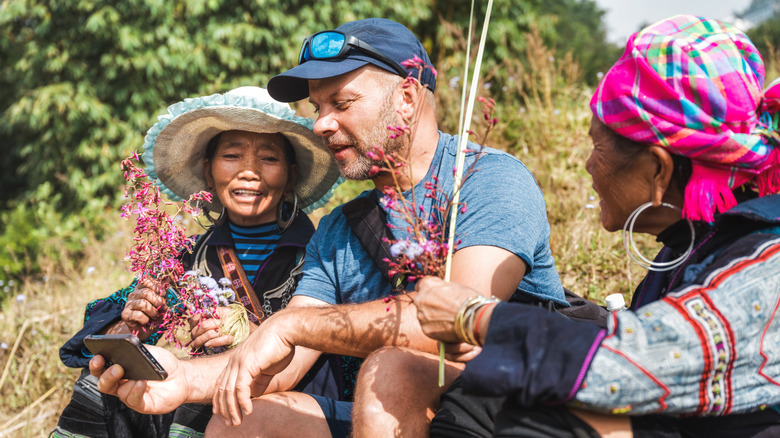 Golero/Getty Images
If you're the kind of traveler who wants to blend into your destination, then TripLingo might be the app you're looking for. You'll need to download a language pack from more than 100 countries, which means you won't need an internet connection to access it. Similar to other translation apps, TripLingo also includes an image translator and real-time voice translation for dozens of languages in addition to its text translator. Plus, a dictionary with 10,000 words is accessible offline as well.
However, TripLingo is more than a simple translation app. It's also a cultural guide, offering information on appropriate etiquette while abroad, local customs, and other cultural advice. The app provides local words and phrases you can use to easily communicate with locals, including medical and safety slang. There's also a handy tipping calculator, so you have an idea of how much to tip locals. Basic features are available for free, but there's also a paid version (currently $20 per month), which includes a Wi-Fi dialer, live translation assistance, language lessons, and custom phrasebooks.
Best for travel to Asia: Waygo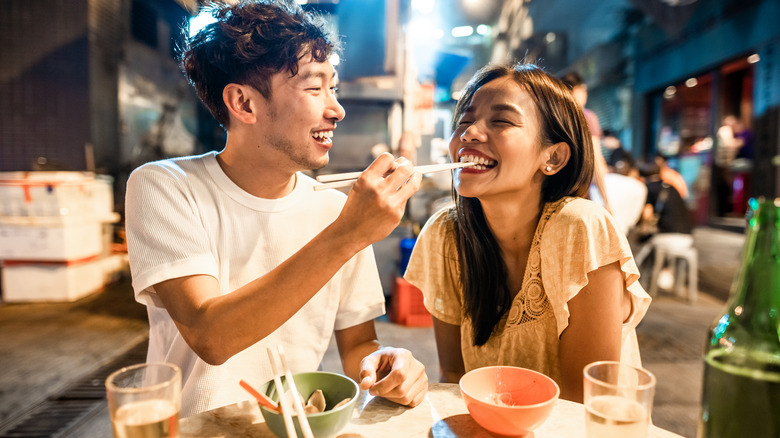 Itsskin/Getty Images
If you're a foodie who loves Asian cuisine, Waygo is the translation app for you. While it only translates English to Chinese, Japanese, and Korean, most of its functions are available offline by default. And, the app is simple to use: Just point your camera at a sign, menu, or other printed text and it will give you the translation quickly and accurately. However, you'll be limited to just a few words at a time and you'll need stable hands to focus on the text, as Waygo is sensitive to movement. Still, as one user review noted in Apple's App Store: "I was able [to] read menus which was the most fun and entertaining. With all the choices in every restaurant large or small, I was able to try all the things I wanted!"
Other features include instant voice translation, bookmarking translation, and translation history. At present, Waygo offers a free version with 10 free translations per day. If your translation needs exceed this number, a paid version is also available. With the paid version, there's no limit to how many translations you make in a day.