What Exactly Can The Hotel Concierge Help You With?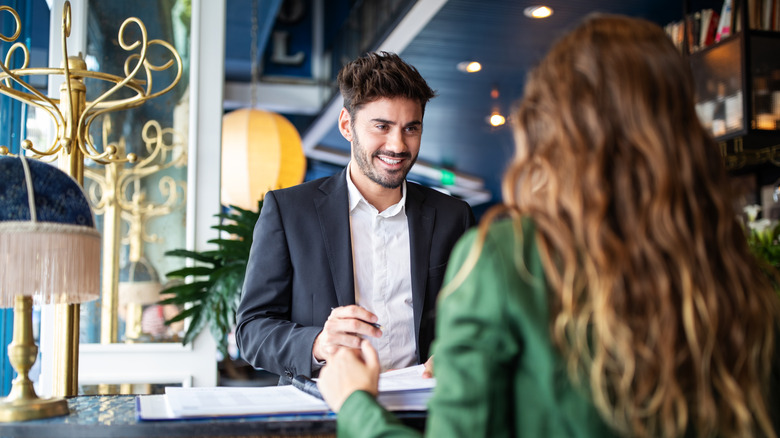 Alvarez/Getty Images
Your hotel's concierge may be the most informed insider in the city. You may only consider speaking with the concierge to grab a taxi, get directions, or ask about restaurant recommendations, which are all routine requests. However, the real value of a concierge goes beyond simple requests. After all, you can read Yelp reviews for restaurants or grab an Uber yourself.
Although the concierge isn't a hospitality wizard (though concierge services at ultra-luxe hotels can be near-magical), the concierge is paid to be a local insider. At quality hotels, the concierge may frequent museum openings, eat at the finest restaurants, and attend popular shows as part of their job. To accommodate the request of hotel guests, the concierge may spend years or decades cultivating relationships with various services, venues, tour providers, and restaurants throughout town. When staying at the hotel, you're paying to access this insider info.
Concierge services will differ among hotels. In broad terms, the nicer the hotel, the more accommodating (wizard-like) your concierge may be. But even if you don't require a private jet pilot within the hour, the concierge can still typically save you money, help with your trip itinerary, score hard–to–find tickets, and more.
Concierge services can enhance your trip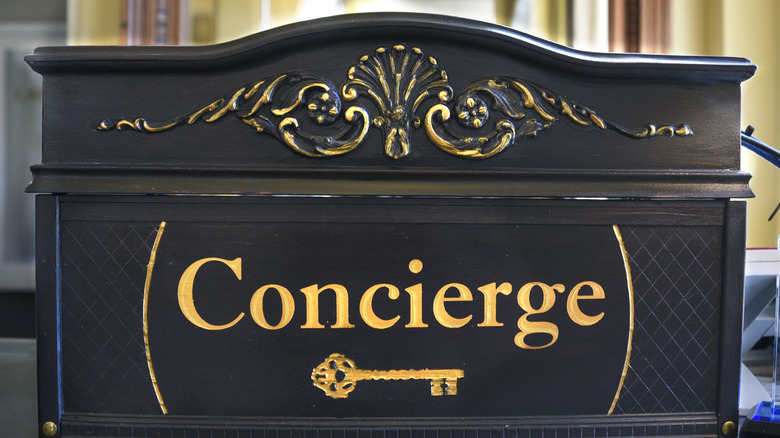 Robert Alexander/Getty Images
Whether you're traveling for business, on a family vacation, or enjoying a romantic getaway, a hotel concierge is typically adept at assisting all types of travelers. While they're not miracle workers, the concierge may help you reserve a hard-to-get table at a popular restaurant or tickets to a "sold-out" show. Restaurants may reserve a few tables for preferred hotel concierge contacts, and the concierge may have relationships with multiple ticket brokers in town to locate a few last-minute tickets to an event. This may not always work out, as sold out may actually mean sold out, but the concierge probably has a better inside track than most.
If you're traveling for business, the concierge may be a valuable resource to help with a few work-related tasks. They may be able to assist in mailing and receiving packages, setting up a meeting space, or scheduling an appointment with a tailor or hairdresser. Or, if you're on a family vacation, the concierge may offer recommendations for kid-friendly activities in town or help you hire a babysitter who may regularly work at the hotel.
In many cases, if the concierge recommends a certain service, such as a salon treatment or guided tour, they may give you a card with their name written on it. You should definitely present that card to the business. Often, you'll receive a discount due to the relationship between the concierge and the business. Why not take advantage?
Concierges abroad can be particularly helpful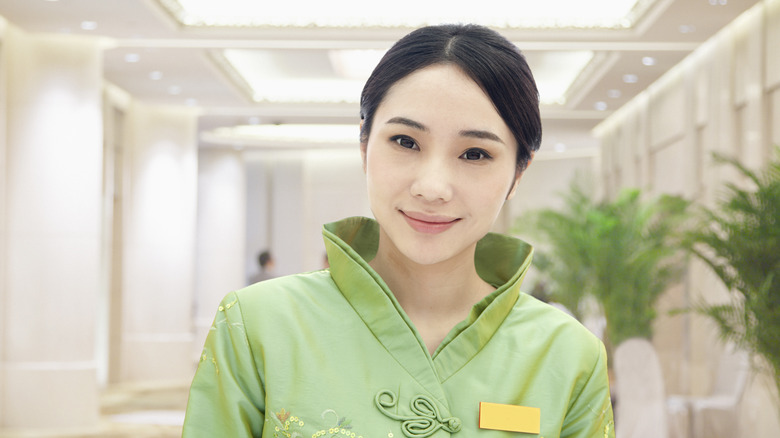 Xixinxing/Getty Images
The hotel's concierge can be a particularly useful resource when traveling internationally, especially when traveling to non-English-speaking countries. In most international destinations, the concierge will speak fluent English and can assist you when locating services may be a bit more complicated.
For instance, if you'd prefer an English-speaking taxi driver or assistance translating directions to a non-English-speaking taxi driver, the concierge is typically trained to help. They may also be helpful in planning sightseeing itineraries, scheduling an airport transfer for red-eye flights, reserving last-minute tours, and offering insight into cultural norms that may be helpful, such as restaurant hours during a local holiday or dress codes to visit sacred sites.
As a bonus tip, whenever you encounter a concierge, you may want to check their lapel. If they're wearing a pin with two golden keys, they're in Les Clefs d'Or, an international organization of concierge professionals. Membership requires five years of concierge service, meaning your concierge is an experienced professional within the hospitality industry. Again, this doesn't mean they're magicians, but they don't represent the profession with golden keys for nothing, and tips always seem to make the magic a bit more powerful.