How Safe Are You On A Cruise? Here's What To Know About Ship Security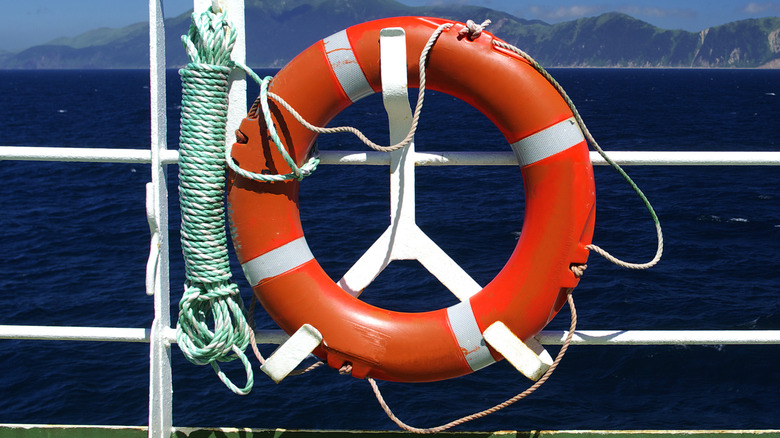 Vladimirovic/Getty Images
Cruises are generally a happy-go-lucky travel option if you don't want the hassle of planning out a multi-destination itinerary all on your own. Boarding a cruise ship is like handing over the reins for the next week or two as your food, excursions, and entertainment are all taken care of for you. However, throwing away your inhibitions can lull you into forgetting basic safety concerns. After all, the last thing you want to think about is getting sick from cruise food or being taken advantage of by other passengers.
Though there are plenty of reasons to have fun and be carefree on your next cruise, it's always good to stay aware of ways you can get hurt. As a cruise passenger, you are also in a unique situation on international waters when it comes to crimes. Serious situations may not be prosecuted the same way they would be in your home country. While this isn't always a comfortable topic, it's a necessary one. We encourage you to travel and experience all there is to see and do out in the world, but we want you to stay safe and healthy while you do it. So, let's dive in and learn a bit more about your safety at sea.
Physical safety issues on a cruise ship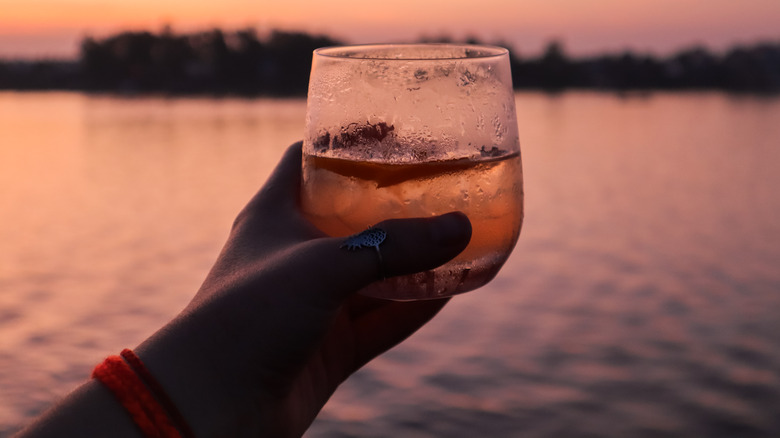 Melaniemaya/Getty Images
In general, cruise ships are pretty safe. It's extremely rare to have a disaster occur like the Costa Concordia back in 2012 when the Italian vessel drifted off course, ran aground, and capsized. This unfortunately led to the deaths of 32 passengers. This is a stark reminder of the importance of mandatory muster drills and paying attention to the directions when you attend.
Sinking cruise ships are rare but unfortunately, problems with personal safety while on board are not. While it's difficult to fathom, sexual assaults are the number one reported crime aboard mainstream cruise lines with over 80% of assaults reportedly committed by other passengers. So what can you do to stay safe? While it would keep you out of danger, telling you to drink responsibly is sort of useless advice. If you like to party, you're gonna party. What we can advise is to keep track of how many drinks you've had and keep an eye on your glass. It's so easy for someone to slip something into your drink when your back is turned. Need to head back to your cabin early? Grab a couple of friends who will walk you back to your room. Double-check that your balcony door is locked during the day, and always check the peephole if someone knocks on your door.
Taking care of your health while at sea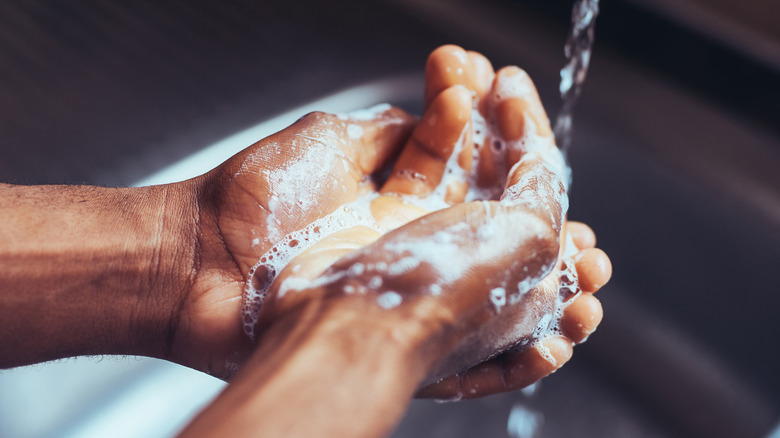 Moyo Studio/Getty Images
Even in the best of times, cruise ships can be vectors for disease and illness. With the severity and wildfire-like spread of COVID-19, though? Cruise ships and their passengers really stood no chance. As of this writing, COVID-19 is no longer considered a public health emergency. However, it wouldn't hurt to take a test before your next cruise and wear a mask to prevent catching something (not just COVID-19) on your flight there. There's almost nothing worse than being sick on vacation.
The big ship illness you'll often hear about is the diarrhea-inducing norovirus. However, per the Cruise Lines International Association (CLIA), it's actually a myth that you're more likely to contract it on cruise ships. In fact, there's only a 1 in 5,500 chance of contracting the illness while a cruise ship is actively experiencing an outbreak. (Your chances of getting norovirus in the U.S., meanwhile, is 1 in 15.) Regardless of the odds, you'll be doing yourself a favor by still washing your hands frequently.
Instead of norovirus, what you should be concerned about is seasickness, sunburns, and hangovers. All are somewhat preventable yet very common. Seasickness on cruise ships is rarer since ships have stabilizers to prevent large motions at sea. However, to be safe, bring anti-nausea medication and ginger chews if you're prone to motion sickness. 
Sunburns and hangovers on cruise ships almost go hand-in-hand. So, wear sunscreen and reapply if you know you're going to be on deck all day. And avoid falling asleep in your lounge chair after too many mai tais.
Areas on a cruise ship you should avoid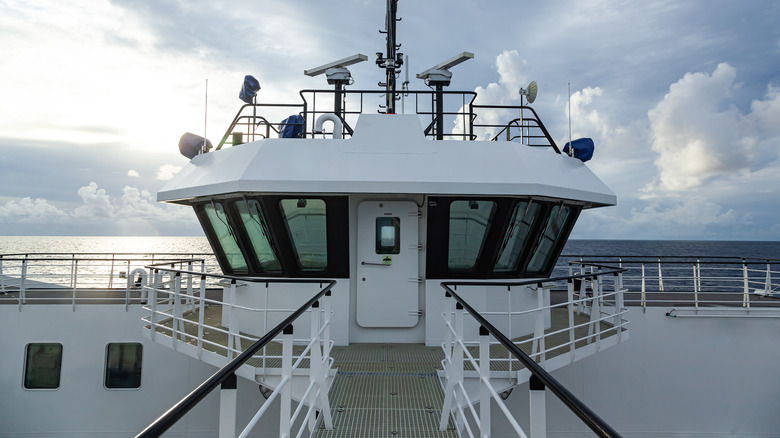 Sergii Zhmurchak/Getty Images
As a paying cruise ship passenger, you have the right to explore all the areas of the ship dedicated to your experience. However, there are some spaces that are best to avoid either for staff privacy or your own safety. While it can be tempting to see how the staff lives and what goes on behind the scenes, it's best to stay out of these areas for a few reasons. One big reason is that passengers are not insured in non-passenger spaces. Essentially, this means that if you get hurt walking around in the staff kitchen, you're not covered. 
Not only that, but with things like railings and emergency signs, public spaces for passengers are designed with safety in mind. In contrast, crew spaces are a bit more bare. This means if an emergency happens while you're wandering around a non-passenger-designated space, you might find yourself lost and unable to easily find your way to safety. If you're curious about the inner workings of the ship, it's likely you can just ask the crew directly what it's like. If you're more curious about the ship's engineering, there are also some cruises that offer lectures to passengers about the ship's functions or have hours when passengers can visit the bridge.
Your rights as a passenger aboard cruise ships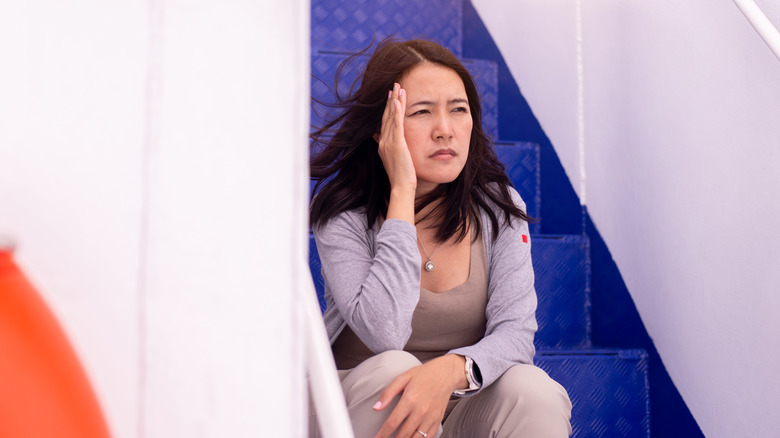 Piyapong Thongcharoen/Getty Images
After a few unfortunate incidents at sea, Cruise Line Industry Association (CLIA) member cruise lines created and agreed to the Cruise Industry Passenger Bill of Rights in 2013. According to this bill of rights, passengers are guaranteed to receive full or partial compensation for canceled itineraries in the event of mechanical failure, professional medical attention while at sea, and accommodation in the event of an untimely disembarking.
But what happens if a crime is perpetrated against you or a loved one? First, if the incident occurs on the ship contact the ship security and (if needed) ask for medical attention. If the perpetrator poses a threat to other passengers, ships do have what's called a brig — a ship jail — where suspects can be taken and held until the next steps are determined.
Where the crime occurred matters as well. If the ship was in port or within 12 nautical miles from shore, local authorities can have jurisdiction. If the ship was in international waters, then jurisdiction falls on the ship's registered country. If a U.S. citizen is involved in any way with a crime, as perpetrator or victim, the FBI may get involved. However, there are some specific rights that victims of crimes need to know about. The Cruise Vessel Security and Safety Act ensures the right to confidentiality, a sexual assault forensic exam, and information that will help you appropriately report the crime.
Veteran cruisers share their experiences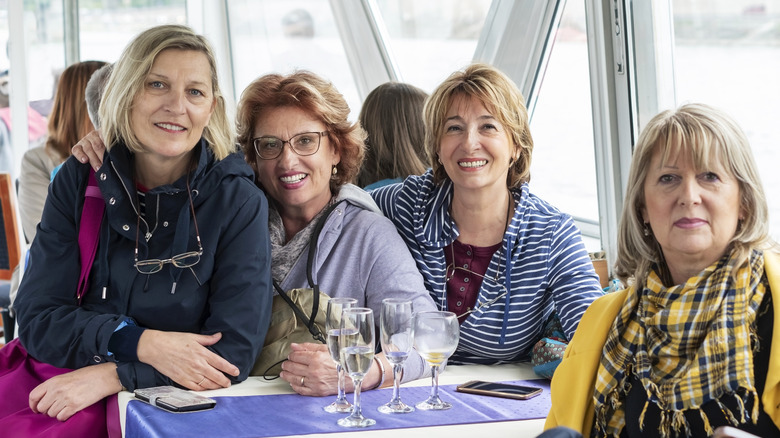 Bakibg/Getty Images
While there are dangers to cruising, there's plenty of anecdotal evidence to the contrary on the internet. Cruising safety is a common topic for Reddit threads in the r/Cruise subreddit. Users most often ask about cruising safety for solo travelers, in particular women.
In one such thread, a user writes about their experience as a serial solo female cruiser. " ... [D]ue to the safety, cruising will probably be my only method of international travel solo from now on. You still have to keep your wits about you — I would never get drunk ... I also felt my room steward was keeping an eye on me, making sure I made it back on port day, asking my port plans etc."
There's also the perspective to consider that cruising makes travel safe for the elderly and disabled. One Redditor writes, "I wouldn't begrudge my parents, an elderly retired couple with health and mobility issues, the opportunity ... they would not have been able to experience otherwise. They don't have to use any stairs; they can take their medications on time with little interruption; and ... they'll never go on a plane again."
If you or anyone you know has been a victim of sexual assault, help is available. Visit the Rape, Abuse & Incest National Network website or contact RAINN's National Helpline at 1-800-656-HOPE (4673).