How To Gain Spirit Airlines Elite Status (And Why You Might Want It)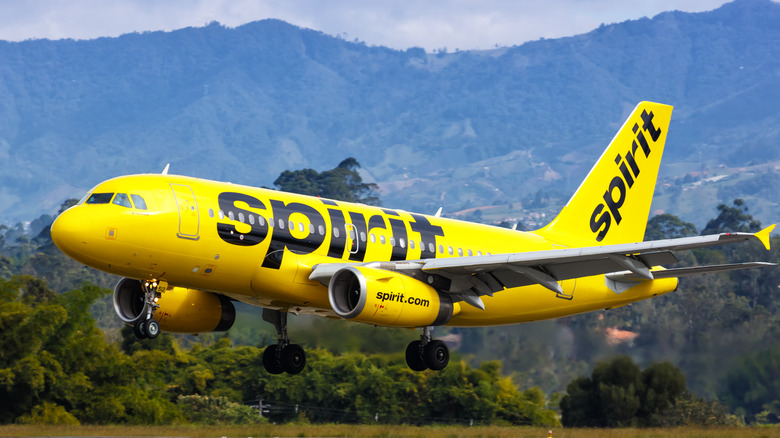 Markus Mainka/Shutterstock
Spirit Airlines is known for its ultra-low fares, as well as its (oftentimes) frustrating à la carte fees for practically everything else. It's common knowledge among travelers that Spirit Airlines' jaw-droppingly low fares actually come with a bunch of hidden costs. If you're unfamiliar with their nickel-and-dime price model, your $30 flight doesn't include your carry-on bag or that Diet Coke, so while their base prices are indeed tantalizing, your flight will almost always cost way more than $30.
That said, Spirit Airlines has recently updated its frequent flyer program, Free Spirit, and the perks of elite status can offset these add-on fees, which is a pretty enticing proposition considering its super-low fares. Spirit Airlines flies to around 70 destinations within the U.S., the Caribbean, Central America, and South America, so if you're a budget-minded traveler who tends to fly around the Western Hemisphere, earning a Free Spirit elite status may absolutely be worth it.
How to score that Free Spirit elite status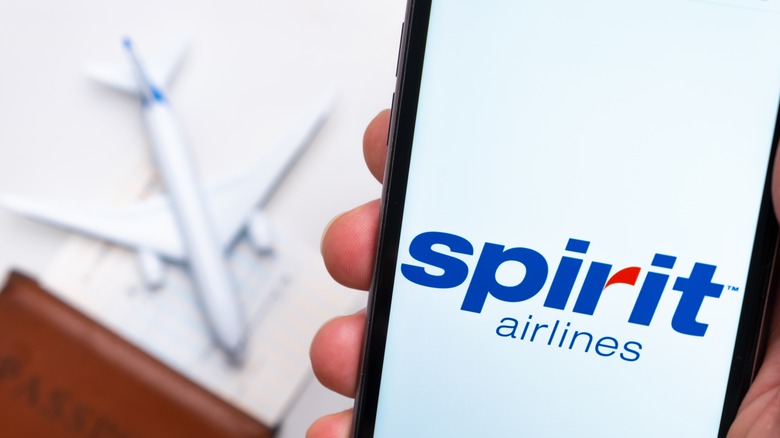 Vladimka production/Shutterstock
There are three tiers of the Free Spirit frequent flyer program: Free Spirit, Free Spirit Silver, and Free Spirit Gold. The program is free to join and, at entry, you'll start earning six Free Spirit points per dollar on fares, as well as 12 Free Spirit points for each dollar spent on "A La Smart" options, which includes the money you spend on baggage fees, seat selection, and other extras. You can redeem these Free Spirit points for free future flights.
By flying with Spirit and spending money on extras, you also earn Status Qualifying Points (SQPs). You earn one SQP for each dollar you spend on flights, baggage, seat selection, etc., and these points count toward earning and keeping your elite status. You can also earn points through co-branded credit cards. 
Since Spirit is such as budget-minded airline, it's not exactly difficult to earn a higher elite status. You'll need to earn 2,000 SQPs to gain a Free Spirit Silver status and 5,000 SQPs to earn a Free Spirit Gold. While, of course, this may take a little time and money, the perks of Silver and Gold statuses are pretty great.
Perks of Free Spirit Silver and Gold statuses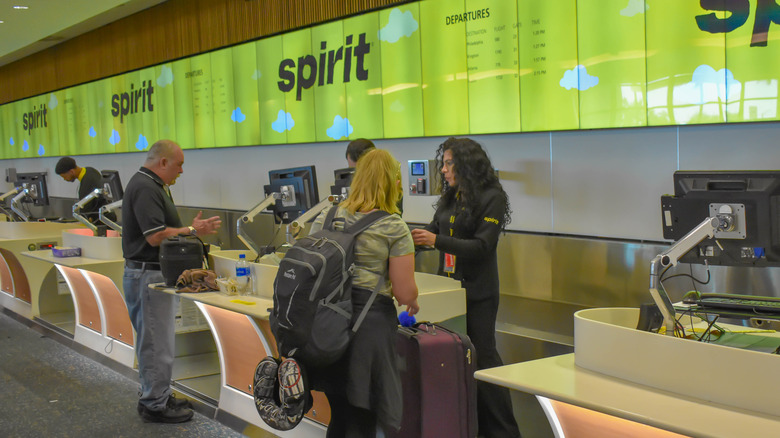 VIAVAL TOURS/Shutterstock
While you'll begin earning Free Spirit points in the entry-level tier, the rewards of earning a Silver and Gold status make the loyalty program particularly enticing. Once you've earned a Silver status, you can select your seat for free at check-in and attempt exit-row seat assignment 180 minutes before departure. You'll also enjoy shortcut boarding, shortcut security, dedicated guest care, and waived fees for overweight checked bags. Considering Spirit's strict weight limits and heavy baggage fees, this perk is great for travelers who normally check bags with Spirit. You'll also earn eight Free Spirit points per dollar on fares and 16 points per dollar on A La Smart expenses.
By gaining a Free Spirit Gold status, which earns you 10 points per dollar on fares and 20 points per dollar on other expenses, you'll really begin to offset Spirit Airline's fee-based pricing model. Once you earn a Gold Status, you can select seats and request exit row seats at booking for free. Also, you can fly with a carry-on bag and one checked bag for no additional charge, avoiding the frustration of dealing with Spirit Airlines' bag policies. After free seat selection, free bags, and even a complimentary Diet Coke, your $30 flight will be closer to a $30 flight.