How To Find A Babysitter When Traveling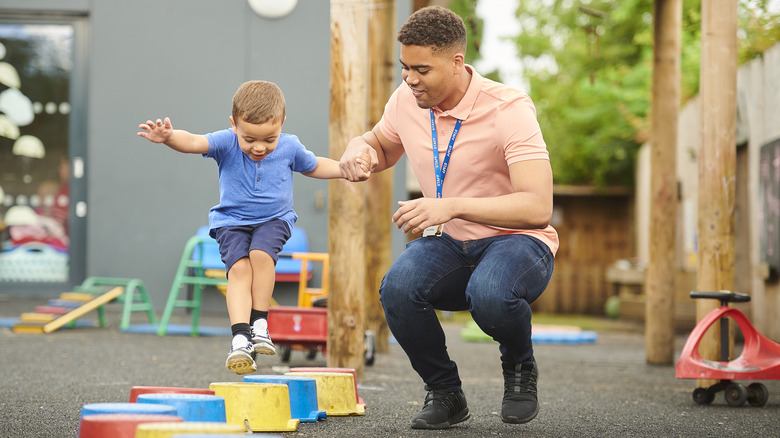 Sturti/Getty Images
With full-time jobs keeping most parents busy, the services of a babysitter can spell the difference between a chaotic, tiring night at home or a relaxing, peaceful date night with the spouse. But while you might have a trusted babysitter on speed dial in your hometown, you most probably don't have that luxury when you're on vacation.
Locating a babysitter when traveling can be a difficult issue to solve. When you're in a foreign location, finding someone reliable and trustworthy with whom you can leave your children can be tough. The anxiety of leaving kids with someone they barely know has made 88% of mothers on vacation avoid hiring babysitters, according to a survey by Tripping, a vacation rental search site.
Still, having someone to take care of the children for even a few hours can significantly make your getaway truly feel like one. But, how do you solve the babysitter problem? Here are ways you can get a babysitter on a trip.
Vacation with family and friends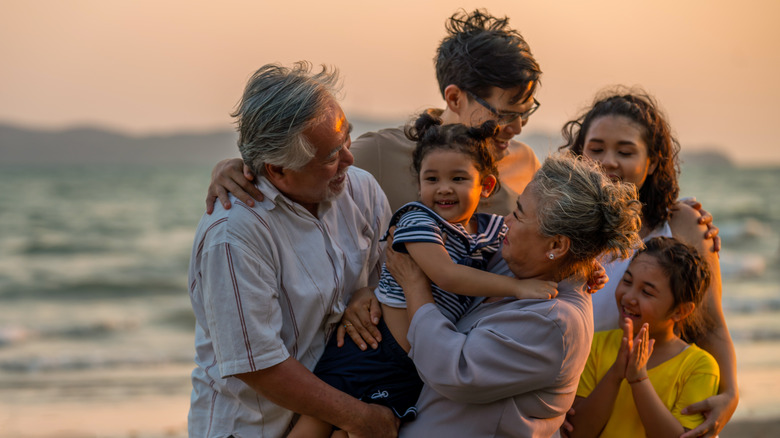 CandyRetriever/Shutterstock
They say it takes a village to raise a child, and that couldn't be more true than when you're on vacation. Most moms are amenable to leaving their children under the care of people they know, i.e., family and friends. According to the Tripping survey, 78% of mothers would travel with their parents or in-laws and 60% with close friends vacationing with their own kids. With a multi-generational trip, you don't have to worry about leaving your children with a stranger. Of course, you'll only schedule babysitting for a part of your vacation — say a night or two — so the grandparents or aunts and uncles can enjoy the trip too.
When it comes to traveling with friends, the ideal situation would be to travel with those whose children are of similar ages and interests as your own. There's less friction or chaos and more fun and enjoyment that way. Take turns babysitting the children so everyone can have some kid-free time for at least one night.
Take your babysitter or hire a travel nanny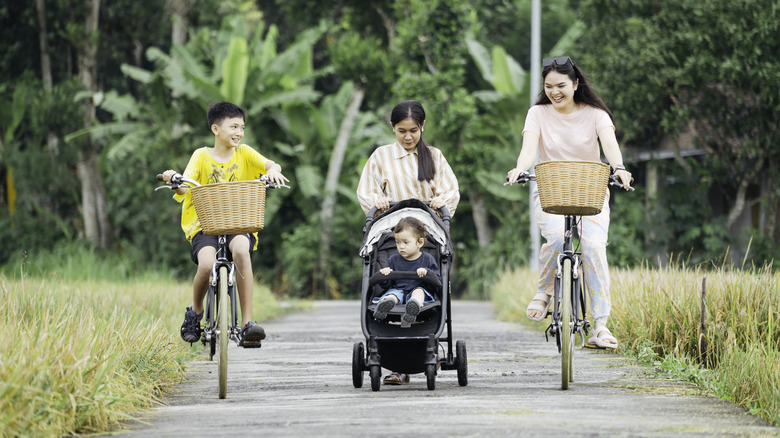 Rudi_suardi/Getty Images
This option can be expensive and it will be a different setup than when you have your babysitter come over to your home for the night or a few days. Assuming they agree, you'll have to iron out the details of your babysitting arrangement during the entire trip, so open communication with your babysitter is key. Lay out their duties and what expenses you'll pay for. Typically, you'll have to pay for their tickets, room, and meals, in addition to their babysitting fee. You'll also have to give them some time off every day.
If taking your babysitter with you is not possible, consider hiring a travel nanny, a professional childcare provider specializing in families who travel. Their objective is to provide parents time to relax or do activities without worrying about their children. Tasks can include anything child-related, such as supervising the kids, sterilizing bottles, cleaning the play area, and so on.
Although these options are on the pricier side, it may just be what you need to keep your sanity while on vacation. "The main thing is that I'm an extra set of hands," travel nanny Beth Lehmann told the New York Post. "It decreases the amount of stress around traveling." Lehmann charges a daily rate of $300 to $500.
Find a local babysitter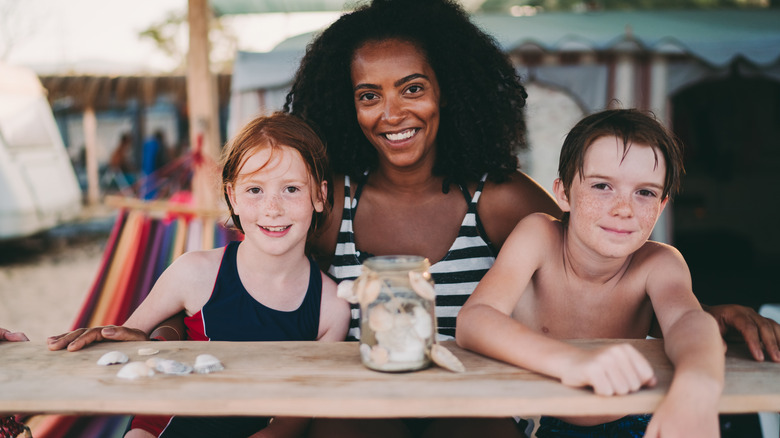 Martin-dm/Getty Images
A cheaper alternative to taking your babysitter with you or hiring a travel nanny is to go the local route. Hop on social media and tap your network to get a referral for a local babysitter. If you know someone who lives in your destination who can lead you to a babysitter in the locality or nearby areas, that would be ideal. When posting on social media, remember to keep your plans — including your destination and travel dates — private. Only share these details once you've been referred to someone.
Another good place to find babysitters is the local college or university. Call the institution's department of student affairs or financial aid office and ask for a list of babysitters. As always, keep safety first and foremost in mind. Treat your local babysitter as you would a new sitter at home. And, do all the communication and planning in advance so you have everything ironed out before you travel. This includes doing interviews and checking for referrals.
Book hotels with kids' clubs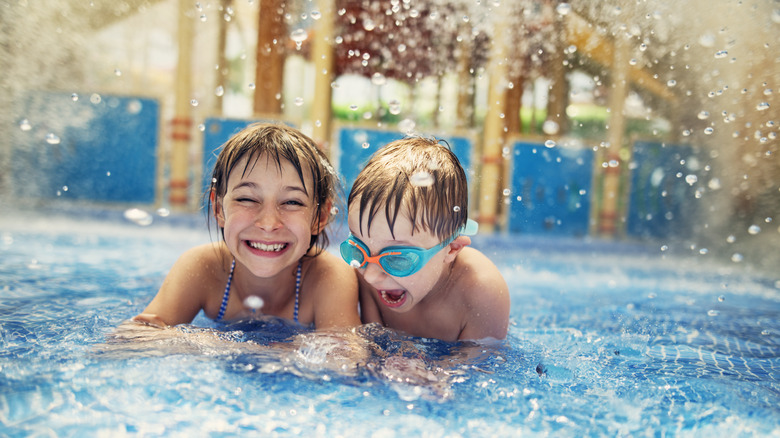 Imgorthand/Getty Images
When researching your accommodation, look for hotels or resorts with a kids' club or babysitting service. You can typically leave your children with a babysitter or at the kids' club for a small fee, and you'll have a few hours or more for adult activities. Just remember though that kids' clubs vary, so check what you're getting with the rate.
You might want to book a room at an all-inclusive or family-oriented hotel or resort, such as Riu All-Inclusive Resorts, which will most likely have more child-friendly options than others. Other resorts with notable kid-focused programming include Four Seasons Resorts with free or for-a-fee babysitting services, Ritz-Carlton Resorts with a kids program focused on education, and Wyndham Hotels with its summer camp offering.
If you find the hotel or resort offerings lacking or missing, you can always ask the hotel concierge for a referral to a local babysitter or nanny agency. If the hotel acts as a middleman, i.e., books babysitting for you, then you'll probably be paying a higher price and have some restrictions in place. Of course, you'll want these arrangements finalized before your travels too.
Contact babysitting agencies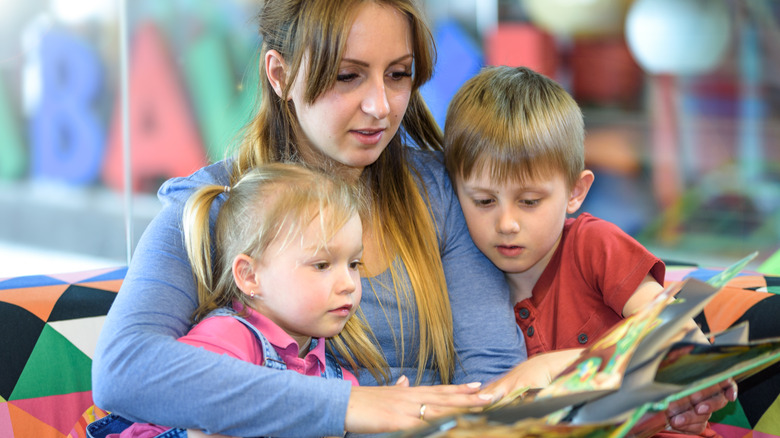 Wdnet/Getty Images
In case the hotel or resort you're staying at doesn't have a kids' club and doesn't offer babysitting services, contact an agency such as care.com, urbansitter.com, and sittercity.com. Agencies that feature vetted babysitters are safer than other sources, but still do your due diligence. It wouldn't hurt to talk to a babysitter on a video call to get to know them better and determine if they'll be a match for your needs. Do this after verifying their identity and asking for referrals to check their background. These agencies may require subscription or other fees, so make sure you read and understand the terms and fee structure.
You can easily search for a babysitting agency by searching Google. Type babysitter + [city or state] and you should have a list to start your search on. When you're traveling abroad, check the Tripadvisor forums for recommendations. You can type Tripadvisor babysitter [destination] on Google or, on the Tripadvisor website, search for [destination] + babysitter or similar keywords. Scroll down and read through the forums.