The Most Common Questions About JetBlue Answered
It might be hard to believe that a little more than 20 years ago, JetBlue didn't exist. An airline launched in 2000 by businessman and former Southwest Airlines executive David Neelman, JetBlue has weathered fierce competition from rivals with a deep history (and deeper pockets) — not to mention global financial crises, and spikes in oil prices — to have successfully differentiated itself in a market chock full of flying candidates. 
From the get-go, JetBlue positioned itself as a low-cost carrier, offering fares that undercut the legacy carriers, while transporting passengers in shiny new planes with sleek design in a manner that was a welcome departure from the tired tropes of other airlines A cabin crew that was, and remains, cheery and smartly dressed helped to further the airline's cause. Despite bumps along the way, JetBlue has continued to go from strength to strength, expanding its footprint vastly over two decades.
What is JetBlue?
Starting with its sole departure point as New York's John F. Kennedy airport, JetBlue prided itself on its status as a budget airline, and its initial routes shuffled between the Big Apple and Florida. As the carrier grew in popularity and scope, it slowly added routes and today it wouldn't be an understatement to label the airline as a serious player among American air operators. 
One look at its route map shows how much JetBlue has expanded in such a short window — it now flies to places as varied and distant as Guyana, Ecuador, Colombia, Curaçao, Barbados, Canada, Peru, France, the Netherlands, and the United Kingdom, all while continuing to widen its reach across the U.S. In early 2023, it announcednew routes in the northeast of the U.S., and additional links between the United States and Puerto Rico. The carrier will also take up extra capacity at J.F.K.'s new Terminal 6, which marked its groundbreaking ceremony in February 2023.
Is JetBlue a good airline?
From the beginning, the word on the street centered around how amazing the airline was, from its upbeat staff that seemed happy to be working for the newcomer and the comfortable leather seats to the cool snacks and live TV. According to JD Power, JetBlue ranked first or second in customer satisfaction among North American carriers in all airline classes in 2022. 
That grassroots acclaim seems to have translated into critical success, and the airline regularly wins awards. In 2022, it snagged the Editors' Choice Award for Best Economy Class by respected travel site The Points Guy. And while airline travel has been vilified for its role in enlarging the planet's carbon footprint, JetBlue states that it's committed to achieving carbon neutrality by 2040, with a constantly updated fleet helping to maximize fuel efficiency, and revisiting older models to add simple fixes that reduce emissions.
Does JetBlue partner with other airlines?
While it isn't technically in any large airline alliance, the type of contract where points and privileges are fluid and interchangeable, JetBlue does have agreements with a number of other well-established carriers. The most intimate relationship among these is with American Airlines, which also has a hub in New York, and JetBlue customers can book AA flights departing from New York and Boston on JetBlue's own site, or its app (earning points in the process). 
JetBlue customers with upper-tier memberships can also transfer certain benefits across when flying on American Airlines, such as free checked bags and access to speedier check-in lines. Other airlines that the carrier has forged arrangements are sure to pique any traveler's wanderlust — Aer Lingus, Hawaiian Airlines, Icelandair, Qatar Airways, Singapore Airlines, South African Airways, among others — with points, either earned or eligible for redemption, varying from airline to airline.
Does JetBlue reward frequent fliers?
While it may be a low-cost carrier — which, in itself, suggests an outfit that is stripped down to the bare essentials, championing lean efficiency over fluffs and perks — JetBlue does have a frequent-flier reward program. Called TrueBlue, it can be joined, without charge, by any passenger aged 13 or older, and registration is online (no paper or plastic cards for this particular membership). Points are earned on flights — both JetBlue flights as well as on some on partner airlines — and do not have an expiration date. 
For redemption, the points can be used against purchases on JetBlue flights and vacations, as well as select partner airlines. Individuals can also pool points with other fliers, great for families that want to access a single stock of points when purchasing travel. The top echelons of the program are known as Mosaic, the elite status of membership with special perks, and this tier is renewed each year, so members need to keep flying and traveling to qualify. From May 10, 2023, the TrueBlue program gets an overhaul, with a points tracking system that uses a concept of tiles to progress up between the different privilege levels.
How do travelers get points?
As mentioned earlier, booking flights will ensure passengers get points, though it's not as simple as one dollar converts to one point. The exact amount of points gained on any particular flight depends on the cabin class booked, and Mosaic members, or those with a JetBlue-affiliated credit card, can amplify these points by virtue of their status or card membership. 
Travelers can also book vacations with JetBlue, earning them points, or through car rentals with the companies Avis and Budget (these two have the same owners), and even with select dining. Credit cards tied to the airline come with a host of earning opportunities, and are all linked to MasterCard. To cash the points in for a flight will depend on a base fare for a particular flight, and might be higher during heavy travel periods, like holidays. Passengers also have the option of using points and cash for a flight if their accrued point balance isn't sufficient.
What can I do with an airline credit voucher?
If a traveler receives a credit voucher — maybe because of a travel delay, or flight overbooking, or it a ticket is canceled — it can be used toward a flight or vacation, though not on a partner airline. JetBlue calls this amount a travel credit, and the balance of any credit an individual has can be viewed online through what the carrier terms a Travel Bank (yes, a bank where you store money that can be used for travel). 
These pieces of virtual currency are valid to purchase flights on JetBlue, but can't be used to book and pay for a ticket on any other carrier that appears on the JetBlue site or app. These credits, once issued, only last for a year, but that doesn't mean new travel has to be taken within a year, it simply requires that a new booking is completed within a year, otherwise the value of that credit disappears, whoosh, like a plane at take-off. The good news is that the credit can be applied toward a ticket for anyone, it doesn't have to be for the person to whom that credit was issued.
Does JetBlue charge for cancellations?
In a time when most airlines will try every trick in the book to wring money out of customers — remember the good old days when the first bag checked in economy was always free? — travelers might be surprised to learn that this low-cost carrier doesn't charge for changes or cancellations on most of its ticket types. The only exception is the most stripped-down, elemental fare, known as Blue Basic, with fees in the range of $100-$200; if a change or cancellation is executed via a telephone call with a reservations agent, there is also a deduction of $25, though this is not charged if the transaction is done online. 
If you do change a ticket, there might be a cost incurred due to fare difference — for instance, you want to take a flight at a later date when only a more expensive fare is available — but this is different from a fee for the change. For tickets that are canceled, passengers receive a full refund in the form of the original payment, though, of course, not for the most basic tier fare.
What different classes are there onboard JetBlue flights?
There are five categories of class for JetBlue, with slightly different allowances and restrictions wedded to each one. These are, in ascending order of privileges, Blue Basic, Blue, Blue Plus, Blue Extra, and Mint. As the name suggests, Blue Basic is the no-frills fare, the cheapest, for good reason — passengers can only bring a bag that fits under the seat in front (so no carry-on that go in the overhead bin), and if they try to smuggle through anything larger, they will be charged a penalty of $65 and have that bag put into check-in luggage (this rule doesn't apply to transatlantic flights). 
The other fares allow a carry-on bag as standard, and some permit a check-in bag without an additional fee being incurred, and also let passengers select their seat for free (with Blue Basic, seat selection is free if made less than 24 hours before the departure time, otherwise it costs). Blue Basic fares receive one or two TrueBlue point(s) per dollar spent on the fare (depending on how the booking was made), but for the other tiers, passengers receive three points per dollar. The crème de la crème of categories is Mint, the airline's equivalent of business class, with seats that convert to flat beds, and extra perks like noise-canceling headphones and meals. Mint is only an option on select routes, either transatlantic or cross-country, with few destinations in Central America and the Caribbean also included.
Does JetBlue allow pets?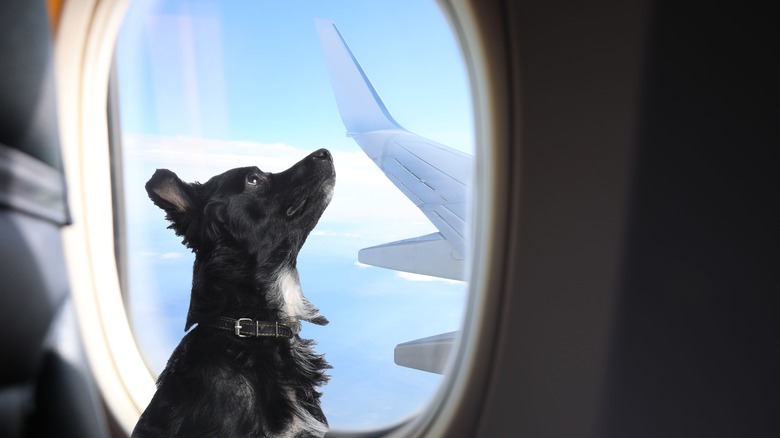 New Africa/Shutterstock
As an airline known for its welcoming crew and staff, JetBlue extends that sense of warmth to the four-legged members of the family. There are a maximum of six pets allowed on any one flight, and the carrier usually restricts numbers to one pet per individual flier. It charges a fee for the privilege of bringing a pooch or kitty onboard, and for animals that are flying in the cabin alongside the owner — cats and the smaller breeds of dogs — the carrier, which has to fit under the seat in front and counts toward your carry-on allowance, must be a container approved by the Federal Aviation Administration. 
The cost to get a pet on a flight is $125 each way, and is allowed in all fare classes except Mint. Animals can be taken to and from most destinations, except a few in South America where the incidence of rabies makes doing so a risky endeavor. Furthermore, travelers flying on JetBlue from certain places in Central America, South America, and the Caribbean must land at J.F.K. in New York, no other cities.
Does JetBlue charge for luggage?
The only thing that all fares allow, for free, is a bag under the seat in front of you, and in the case of Blue Basic, it's the only baggage that is allowed without a charge. For most fares (read anything above Blue Basic, though also for Blue Basic when flying transatlantic routes), a normal carry-on, the type that fits into the overhead bin, is allowed in addition to that under-the-seat nugget (what JetBlue terms as a personal item). For checked bags, fees come into play depending on the category of the booking and the destination — flights to Europe, for instance, charge more for a checked bag than if flying within the U.S., or to Latin America and the Caribbean. 
For non-European flights, these start at $30 for Blue Basic, Blue, and Blue Extra passengers ($5 if done at the airport), with no charge for Blue Plus and Mint fliers, or for travelers in the Mosaic tier of frequent flier, or that have a JetBlue Plus credit card. For flights across the pond, only Blue Basic passengers are required to pay for the first bag.
Does JetBlue serve food?
When JetBlue first debuted, scores of passengers raved about its funky, unexpected offerings. Sure, they didn't serve full meals, but the exotically colored Terra chips were a huge hit with customers. Snacks continue to be the main sustenance on flights, and typical freebies on a flight might include plantain chips, vegan pretzels, cookies, and free sodas, juices, and Dunkin'-branded tea and coffee. 
There is a charge for beers, wines, spirits, and also for small food boxes, sold only on flights that are longer than two hours, and that focus on specific themes — they could be protein heavy, savory, or sweet. More generous foods are available on flights 3.5 hours or more, while those that fly to Europe have full meals that pride themselves on healthy doses of vegetables, and complimentary alcohol. For Mint class, meals made up of small plates, and cooked in partnership with a few New York hotspots, sate passengers.
Is there Wi-Fi onboard JetBlue?
We live in a world where a second that we aren't connected will send the average person into an apoplectic frenzy. Well, not quite, but this scenario isn't that far from the truth. There was a time when a flight represented a window where we could shut out the outside world, read a book, play cards with our seat-mates, catch up on sold old movies and bad television, but now many airlines offer WiFi, so we can stay connected. 
JetBlue is no exception, and it prides itself on offering free Wi-Fi on flights, for the entire duration of the journey. But passengers can also use the time to stay offline and watch some TV or a movie. The live television, one of the airline's top selling points from its first flight, include sports channels (ESPN, Fox Sports, etc.), news feeds (NBC, CNN, and more), and also entertainment, educational, and kids' channels, and there are also select, recently released films on show.
Is JetBlue just an airline?
While it started as an airline, JetBlue has now branched out to sell vacation packages as well. The options here are astounding, and the anchoring component is that they include flights aboard JetBlue. These packages also earn the traveler points, with six points received for every dollar spent on the airfare portion of the trip, and one point for the other parts, which can also include a car rental (Mosaic members get an even sweeter deal in terms of points, with nine points per dollar of airfare expense). 
In terms of what is on offer for vacationers, the choices are broad, spread across continents and interest. They might include a sojourn to Amsterdam with a stay at a hip hotel, a cruise around the stunning glaciers of Alaska, a getaway to the desert oasis of Las Vegas, or a beach vacation at an all-inclusive resort in Mexico or the Dominican Republic.
What is Paisly?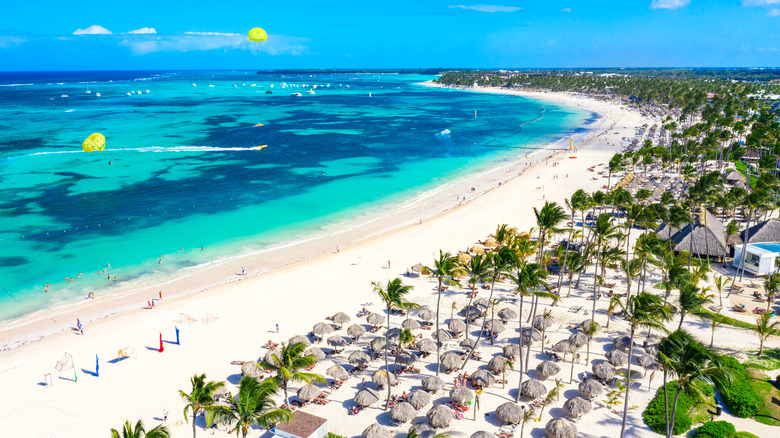 Nick N A/Shutterstock
While the vacation packages are just what they sound like — an experience where everything is rolled into one — Paisly, another part of JetBlue, allows travelers to customize their trip with add-ons after booking a flight. Think of it as purchasing the ingredients for a cake that you plan to bake, rather than buying the cake ready-made, allowing you to control what items go into the recipe of your holiday. 
Much like the vacation packages, the choices here are seemingly inexhaustible and can be scoured online, although JetBlue also has agents on hand, round the clock, that can help travelers assemble the disparate pieces of their vacation puzzle. The options range from hotels and home rentals to car hires and activities. Travelers can plop items into a shopping basket to enhance their trip, like a skydiving leap in Aruba, an apartment in Ecuador, a car rental in Salt Lake City, or a hotel room in Grand Cayman.
Does JetBlue sell anything else?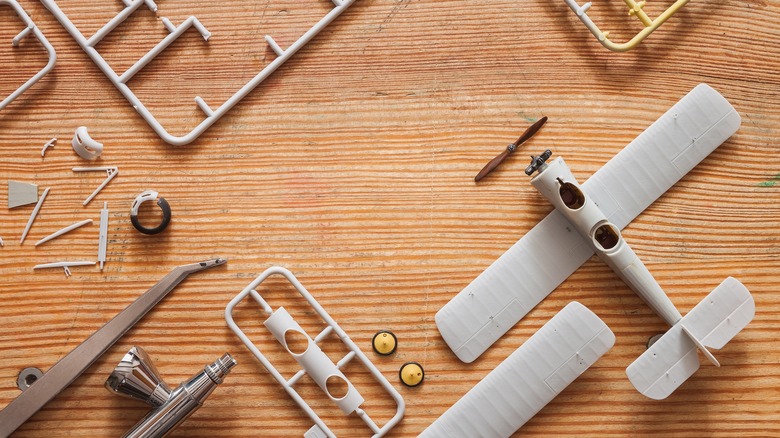 ROMAN KALISHCHUK/Shutterstock
For real fans of the airline, there is always the option to buy merchandise that brings the JetBlue experience home, or on their travels. The products, sold via the company's site, cover a wide range of interests, from clothing to bags, from technology to sporting items. A piece of clothing that is practical for fliers is the hooded sweatshirt, designed with a zip (so it's easy to remove for airport security), and that has a small JetBlue logo on the chest. Bags vary from small totes good for shopping to a roomy backpack made by the manufacturer Herschel. 
Kids might like the squishy teddy bear wearing a cute cabin crew outfit, or the even more squishy, and chunky, plush version of a JetBlue aircraft. And always a favorite of wannabe pilots, or youngsters that are starstruck at the fantasy of air travel, the model planes of the various aircraft in the carrier's fleets are sure to leave a lasting impression long after the flight is over.