Here's Where You Can Park Your RV Overnight Near Disneyland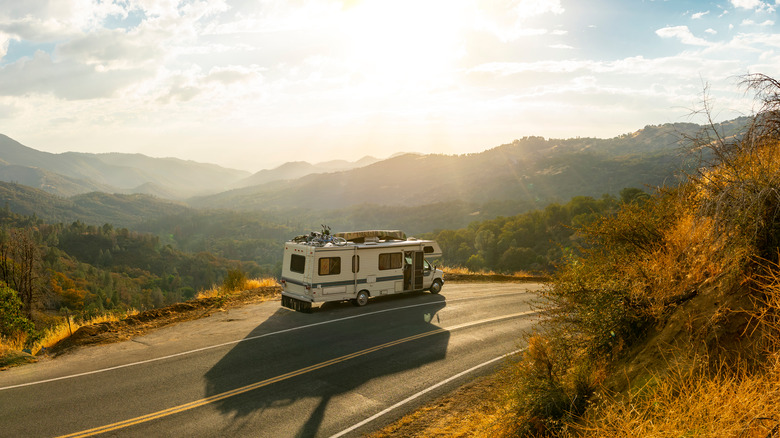 LeStudio/Shutterstock
West Coast adventurers looking to infuse some magic into their California getaway often find what they're searching for at Disneyland. This Anaheim-based theme park first opened in 1955 and today continues to welcome millions of visitors each year. Here, guests can choose to spend time at two fun theme parks as well as shopping and dining at Downtown Disney.
While the opportunities for fun and entertainment at Disneyland are vast, in total, there are only three resort hotels on-site available to be booked. During busy times of the year, finding a place to stay can be tricky. This motivates many Disneyland visitors to choose RV travel instead.
When your plans to enjoy Disneyland include an RV you'll want to plan ahead. It's good to keep in mind that even RV overnight parking options near the parks fill up fast during the high travel season. Having some convenient stops in mind ahead of time is essential when you want to reserve and secure a spot early.
A comprehensive campground with RV parking near Disneyland is Anaheim Harbor RV Park. This stop is within walking distance of Disneyland and it comes with everything needed for a comfortable and convenient stay. Guests can make the most of access to full hookups, internet, a laundry room, a swimming pool, and 40-foot spaces with room for bump outs too. The Anaheim Harbor RV Park sits right on the Anaheim Resort Transportation route, so getting to the park is simple for guests as well.
Pair convenient RV parking with outdoor fun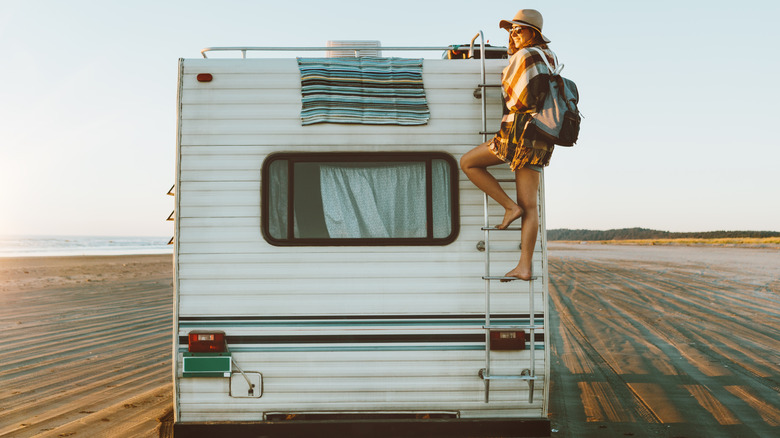 Littlehenrabi/Getty Images
When you're hoping to stay near Disneyland but want to enjoy nature too, there are RV parking options to choose from. Many of these overnight parking selections combine the best of both experiences. Canyon RV Park is a great choice for those who are wanting to keep the park accessible but avoid the hustle at the end of the day.
Canyon RV Park sits alongside the Santa Ana River within 795 acres of wilderness. It's popular among families thanks to its many conveniences ranging from a swimming pool and convenience store to its bathhouses and pickleball courts. The views here are scenic and inviting but when theme park fun is the priority, it's only about a 30-minute drive to reach Disneyland.
Hoping to pair some time on the sand with your Disneyland adventures? Consider parking your RV overnight at Newport Dunes. This destination is also around a 30-minute drive from the park and comes with spacious parking places as well as easy access to the beach.
Here, there are exciting options for guests to pull an RV right up to the sand. This means when you're not enjoying time on Disneyland rides and attractions, you can enjoy time sunbathing or swimming at New Port Dunes. This destination sprawls across 110 acres of terrain and provides RV travelers with access to swimming, beach fun, and a local waterpark too.
Parking options that include pets and California flavors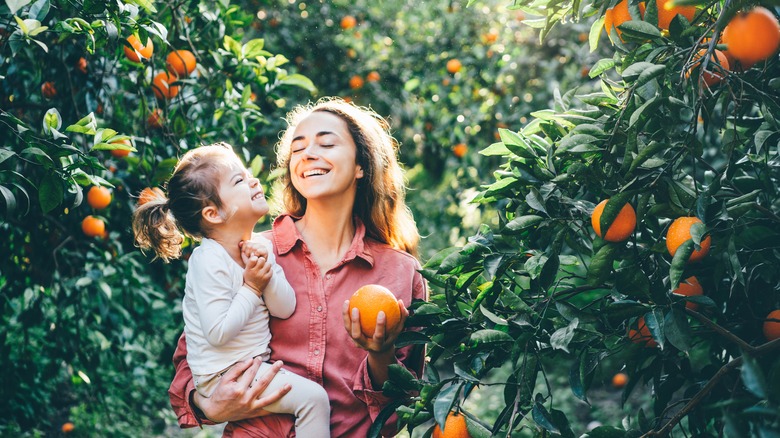 Mariia Korneeva/Shutterstock
If you're looking to park your RV near Disneyland and you're traveling with pets, booking a spot at Orangeland RV Park is your best bet. This destination is less than 5 miles from Disneyland and no more than a 15-minute drive to reach the park. You'll want to confirm with management that the breed of dog you're bringing along is allowed before reserving your place. If approved, your four-legged friend can enjoy the stay too for just a small daily fee.
Beyond parking proximity to Disneyland, Orangeland is a destination that has much to offer in the way of great amenities. Guests who book their overnight stay here will enjoy one of 195 paved parking options on-site. They'll also have easy access to a swimming pool, spa, playground for the kids, a convenience store, and a mini-golf course too.
Perhaps one of the most appealing aspects of parking your RV here overnight is the fact that you'll find yourself right in the heart of an orange orchard. Consider how refreshing it might be to return from a day at Disneyland and enjoy a hand-picked California orange right from the tree. It's a great feature of a stay at Orangeland that truly sets this destination apart.
Locating RV parking near Disneyland doesn't have to be difficult. Travelers are often thrilled to find there are many customized options to enjoy. Whether it's scenery or amenities that are most important, you'll find places that accommodate.