Things In Your Hotel Room You Should Clean After Checking In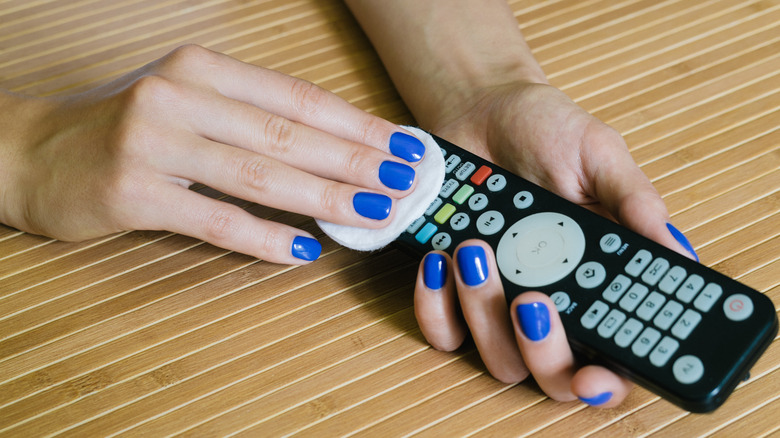 Iprogressman/Getty Images
After a long day of travel, knowing you have a hotel room to settle into can feel refreshing. Often designed with a comfortable aesthetic in mind, hotels can provide conveniences and luxuries that give travelers options to customize their accommodations according to their style. While amenities can be adjusted and rooms upgraded, the one thing travelers can't personalize is how a hotel room is cleaned behind the scenes.
Unfortunately, there's no way to guarantee how well a hotel room has been sanitized before you arrive. Even a room that looks great on the surface can harbor germs in unexpected places. Taking some time to clean problematic hotel room items and areas yourself is a good idea when you're hoping to keep germs at bay.
Because many different people use the same hotel room, there are common touchpoints that are simply more likely to carry germs. Some of these include light switches and door handles as well as refrigerator doors and hair dryers. These are all items that pass between many hands and warrant a sanitizing wipe-down upon arrival.
Consider packing disposable cleaning wipes or a can of disinfectant spray in your suitcase. Spraying or wiping down high-touch surfaces throughout the hotel room when you arrive creates a healthy barrier between you and any germs left behind. Television remotes are notorious for carrying plenty of germs and should always be wiped down. Placing the remote inside a clear Ziploc bag before use is another option to avoid contact with germs entirely.
Examine glassware and beverage appliances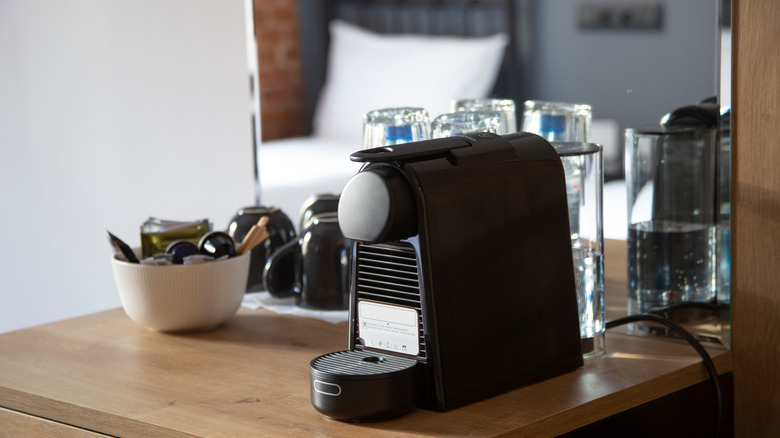 Galaxymix/Shutterstock
Travelers who step into their hotel room parched may be tempted to fill up one of the available water glasses. It's important to be aware that this type of hotel glassware isn't guaranteed to be cleaned regularly between guests if it's not used, and could be filled with germs. The safest option is to request clean classes from the front desk instead. Even then, you'll want to take time to wipe the new glasses down yourself before filling them up. Packing your own reusable beverage container is an even safer route.
Another hotel room appliance that often gets overlooked for how deceptively dirty it can be is the coffee maker. This is an item that doesn't always make the regular cleaning list as well and could easily be growing mold or bacteria. It's advisable for guests to clean the outside of the coffee maker and also run a cycle of hot water before brewing a cup of coffee.
Once your coffee is hot and ready to go, there's a good chance you'll go to set it on a nightstand or end table while you settle in. These surfaces also make the list of high-touch points in a hotel room and should be wiped down before you place your beverages on them. Consider packing a small roll of wax paper or contact paper which can double as disposable placemats to top the end tables and nightstands you'll be using during your stay.
Bathrooms and beds are a priority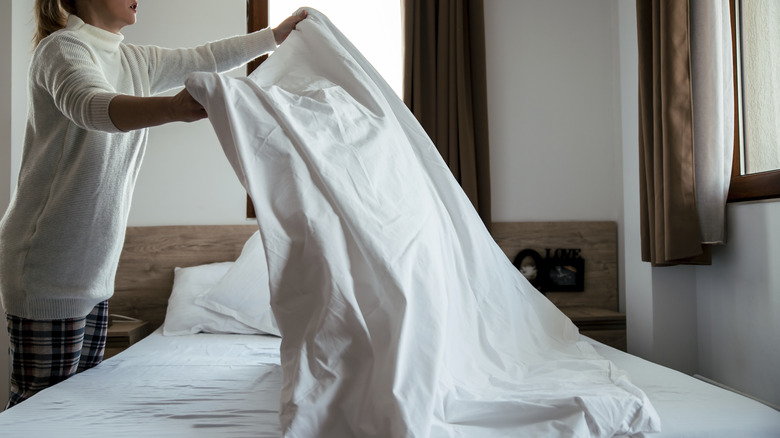 Biserka Stojanovic/Getty Images
Whether you're staying at a luxurious all-inclusive resort or a traditional hotel, you'll want to take time to wipe down the shower and tub before you hop in. These are areas where bacteria can thrive. The CDC points to hotel shower heads as places where Legionella bacteria grows when building water isn't properly disinfected.
Another area to pay attention to during your next hotel stay is the bed. Hotel sheets are certainly meant to be cleaned regularly between guest stays, but there's really no guarantee as to how thorough the process is. Improperly cleaned sheets or those sanitized with harsh detergents can potentially cause skin irritation for guests.
While you won't be able to clean these sheets yourself, getting around the issue is as simple as packing your own sheets when traveling. They're easy to fit into a suitcase and you'll enjoy the peace of mind that comes with knowing you'll be resting on thoroughly cleaned linens. Consider investing in extra-large sheet sizes so that they'll fit over beds of all dimensions with some simple and strategic corner tucking.
Setting aside extra time after you check in to clean a few important areas of your hotel room is worth the effort. When keeping germs and potential illnesses away is important, making this initial cleaning process a priority is a must. Once it's cleaned, you'll be able to really enjoy the stay and settle in without added worries.