Best Live Music Cities (That Aren't Austin Or Nashville)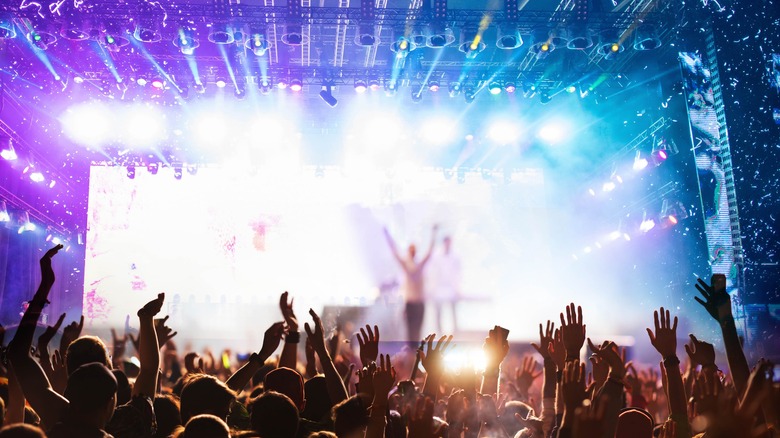 Melinda Nagy/Shutterstock
Austin is known as the "Live Music Capital of the World." Nashville is referred to as "Music City." If you're looking for the best live music cities in the U.S., then Austin and Nashville both deserve top billing. Attending a concert at the fabled Ryman Auditorium in Nashville or catching a show on Stubb's dirt floor in Austin are bucket-list-level experiences for live music enthusiasts. But, chances are, you already knew that.
Since Austin and Nashville are must-visit yet well-known destinations for live music, we've selected five cities a bit out of the spotlight. In the same vein, you won't find Los Angeles or New York City on this list, either. From the Roxy and Whiskey a Go Go in Los Angeles to the Bowery Ballroom and Carnegie Hall in NYC, both cities boast iconic music venues, world-class music scenes, and plenty of opportunities to see live music. But again, you probably already knew that. While these five cities aren't exactly under-the-radar live music destinations, they do tend to play the opening act in our music travel consciousness. But after visiting these cities, you'll probably see why they deserve headliner billing.
New Orleans, Louisiana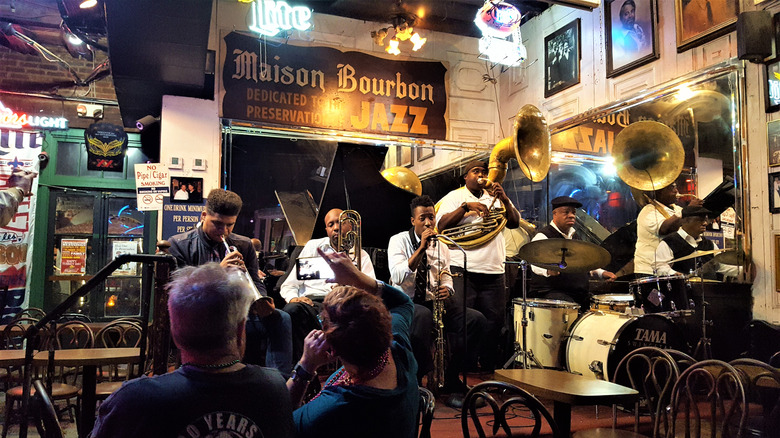 Ancha Chiangmai/Shutterstock
While New Orleans could easily be categorized as a well-known music destination, some may not appreciate how engrained live music actually is in NOLA. For starters, when you visit New Orleans, you're typically first met with live music when you land at Louis Armstrong New Orleans International Airport. As the birthplace of jazz, music to New Orleans culture is like red beans to rice. It's iconic and inseparable.
From brass-laden funeral processions to busking zydeco players, the streets of New Orleans stay abuzz with live music, especially in and around the French Quarter. Famous venues like Preservation Hall, Snug Harbor, and the Spotted Cat showcase authentic New Orleans jazz, while the Bywater Neighborhood offers intimate stages for local and up-and-coming musicians.
Along with live music soundtracking its fabled nightlife, the Big Easy also hosts diverse music festivals throughout the year, including the New Orleans Jazz & Heritage Festival, Voodoo Music + Arts Experience, and Satchmo Summerfest, which celebrates the man himself, Louis Armstrong.
Detroit, Michigan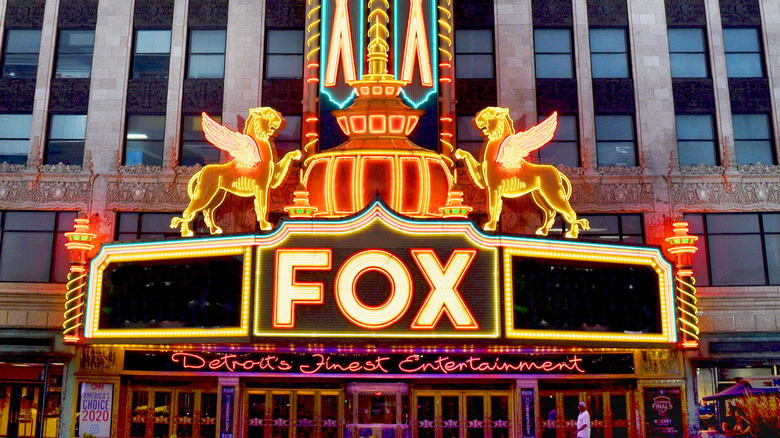 Linda Parton/Shutterstock
If New Orleans is the birthplace of jazz, Detroit is where American music went to grow up. The engine for popular music, Motor City introduced the world to Motown, which blended gospel, jazz, and rhythm. Stevie Wonder, the Temptations, Marvin Gaye, and the Supremes all got their start through Motown Records in Detroit, cementing the city's musical legacy.
Dubbed Rock City, Detroit has also produced rock icons such as Jack White, Iggy Pop, and Bob Seger, while rap superstar Eminem helped trailblaze Detroit's place in hip-hop. Given its heritage, it's not surprising that Detroit's live music scene continues to produce world-class talent.
Detroit is currently undergoing a revival of sorts, and live music is helping to lead the Comeback City's urban revitalization. From PJ's Lager House, where the White Stripes cut their riff-driven sound in the pub's gritty atmosphere, to the opulence of the historic Fox Theatre, Detroit's music venues are as diverse as the city's music scene. When you listen to live music in Detroit, you discover the city's past while glimpsing its future.
Denver, Colorado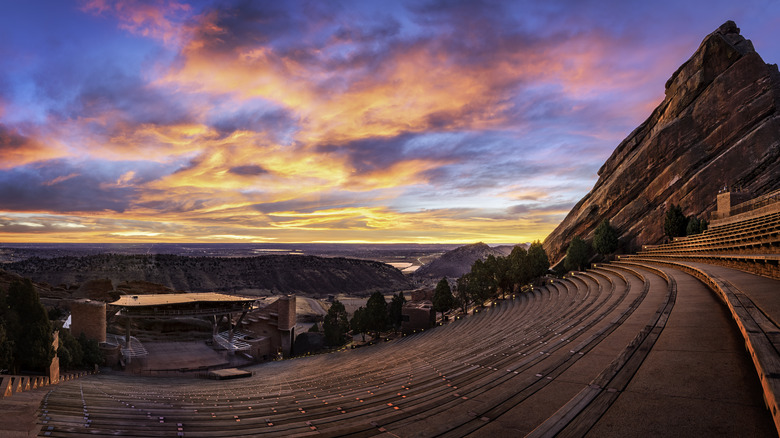 Adam-springer/Getty Images
Denver seemingly transformed into a musical hotbed overnight. Denver is well-known as a city of jam bands, as its music scene has welcomed famous Colorado bands like Leftover Salmon and The String Cheese Incident, but Denver's live music scene has now improvised beyond its jammy reputation. Today, Denver's diverse live music scene incorporates a range of genres, from folk to hip-hop.
On any given night, you can catch a nationally touring act at one of Denver's historic venues such as the Bluebird Theater or the Fillmore Auditorium, or explore Denver's thriving local music scene in Larimer Square or the LoDo District. The city also hosts plenty of music festivals worth attending throughout the year.
It's impossible to mention Denver's music scene without mentioning Red Rocks Amphitheatre. Located about 15 miles southwest of Denver, Red Rocks is an open-air amphitheater built into red rock sandstone. Regularly hosting international acts, the world-famous venue is a geological wonder that's celebrated for its acoustics, intimate atmosphere, and mountain views. For live music enthusiasts visiting Denver, attending a Red Rocks concert is typically a Mile High City highlight.
Raleigh, North Carolina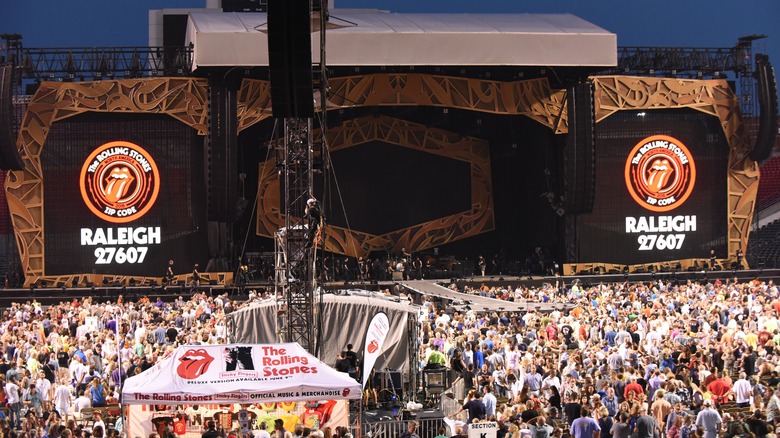 Chris Mckay/Getty Images
You may not automatically think of North Carolina's capital when you think of live music, but with over 80 live music venues, a walkable downtown, and an enthusiastic college crowd, you probably should. The Pour House Music Hall and Record Shop welcomes live musical acts, from hip-hop to Americana, reflecting Raleigh's wildly diverse scene, while open-aired Red Hat Amphitheater, located in the middle of downtown Raleigh, regularly pulls big names to the smallish venue.
Raleigh's annual festival lineup also reflects its musical diversity. Raleigh hosts the Dreamville Festival, a multi-staged hip-hop festival, and the Hopscotch Music Festival, a three-day festival that showcases around 150 bands throughout a dozen venues. 
While Raleigh may seem like a relative newcomer to top billing for live music, the Triangle Region, which includes Raleigh, Durham, and Chapel Hill, has long provided fertile ground for internationally recognized artists. Ryan Adams, Ben Folds, and Sylvan Esso all jumpstarted their career playing the area's stages.
Memphis, Tennessee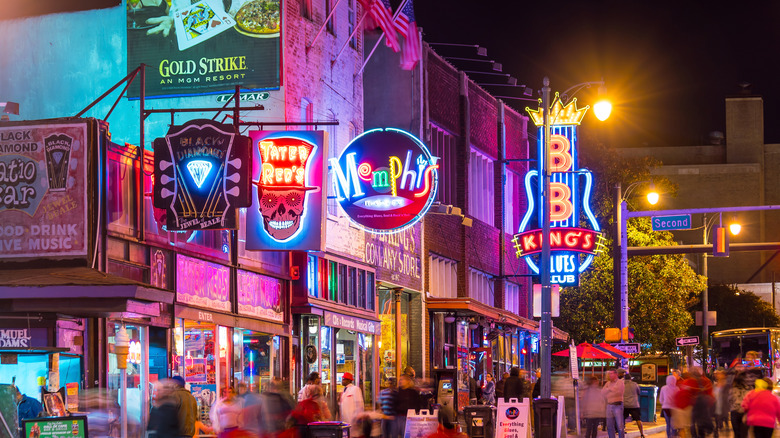 f11photo/Shutterstock
Located around 200 miles from Nashville, Memphis isn't an unknown musical destination, thanks to Elvis Presley. But Memphis is more than Graceland. The musical heritage of Memphis was formed on Beale Street, and music pioneers such as Johnny Cash, B.B. King, Otis Redding, and Muddy Waters honed their sound in the honky-tonks and bars that line Beale Street.
Today, Beale Street remains the epicenter of the city's live music scene. Whether day or night, you'll hear blues, soul, and rockabilly from the street's famous venues. Iconic Memphis music venues include B.B. King's Blues Club, the Band Box inside Blue City Cafe, and Handy Park, a public venue located at the center of Beale Street.
While Memphis is still synonymous with blues and soul, there are plenty of music venues to accommodate all kinds of musical tastes. If you want to experience Beale Street's musical heritage while enjoying a range of genres, consider attending the multi-day Beale Street Music Festival. Like the other destinations on this list, Memphis seems more in tune when music fills its streets.