What To Know About Cruise Ship Wi-Fi Before You Set Sail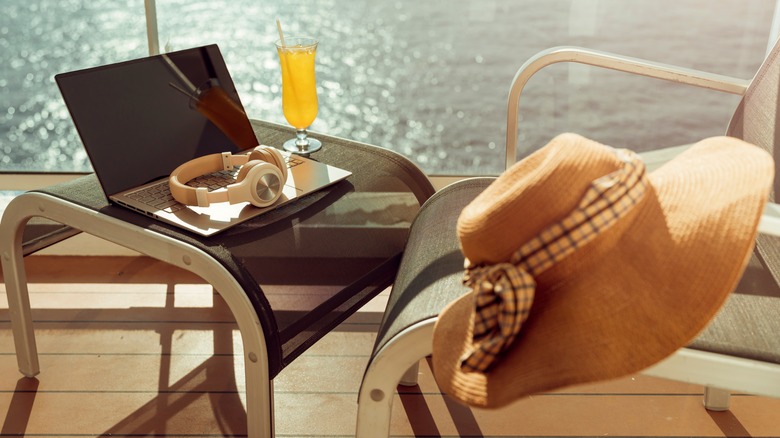 WHYFRAME/Shutterstock
One of the major appeals of taking a cruise is disconnecting from real life on land. However, whether it's staying in contact with work, messaging friends and family, posting Insta-worthy pics, or researching ports of call, you may appreciate some level of Wi-Fi connection while you sail.
In the past, Wi-Fi access on cruise ships has been slow, spotty, and expensive. While Wi-Fi connectivity can still be temperamental, cruise ships have made great strides in keeping their passengers connected, and if you're willing to pay, most major cruise lines can provide solid connections.
Although cruise ships have improved their internet-at-sea services, there are a few questions to ask yourself before setting sail (and spending up) to connect: What types of plans does the ship offer? How much will I actually use the internet? Are there ways to cut Wi-Fi costs? Are extra internet costs actually worth it? By answering these questions, you can avoid overpaying for your digital messages in a bottle.
Cruise ships typically offer multiple Wi-Fi plans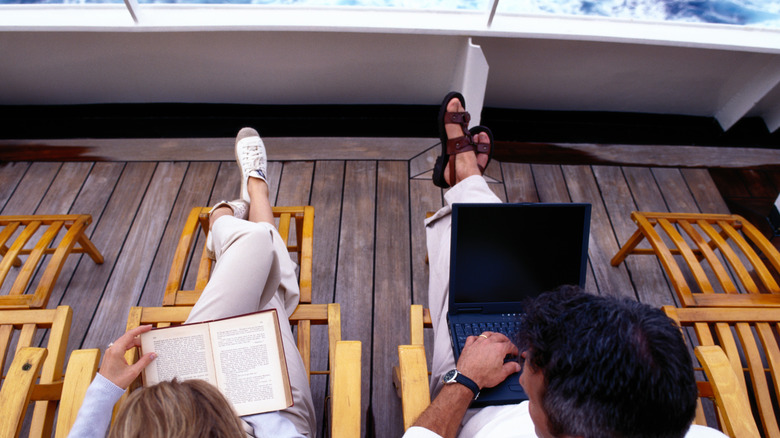 Steve Mason/Getty Images
Before setting sail, it's important to do your research regarding your cruise ship's internet plans and policies. Or, if an internet connection is an important consideration, search for promotions and deals that include internet access with your cruise purchase. Most major cruise lines will offer various plans to fit your needs, and other than remote expedition cruises, these plans typically range from basic to premium.
For example, Carnival Cruises currently offers three Wi-Fi plans: Social, Value, and Premium. The Social Wi-Fi Plan gives guests access to popular social media sites, while the Value Wi-Fi Plan allows passengers to surf the web. With Premium, you'll receive enough bandwidth for video conferencing, which may be important for passengers who need to check in with work. By purchasing one of these plans before cruising, you receive 15% off its cost.
While each cruise line differs, this tiered-plan approach is relatively common. You may also find plans that charge by data usage, per day, or for the entire voyage. Many luxury cruise lines include a very basic internet plan, which you can then upgrade to fit your needs. Regardless of the plan or cruise line, you'll typically receive a discount for purchasing before you board.
It's important to manage expectations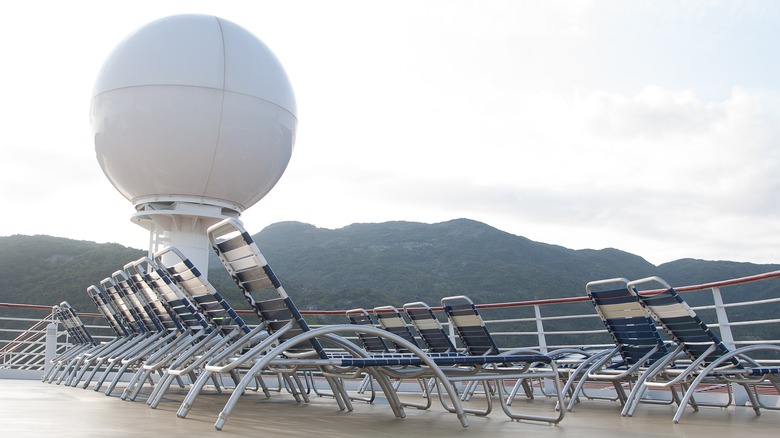 Jene Smu/Shutterstock
With improvements in satellite internet coverage and onboard technology, Wi-Fi access on cruise ships has vastly improved over the last decade. The quality of your internet connection may depend on your cruise line, but there are still limitations to internet-at-sea services. The weather, your ship's location, and how far you're out to sea all affect the quality of your Wi-Fi. Regardless, you shouldn't expect Wi-Fi on a cruise to provide the same internet reliability or speed you're probably accustomed to.
Caribbean cruises tend to provide the best internet coverage. Since the area is a popular cruising destination, maritime communication companies have strategically placed satellites in medium orbit to provide decent coverage on popular itineraries.
However, satellite internet is very expensive, and cruise ships still deal with limited bandwidth. This means the more people online, the slower the internet connection. To help ensure better reliability and speed, you may need to connect while everyone isn't, such as late at night.
Creativity could minimize your Wi-Fi costs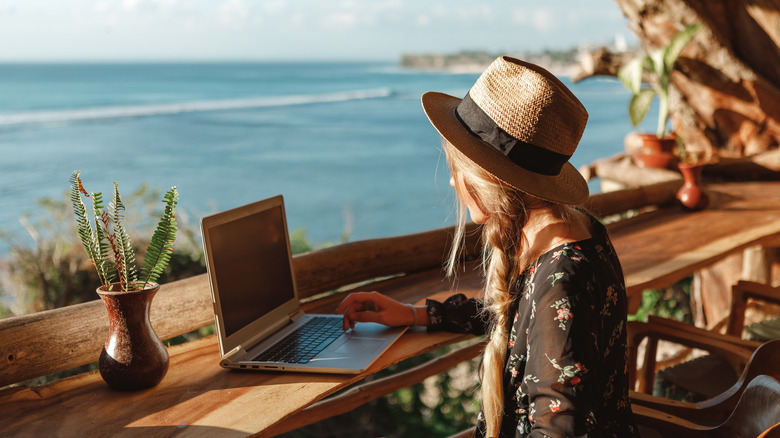 PhotoSunnyDays/Shutterstock
Obviously, the easiest way to minimize your Wi-Fi cost is to skip buying a plan. With a little bit of planning, this may be easier than it seems. Almost all the places you'll visit during ports of call, such as restaurants, cafés, and stores, will offer some sort of free Wi-Fi. You can simply wait to check emails and upload pictures when free Wi-Fi is available onshore.
But if you need or prefer to stay connected at sea, there are a few ways to save. Along with purchasing a plan before sailing, loyalty points or onboard credits can typically be applied to internet plans. Also, many cruise lines now provide their own onboard apps. Through these free apps, passengers can typically make restaurant reservations, book onboard services, view deck maps, and even access maps of ports of call. In some cases, these apps also offer free chat among passengers. After exploring the features of the app, you may decide that Wi-Fi access isn't necessary — or, at least, not a must-have for the entirety of the trip.
Airplane mode is cruising mode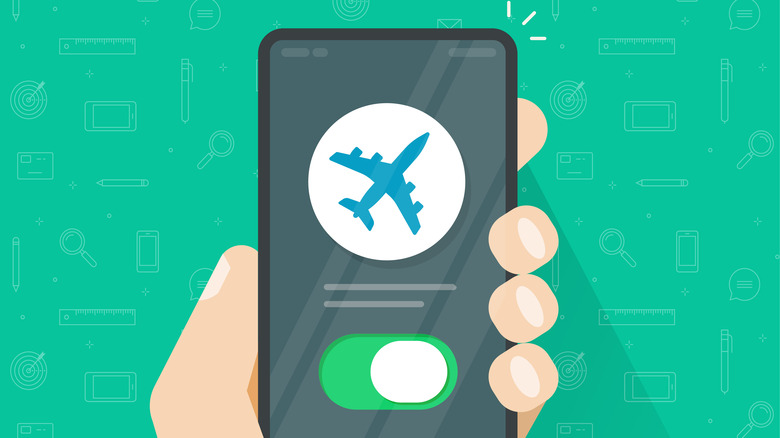 Vladwel/Getty Images
Whether you choose to purchase a Wi-Fi plan or not, you'll want to set your cell phone to airplane mode and keep it that way for the duration of your trip. (Hint, you'll want to make sure everyone else cruising on a family plan does as well.) There are plenty of harrowing sea tales of unsuspecting passengers racking up exorbitant phone bills during a cruise vacation. If you choose an onboard Wi-Fi plan, you can simply turn on airplane mode, then activate your phone's Wi-Fi to stay in touch.
Due to the ship's satellite internet connection and limited bandwidth, international plans for cell phones do not typically cover cruises. However, some cellular providers, such as AT&T, provide plans specifically for cruise vacations. If your main reason for purchasing Wi-Fi is to stay connected with home or work, these types of plans may be worth exploring to skip onboard Wi-Fi entirely. Otherwise, remember to cruise in airplane mode to avoid a rogue wave of roaming charges.
You may want to consider going offline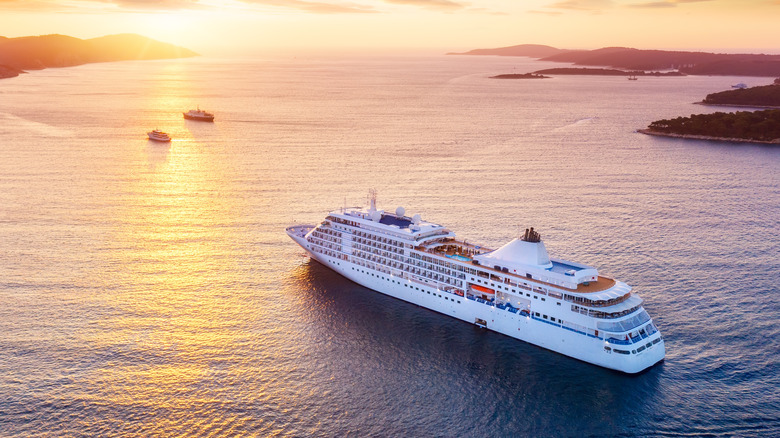 biletskiyevgeniy.com/Shutterstock
Although the price for Wi-Fi access on a cruise ship varies, even basic plans aren't exactly cheap, as most plans are priced per person/device. If you're taking a family cruise vacation, with four different reasons to log in, the price for Wi-Fi access can add up quickly. And remember, basic plans don't provide enough data to stream everyone's favorite shows. Point being, it may be wise to perform a cost-benefit analysis on purchasing Wi-Fi while taking a cruise vacation.
Ultimately, the point of taking a cruise is to explore, relax, and disconnect from everyday life. To meet these goals, it may be beneficial to log out for the entirety of a week-long cruise. If you can, create an email away message, unmoor yourself from the stress of everyday life, and sail over the horizon. While Wi-Fi access may be useful (or necessary), it shouldn't keep you tied to the dock.